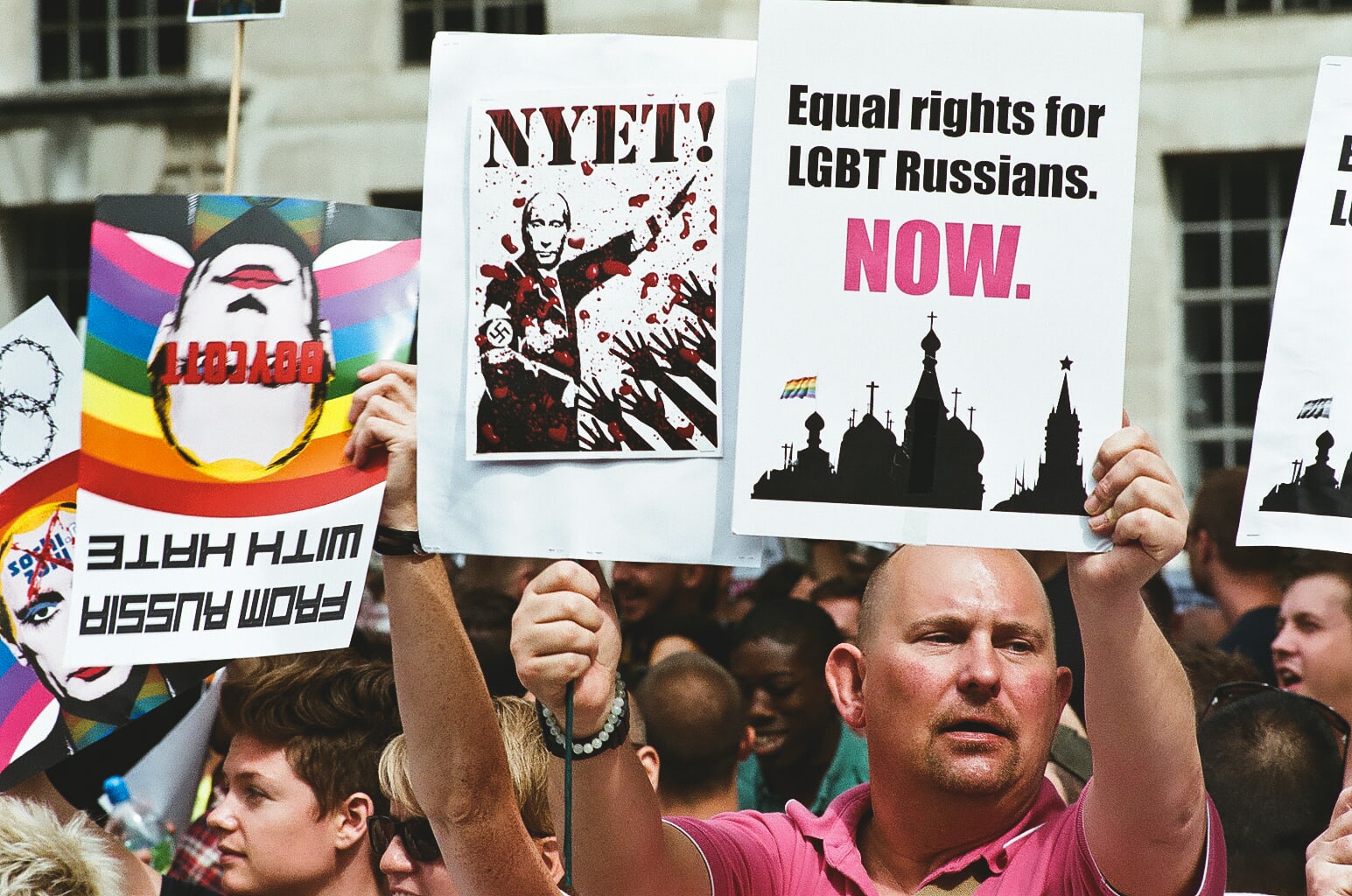 Russia Seeks to Ban LGBTQ+ Movement
Are you concerned about LGBTQ+ rights in Russia?
This is another distraction by Putin to keep his people from noticing his corruption and his needless war in Ukraine while controlling his people with fear. 

I wish we could boot Russia from the UN Security Council so the UN could work to protect people in countries like Russia.

This wouldn't be the first nor only country that violates the rights of the LGBTQ persons. 



"Shade never made anybody less gay."

Putin signed a law Dec 2022 expanding restrictions on LGBT "propaganda" which includes films, books, advertising, etc

Then in July 2023 he banned gender reassignment surgery, annuls marriages if one person has had gender reassignment surgery, and makes it illegal to change gender on official documents.

The current ban in Nov 2023 labels LGBT people and/or organizations extremists subject to criminal prosecution.

Keep this in mind as red state legislatures create leguslation banning books, gender reassignment surgery, etc that they are following in Putin's footsteps. And support may go further than that, as they advocate giving Ukraine to Russia.

"Under the new law, which widens Russia's interpretation of what qualifies as "LGBT propaganda", any action or the spreading of any information that is considered an attempt to promote homosexuality in public, online, or in films, books or advertising, could incur a heavy fine."

"Putin has signed legislation that bans people from officially or medically changing their gender, representing a further blow to Russia's embattled LGBTQ+ community."

"Russia's justice ministry has filed a motion with the country's Supreme Court to ban the activities of what it calls the "international LGBT public movement" as extremist."

"It is unclear whether the ministry's statement refers to the LGBT community as a whole or specific organisations."


"It said the movement had shown signs of "extremist activity", including inciting "social and religious strife".


"The ban could leave any LGBT activist vulnerable to criminal prosecution."

https://amp.theguardian.com/world/2023/jul/24/vladimir-putin-signs-law-banning-gender-changes-in-russia

https://www.wilsoncenter.org/blog-post/russias-war-lgbtq-community-continues

https://www.reuters.com/world/europe/putin-signs-law-expanding-russias-rules-against-lgbt-propaganda-2022-12-05/

That's like telling your neighbor what they can or cannot do. My rights to have my thoughts and opinions end when they encroach on those of others. A discussion of ideas is only productive when both parties agree to the right to have differing views or judgements.

The only thing we need to worry about is America and our corrupt gov't. At this point nothing else matters esp fringe distractions. Russia is at war, thousands have died and they're bankrupting us

I am concerned about human rights everywhere.

It's none of our business what Russia does or doesn't do with gay rights..... who the heck do we think we should even have an opinion. 

I'm concerned for a lot of people in Russia. The LGBTQIA+ have it even worse than most.

That is their social issue, not ours.  We unjustly insert our ideals into other societies and yet we cannot keep our own house in order.  Just look at Congress and how Trump campaigns for an embarrassment.  

I feel sad for all the people that live in Russia. But I'm more concerned about fascism supported by the GOP in this country. 

Yes, I am very worried about it.  I am even more worried about the attacks on Gay rights here in my own country.  Of course, this is what always happens when the Right wing comes into power.  The Johnson Amendment needs to be strengethened and furthered so that Church and State remain separate and so that religion does not enter into politics.

 

Theocracies are , and have always been, evil incarnate.

 

TAX THE CHURCHES!!!!!!!!!!!!!!!!!!!!!!

Until the ordinary citizen in Russia somehow figures out how to rid their government of Putin not much we can do about it. 

As a gay man, I worry about thoughtless hatred anywhere and everywhere.  

When I was young and just learning about myself and my sexuality, I was taught to fear and hate that part of myself.  

That damaged me badly.  

It took me a very long time to come to understand myself and even longer to accept myself.  

Eventually, I finally learned to take pride and to be glad about who I am.  

NO POLITICIANS SHOULD MAKE THAT PROCESS HARDER!  

Too many young LGBTQ people kill themselves because the people in their lives and politicians in their states have told them that they are evil.