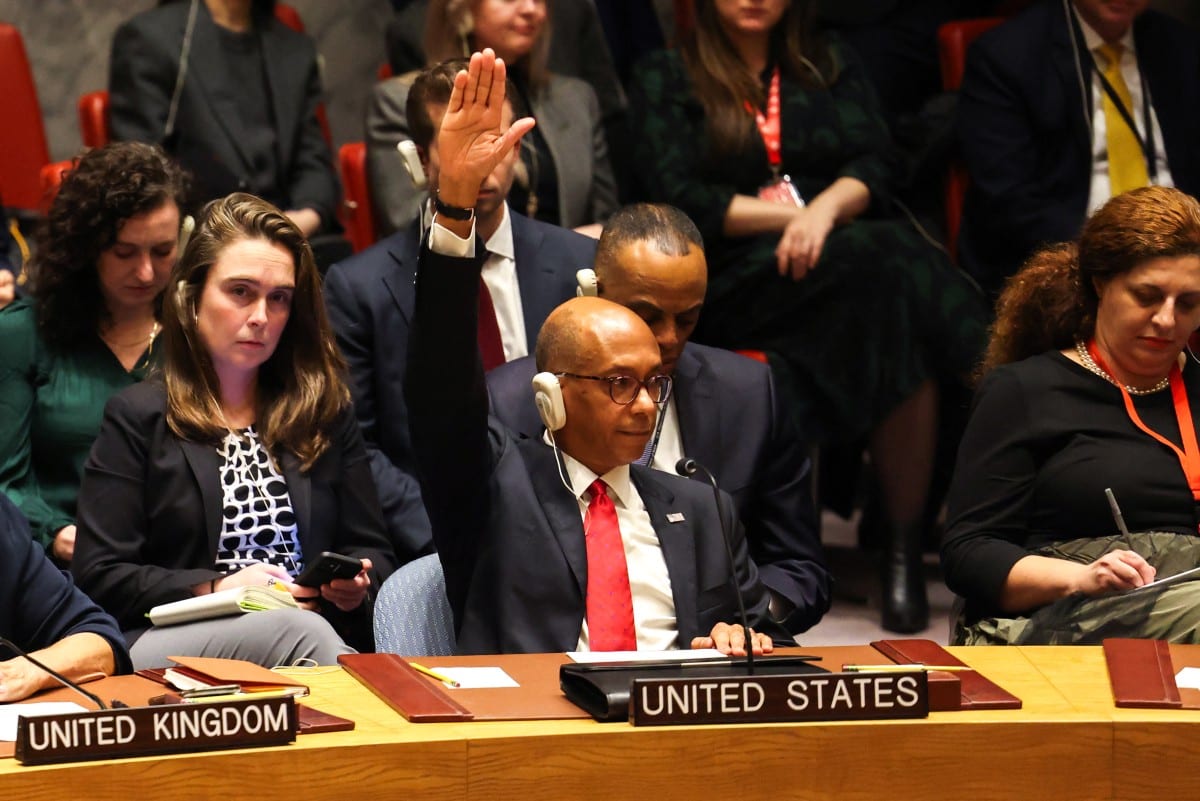 U.S. Vetoes U.N. Resolution Demanding Israel-Hamas Ceasefire
Do you support a ceasefire?
This is an extremely complex situation. HAMAS is using the Palestinian populace as shields because they really have little interest in protecting the populace - their stated goal is to eliminate Israel, and they are willing to let their populace be sacrificed to that cause.

That said, the current hard right Israeli government is making the situation much worse with their indiscriminate bombing of covilian populations who happen to be in their way.

The real issue is that right wing asssholes are in charge of both sides of this conflict and that Gaza Palistineans are caught in the cross-fire.

Israel should commit to a bonified two state solution so that Palestinians have hope for a better future and have a reason to reject HAMAS rule. Without this step, Israel will continue to breed future HAMAS-like terrorists who feel justified in terrestrial revenge.

Humanitarian pauses at least are necessary so that Palestinians can get out of the way. Also, access to needed foodstuffs, potable water, and other much needed aid must be increased.

The Arab nations can contribute to a bonified two state solution by agreeing to be part of the solution - by endorsing the Saudi - Israeli peaceful normalization accords and by committing to provide a peace keeping force to govern Gaza until a Palistinean governance can be established and Palistinean - Israeli agreements can be developed.

I think that is the best way to get Iranian influence out of the HAMAS -Israeli conflict and truly establish a free Palestinian government. This will be hard and require commitments from all parties involved as well as persistent diplomacy.

The people of Israel, Palestine and Iran will have to take the long view and realized the damage that their asshole right wing leaders are doing to their populations.

Just how many dead Palestians (5,791) Children (2,360) is enough for the 1,400 dead Israelis before there is a ceasefire and resolution through negotiation?

More bombs have been dropped on Gaza, one of the most densely populated urban areas the size of Philadelphia in 6 days than the U.S. dropped at the height of bombing Afghanistan, which is the size of Texas, in one month.

 "The Hamas-run Health Ministry said at least 5,791 Palestinians have been killed and 16,297 wounded."

 "The secretary general of the United Nations said on Tuesday that the attacks by Hamas that left 1,400 people dead in Israel on Oct. 7 were "appalling" but it did not justify the "collective punishment" of civilians in the Gaza Strip, where Israeli military significantly stepped up its bombardment in recent days."

 "Nearly 600,000 people in Gaza were sheltering in 150 facilities run by the U.N. agency that aids Palestinians, known as UNRWA, according to a statement from the agency dated Monday. "Shelters are operating beyond their capacities," leaving new arrivals to sleep in the streets"

 https://apnews.com/article/israel-hamas-war-palestinians-live-updates-9a0ddf745bde0ffc46921b99ed34fb65

 https://www.nytimes.com/live/2023/10/24/world/israel-hamas-war-gaza-news


All the idiots that voted yes aren't after peace, they're anti-Semitic and Anti-Israel. 
Yes the killing of others is wrong. But that didn't stop Hamas from doing just that to old, young and women, etc. They just wanted to kill Jewish people. 
also remember Islam even kills other Muslims because they don't practice their religion the same as they do. 
so just forget that a cease fire will help. Even giving these people Gaza didn't do Israel a dame bit of good. All terriorests must be stopped. 

Depends upon Hamas and Iran on what type of agreement can be reached for some guarantee of security for Israel. You cannot trust either Hamas or Iran.

Killing 2027 children in 17 days is NOT the appropriate response to Hamas!

Biden, Sunak, Macron, Olaf you now bear responsibility for opening these gates to unwanton carnage!

 

Ceasefire and end all military and financial support to Israel as a consequence of their war crimes  and Apartheid policies against the indigenous people of Palestine. The Balfour Resolution was a horrendous decision that could only end in tragedy unless there was equality. This was never part of the agreement and in the decades that followed, the Israeli government has sought to deny them their land, their rights, their freedom, their dignity and their lives.

This has followed the heinous model of the Nazis toward the Jews. Where is the wisdom? Where is the compassion? Where is the justice? The Israeli government created a Warsaw Ghetto in Gaza and turned it into a concentration camp. Now they are killing the survivors or following the Tsarist policy of pogroms. "Leave everything now or die. You have no home." 


The U,S. government should hang its head in shame for supporting this unjust regime.We are so anxious to point the finger elsewhere. We impose sanctions and freeze bank accounts when it suits our interests, but there is no support for the Palestinians. It is just another example of American hypocrisy.

As we lend our support to perpetuate war and suffering, we turn our backs on the American people living from paycheck to paycheck with inadequate healthcare, and a cost of living that is completely out of control. The answer is not to raise interests rates on people who are already drowning in debt. It is to regulate and tax the greed of the banks, corporations, Wall St, and billionaires. Unfortunately, they and the shadow consulting firms that provide the liaison between government agencies and corporate interests ARE OUR GOVERNMENT! Democracy is an illusion perpetrated by the corrupt two party system and propagandized by the corporate owned media.

And so,the U.S. government will look the other way as Gaza is leveled. Think of all the money that can be made by businesses, developers, contractors and banks so that Israeli citizens can steal the last shred of land stolen from the Palestinians and soaked in their blood.

Shame on you if you give support to this!

Shame on you for funding the proxy war in the Ukraine paid for in the blood of Ukrainians and Russians!

Shame on you for not supporting the release of Julian Assange!

Shame on you for not supporting the Green New Deal, Medicare for All and Free Public Colleges and Trade Schools

Shame on you for not regulating and taxing Wall St, banks, corporations and billionaires. You should be breaking up monopolies and elevating the standard of living of the people who voted for you.

But instead you'll vote for the Military industrial complex. How much will you authorize to send to Israel to pave over their crimes?

 

 

No stopping until all hostages are released AND Hamas eliminated or jailed! Tell the Palestinians that they will get aid and help only if they elect a better government AND reverse teaching hated of others to all their people and especially children. In other words, all books and teachings must prepare the next generation to seek peace with all others. 

A Cease Fire should be give serious consideration, to allow aid to get to Gaza to help civilians trapped there and potentially allow for the release more hostages.

This is not condoning the horrific attack Hamas perpetrated on Israel in any way. 

A pause in hostilities will give Israel to give more consideration to the end game of any assault on Gaza and the neutralisation of Hamas.  The United States became bogged down in both Iraq and Afghanistan because there was no end game for what happened after removing the Taliban in Afghanistan and Hussein in Iraq. Israel needs to have a plan for what happens to Gaza, its citizens and how they are governed once Hamas has been neutralized.  We don't need another endless war in the middle east for the world to deal with.

Too many Palestinian civilians have been murdered already.  The current conditions in Gaza are intolerable and will inevitably result in starvation and epidemic diseases and huge increases in the number of civilian deaths.  Sorry to say but I fear that Netanyahu is counting on this to "solve" his "Palestinian problem".

I am appalled and furious that the United States voted against this resolution.

We are on the wrong side in this conflict. A humanitarian cease-fire is absolutely necessary, and we should not send any aid or support to Israel until:

A. There is humanitarian relief available to every single citizen of Gaza, with a plan for how and where they will stay safe until this war is over.

B. Israel works with the United Nations to define what victory looks like, how they plan to find and eliminate Gaza, how they will ensure Gazans will not continue to die, and who will govern Gaza when it's over.

 

The US has no moral high ground after our numerous failed interventions throughout the world and our useless efforts in Afghanistan and Iraq which left both those countries in a shambles. 

We should not be a member of the Security Council if we're voting with our dollars and not our humanitarian beliefs.

Please correct course on this issue immediately.

AP News: 4-day truce begins in Gaza, setting stage to swap dozens of hostages for Palestinian prisoners

https://apnews.com/article/172256dd593189f7b37f7c62f4739c6b

DEIR AL-BALAH, Gaza Strip (AP) — A temporary truce in the Israel-Hamas war took effect early Friday, setting the stage for the exchange of dozens of hostages held by militants in Gaza for Palestinians imprisoned in Israel.

The halt in fighting began at 7 a.m. local time (0500 GMT) and is to last at least four days. During the truce, Gaza's ruling Hamas group pledged to free at least 50 of the about 240 hostages it and other militants took in their deadly Oct. 7 attack on Israel. In turn, Israel is to free three Palestinian prisoners for each released hostage. The releases are to take place in stages over the next four days.

Senators and Representatives:

The reporting says Netanyahu is not acting rationally, nor is he listening to the US or NATO. 

The reporting shows that Netanyahu is wagging a horrifying "War the Dog" War that is in fact genocide to stay in power. 

Stop sending any and all funds to Israel now!

Nir Barkat, Israel's minister of economy and industry, is warning American universities to crack down on antisemitism

Speaking from a Manhattan hotel, Barkat said his recent conversations with lawmakers during his trip to the United States suggest there will be legislative efforts to crack down on antisemitism on campus

"You're going to see many funders of Ivy League and other universities shy away from that behavior," he said

so they admit they control our congress, schools and many other institutions?

Tail wagging the dog? 
what happened to AMERICA the bastion of free thinkers 

that a two bit idiot dressed in a suit can come to new york and threaten us on our own soil?

to congress

STOP all funds to israel now or lose my family's vote! This is not a threat its a promise

Perhaps there should be a cease-fire to give time to evacuate innocent civilians. Hamas certainly not innocent their provocation got this ball rolling in the immediate sense. In the big picture sadly this battle has been going on for over 1000 years. The Middle East has been a flash pot since history has green recorded. I don't know how to get these people to get along with one another but that's what they have to do. We on this planet have bigger fish to fry or we will all be gone.
In the meantime people like Elon musk who are helping spread hate with his wealth need to be stopped. Musk Agreeing with an antisemitic post on his social media platform X, Elon Musk endorsed the claim that Jewish communities push "hatred against Whites." I do believe that all government contracts with companies tied to Musk should be null and void.

Our government should be doing zero business with hate, on any side. That only fans flame on both sides. 



It appears to me that either musk has lost his bearings on reality or his wealth has gone so far to his head that he has lost touch with being a human being.

 

All Palestinian children are dead that were in that hospital.  Do what you want with it now.  Nothing is ever done in time to save even ONE Palestinian.  They kill generations of Palestinians about every 4 decades.  It is a slow death but they are winning.

President Biden will lose the election of doesn't bring a ceasefire. Israel killed far too many innocents. They only want a racial cleansing. The attack was because Israel announced they had no northern defense. They've been doing racial cladding since they got there. End the terrorism America! Stop sponsoring and weaponizing Judeo-Nazi Israel!

Israel has the right to defend itself. The land, per Genesis 15:18-21, belongs to Israel. The feud goes back to biblical times and will not be settled. Hamas, PLO, etc. are trained since young childhood years to kill Jews and Christians. It is part of their religious culture. The Jews are God's chosen people. Nations that bless Israel, will in turn be blessed by God.

Hamas and its supporters should absolutely stop firing on Israel, surrender to authorities for their war crimes and return every hostage. 



I am guessing the when Hamas and its supporters surrender and face punishment that both sides will stop firing on each other.  



I do not condone a cease fire until the group and its supporters that is chanting for genocide stops its aggression.  I am surprised after all of the hate in our country between groups that anyone would support that hate.  They sound off and support many of the same ideals the kkk and natzis had than a group wanting peace. Yet for all we have done to shame those with those beliefs, it is making a comeback on campuses and cities and we do nothing about it

As i sit here safe in my chair it would be easy for me ,in my uneducated understanding ,to voice against violence as I witness it on my television.  However, I'm trying to not be an armchair military/government expert. 

Yes.

 

Now, if there is to be bombing....start doing it where the leaders of Hamas actually are.    We all know they are hiding out in Qatar...so if everyone's so concerned with punishing Hamas....then attack Qatar.

 

Oh wait!   U.S. Billionaires have money invested there!!!!!!   *facepalm!*  I forgot!   US Billionaires who fund the GOP have a great deal of money invested there so the GOP won't allow THAT to happen!

 

Disgusting!   Instead, let's attack a group of people who are between a rock and a hard place....who have not been allowed to have any form of elections since 2006(something the GOP won't tell anyone.....nor will any right winger) have bno say so in anything going on.....but let's kill all of them!    But we won't bomb or attack where the leaders actually are because our corporate donors might get upset!

 

Yes!  I am pointing the finger at the Republican Party!

I support Israel and its right and obligation to defend itself, its  people and its country! Hamas started this, hopefully Israel will finish it.

Ceasefire now! We the majority of the world do not agree with the tactics being used by the Isreali government. It is retaliation at the least and a land grab for resources at the worst and probably both. Celebrations by the Ireali soldiers and murder and targeting of refugees, the press and doctors is absolutely warcrimes being commited. Natural gas permits have already been signed by Isreal and other governments prior to Oct. 7th making this highly suspect that the current regime in charge allowed it to happen for the sake of having a reason to attack and destroy Gaza. I do not want my tax dollars to pay for their warcrimes, if we continue to support them we will also be considered responsible for those war crimes. This aggression is causing an escalation in Anti-Semetism and Islamaphobia, it will not end well and the fact they are also bombing neighboring countries is highly problematic. Save the children and the innocents CEASEFIRE NOW!