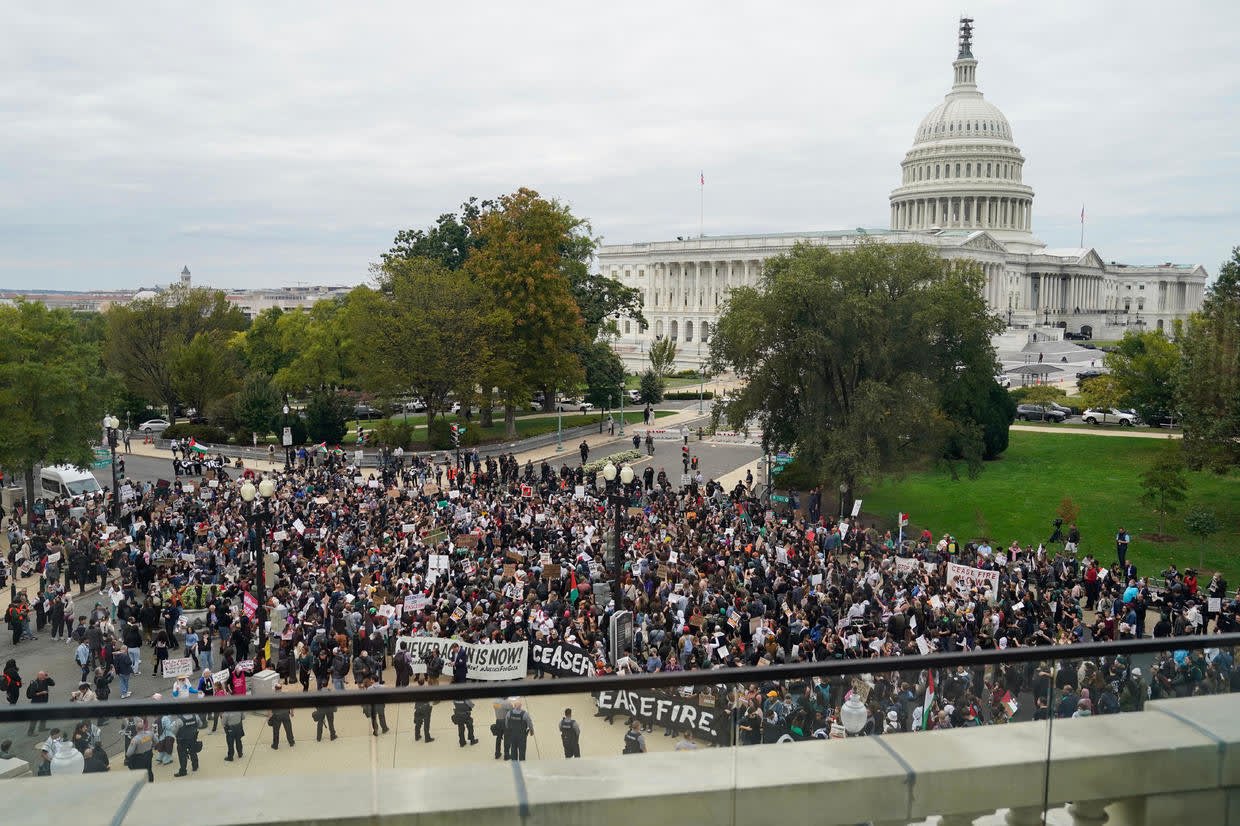 Protests Continue in D.C., Calling For Ceasefire in Gaza
Should the U.S. call for a ceasefire in Gaza?
Sure, sure arrest the peaceful demonstrators chanting but nothing was done to 1-6 to protestors defacing the Capitol, injuring people and threatening to kill politicians till weeks, months, years later.

"...estimate of property damage due to the January 6 Capitol riot to $2.73 million, according to a Friday court filing in the case of a man who pleaded guilty to participating in the riot, which left windows broken, doors splintered and paintings stained with pepper spray and tear gas."

"The final cost of the Capitol riot could exceed $30 million, taking into account the cost of mental health counseling for riot victims and other more indirect costs incurred by rioters, Brett Blanton, the architect of the Capitol, told Congress in February 2021."

https://www.forbes.com/sites/zacharysmith/2022/04/08/capitol-riot-costs-go-up-government-estimates-273-million-in-property-damage/amp/

https://www.dailymail.co.uk/news/article-12646451/amp/Pro-Palestinian-protesters-Capitol.html

I'm all for a world wide ceasefire if for no other reason than to find the results to all this war mongering.  It has to end as soon as possible so people world wide can get back to enjoying life as it was orininally intended.  Corporate profit margin be damned.

If all the hostages are released. Built in assurances this will not happen again. 

In the quest to destroy Hamas (and deservedly so) Israel is killing Palestinian citizens, mostly women & children who have nothing to do with Hamas.  Hostages are still in the region, some are Americans. For the love of God, call a ceasefire! 

  

 Begin peace talks or find a strategic way to target Hamas & get rid of them once and for all (with little or no civilian casualties).

NO ceasefire!! Hamas must be destroyed! Hamas STARTED THIS! And they must pay the ultimate price. Israelies are fighting for their lives. Very few (if any really) accept Jewish people and Israel. Israel MUST survive no matter what happens. 
No other Arab countries have helped these refugees in 8 decades. They have only used the refugees as pawns in their wars against Israel. Also, no two state solutions on ANY Israel soil! There are no "occupied " Arab land in Israel.  All the land was won by defeating the enemy in former wars. 

 

Withhold any aid to Israel until there is a ceasefire. Refuse any aid until they take steps for a two state government and an independent separate Jerusalem.

it is beyond time for us to continue supporting Israeli's practices which are not in line with US peace plans/treaties.

I am sure this would happen if all the funding of Israel by the USA would be withheld.

crimes of Genocide must end.

I cry out for a ceasefire each day by contacting my congress representative and the POTUS.  Children are being killed whether they are Jewish or Palistinean.  This must be stopped and the people, now the warmongering governments must reach peaceful negotiations.  May it happen soon! 

Pure and simple Israel is commiting war crimes.  Innocent citizens including children are being killed.  

We demand a ceasefire in the conflict taking place in Gaza. The magnitude of the events are now classified as genocide, this has been a brutal display of excessive violence against an innocent civilian population.

Please do not support Israeli war crimes. History and voters will remember. Do not support these atrocities politically, financially or militarily.

The US should continue to push for a ceasefire, but there are conditions that must be met. Unfortunately, neither Hamas nor Israel will come to the table. Each seems to be willing to decimate civilians.

They have sent their message and shown their superior military power.  It is time for empathy for those refugees who have no interest in politics  but only want to live in peace.

I don't pretend to understand the situation in the Middle East but my observation over the decades has been that Israel goes above and beyond in fostering violence. Israel certainly has the right to exist, and I recognize the threats to that existence, but that does not justify cruelty.

It's not the United States decision. Would we be calling for a ceasefire if the United States were attacked in this manner? With this president, I'm not sure. Israel has every right to continue until they see Hamas as terminated.

Israel has proved its "superiority" now let it prove its humanity!  The Palestinians, who have been locked up in a limited area, have suffered enough at the hands of the Israelies.  It is time to stop supplying Israel with weapons and start supplying the Palestinians in Gaza with food, water and medical supplies, NOW!

I have been pleased with President Biden's even handed response both calling for humane support for Palestinians while defending Israel's right to defend it's self against Hamas. But it is now past time to call for a cease fire as a refugee camp should not have been hit.

It's time for the lsraeli military to step back and assess the possibility of negotiations for the hostages being held in Gaza and humanitarian aide for the innocent Palestinians suffering in Gaza due to the Israeli missile strikes.