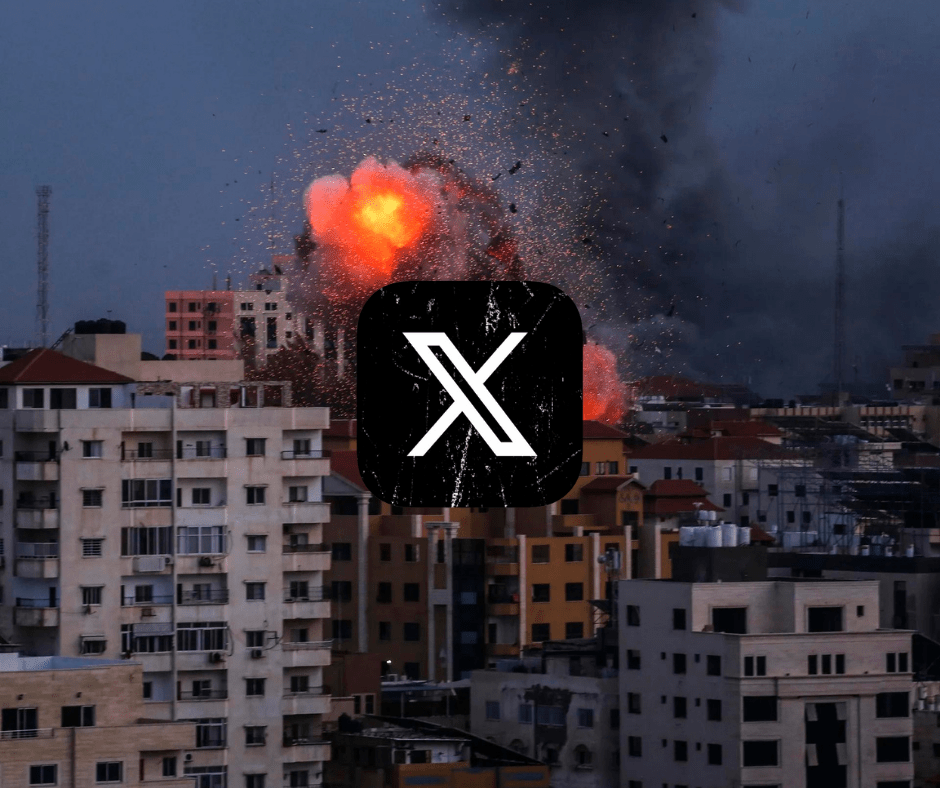 Spread of Misinformation Online and Hatred in Israel-Gaza War
Are you worried about online hate speech?
Ever since Mush removed account verification, and allowed anyone who paid to be whoever or whatever they claim, X (formerly Twitter) has become a cesspool that I avoid. 

Waste of time as it's misinformation central thanks to Musk!

"Elon Musk's purge of blue check-marks from Twitteraccounts verified under the company's previous regime has begun."

"Now a blue check-mark badge on Twitter primarily signifies that it's an account belonging to someone who is paying Musk — one of the world's wealthiest individuals — for the perk. The move to trash Twitter's former verification system, which had been in place since 2009, could generate new confusion among users and erode trust in the platform. When the Musk-owned company relaunched Twitter Blue, which starts at $8 per month, it yielded a spate of authentic-looking imposters with blue check-marks (including someone parodying Musk's Tesla) before the company installed additional safeguards."

"Prior to Musk's change allowing anyone to get a blue check-mark, Twitter had more than 420,000 verified accounts. The goal of Twitter's original verification program was to help people know that a high-profile user was, in fact, who they said they were to avoid confusion with imposters."

"Fewer than 5 per cent of legacy verified accounts appear to have paid to join Twitter Blue as of Thursday, according to an analysis by Travis Brown, a Berlin-based developer of software for tracking social media."

"The EU's digital rights chief Thierry Breton gave X, formerly Twitter, 24 hours to outline how the platform would meet the bloc's new digital rules....Elon Musk's X removes thousands of Israel-Hamas misinformation accounts and posts amid EU demand"

https://www.euronews.com/next/2023/04/21/twitter-begins-removing-blue-checks-from-users-who-dont-pay

https://www.euronews.com/next/2023/10/12/elon-musks-x-removes-thousands-of-israel-hamas-misinformation-accounts-and-posts-amid-eu-d


https://variety.com/2023/digital/news/twitter-removes-legacy-blue-check-marks-celebrities-1235589174/amp/



I have been worried about online hate speech for years, and I have been on this platform talking about online hate speech, especially antisemitic and anti-LGBTQ, for years...and yet I'm not sure much has changed.

"X" has gotten worse and removed nearly all guard rails.

Fox "News" and other right-wing media lie daily and stir up fear of minorities without consequences.

Politicians can post whatever lies or hate they want on social media and still get re-elected.

Congress refuses to act to set minimum standards or a regulator.

Small sites like Causes do nothing and let whatever fester on here.

 

I wish this war and actions like the murder of a 6-year old boy would make people stop and realize how bad disinformation and hate speech online have gotten, but I have little faith in that. 

I think too many "humans" really don't care about anybody other than themselves.

Let's be clear: "From the river to the sea" calls for genocide against the Jews. The foreigners chanting this slogan on campuses should be immediately deported.

It's amazing how the first aggression in battle gives the edge to the aggressor.  The same goes for the liar.  Truth takes forever to catch up.

Of course I am worried about hate speech online especially from the nazi app X. The symbol is just an unfinished swastca.

It's great to see so many people that don't understand Feedom of Speech. I might not agree with what you say but that doesn't make it hate speech. Just because it hurts your feelings doesn't make it hate speech either.

Disappointed the MSM continues to these misinformation characters line space and air time! They don't need any seconds of fame!

As a kid I was taught that the limit of free speech is when it starts hurting others. "My freedom stops at the end of his nose." RepublicaNazi hate speech and billionaire-owned fake news spread by Nazi billionaires and their corporations must be stopped and punished by stripping away all wealth and property from entire industries, individuals, and dynasties.

Yes, because ever since the Orangutan Oligarch was in office, hate has become louder, crueler, deadlier...and this is just the next level up!

I think something has happened to Elon Musk I think he has lost his mind. He has become more of a detriment than an asset. Funny how when people seem to gather all the money in the world they lose contact with reality and all they think about is getting even more money than all the money in the world. Elon musk and his x bullshit need to be X out!

Hate speech on social media is causing alot of deadly hate crimes we need to tackle that hate speech is not freedom of speech

Only a moron, a complete idiot or one of the bigoted, racist, fascit leaning rabid , frothing at the mouth MAGAS would not be worried about online hate speech.  

 

NONE of it should be allowed, just like no misinformation or outright lies should be allowed.    Of course, if we went the latter route, most politicians would be in trouble as well-especially in the party of Nazis now known as the GOP

There are always actors who want to create confusion and chaos in light of violent events across the world.  These folks are striving to destablize the world and cause chaos.

This is not free speech.  Elon Musk has to wear some of the blame for this, since Twitter (X) has allowed this misinformation to grow on his platform. 

Communicating any hate speech by any means is damamging and a threat.  Making it easily availbale to harboring barbaric attitudes, thoughts and vicious racists ideas to the ill informed is a damage ot our society and democracy. Hitler rose to fame via hate speeches and we see it being repeated today.  X, Twitter or whatever the current term is, along with other social platforms that permit this preliminary act of violence, should be constrained from promulgating the hate and also held accountable for the resulting crimes and violence.  Freedom of speech should have limits and this hatred exceeds any common sense.