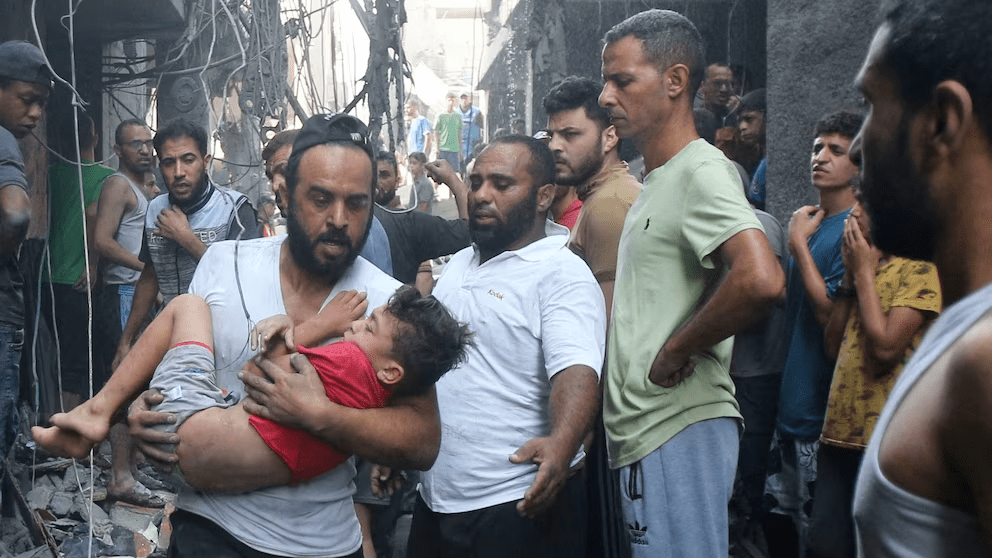 The Latest: Conditions Worsen for Civilians, Graphic Video Shows
How do you feel about the U.S. response so far?
Updated Dec. 8, 2023, 9:30 a.m. EST
A video emerged on social media yesterday showing dozens of Palestinian men detained by the Israeli military, stripped to their underwear, kneeling on the ground, and being held at gunpoint. 

Israeli government spokesman Eylon Levy said the men were detained in Jabalia and Shejaiya in northern Gaza, which Levy described as "Hamas strongholds and centres of gravity." He said the detained men were found in areas where the IDF and Hamas were in close combat, and the men were "deliberately disguising themselves as civilians."

A local media source said one of the men is a respected journalist. 

BBC reported

 that some of the men have been released. 

IDF spokesperson said the military destroyed buildings and infrastructure at Al-Azhar University, which he claims is used by Hamas.

Fighting is continuing in the southern city of Khan Younis, where Palestinians in the north were told to flee to safety. 

U.S. Secretary of State Anthony Blinken continues to press Israel to do more to protect Palestinian civilians.
---
Updated Dec. 6, 2023, 9:30 a.m. EST
Israeli forces are

attacking southern Gaza

, the region where Palestinians were told to seek shelter.

Hamas and the IDF are fighting in house-to-house battles along the Strip. Both sides are bombing to slow down the other, worsening conditions for civilians. 

Gaza's health ministry said that 70% of the 1,200 Palestinians who have been killed since the fighting resumed after the pause have been women and children. The U.N. said nowhere in Gaza is safe anymore. The Human Rights Office 

said

:
"[T]he pattern of attacks that target or impact on civilian infrastructure raises serious concerns about Israel's compliance with international humanitarian law and significantly raises the risk of atrocity crimes."
The Biden administration is urging Israel to take more protective measures to limit civilian casualties. U.N. top aid official Martin Griffiths said the IDF's attack in the south is just as devastating for the Palestinian population as the attacks in the north, and U.S. diplomacy is making no difference to the outcome. 
---
Updated Dec. 4, 2023, 10:00 a.m. EST
An invasion in southern Gaza looms as the IDF says it will 

expand ground operations

 'all across the Gaza Strip.' Israel continues to order evacuations as IDF warplanes struck targets in southern Gaza on Monday.

The Israeli military posted the evacuation orders 

with a map of Gaza

, which divided the territory into 2,400 zones, advising residents to pay attention to which zones were under active combat and which would be safe for evacuation. The U.N. said the map was unclear, adding that due to electricity and communication disruptions, many Gazans would not see the map at all. 

Hundreds of thousands of Palestinians have sought shelter in southern Gaza since the start of the war on Oct. 7.

The U.N. Relief and Works Agency for Palestine Refugees said that there are 1.1 million internally displaced people — half of Gaza's total population — registered in 156 U.N. facilities across the Strip.

On Sunday, the IDF said it destroyed more than 60% of the Hamas tunnel shafts. 
---
Updated Dec. 1, 2023, 10:00 a.m. EST
The weeklong pause in the Israel-Hamas war is over, and 

both sides are blaming each other

 for the resumed fighting. 

Moments before the truce expired, Israel said it intercepted a projectile from Gaza. Shortly after, Israel restarted military operations with airstrikes across the Strip. Since the battle has resumed, more than 100 people have been killed in Gaza, according to the Hamas-run health ministry. 

The World Health Organization is warning that Gaza's health system is on the brink of collapse, resembling a 

"horror movie."

 The U.N. called the renewed fighting "catastrophic."
---
Updated Nov. 30, 2023, 9:30 a.m. EST
Israel and Hamas agreed to extend the truce in Gaza. Qatar said the two sides approved the extension for one additional day under the same conditions.
---
Updated Nov. 29, 2023, 5:00 p.m. EST
The extended pause in fighting is set to expire on Thursday. Mediators are pushing for another truce in hopes of getting out more hostages and getting more aid into Gaza.

Some officials hope another pause will lead to talks on ending the war. However, Israeli officials have promised to continue attacking Gaza until Hamas is eliminated. 

As of Tuesday, Hamas released at least 

85 Israelis, and Israel released 180 Palestinians

. 
---
Updated Nov. 27, 2023, 1:00 p.m. EST
"The State of Qatar announces, as part of the ongoing mediation, an agreement has been reached to extend the humanitarian truce for an additional two days in the Gaza Strip."
Hamas confirmed in a statement that it agreed to a pause under the same conditions as the previous one.
---
Updated Nov. 27, 2023, 9:30 a.m. EST
The truce between Israel and Hamas is in its 

final hours today

. The agreement reached last week called for Hamas to release 50 Israeli women and children in exchange for 150 Palestinian women and detainees under 19 from Israeli jails. 

Hamas 

freed 39 Israeli hostages

 over the weekend and 17 non-Israelis, including a four-year-old Israeli-American, three Thai nationals, and a Russian citizen. Israel freed 117 Palestinian prisoners. 

Talks are ongoing about continuing the pause. Hamas said it is willing to extend, while U.S. President Joe Biden is hoping to continue the halt until all hostages are released. Israeli Prime Minister Benjamin Netanyahu said he would welcome an extension if Hamas agreed to release an additional 10 captives every day. 

Both sides have taken issue with the names presented for the final day of hostage exchanges. Officials from Qatar, the lead mediator, are trying to address the differences.

Netanyahu made it clear that the IDF will resume fighting after the pause ends to "eliminate" Hamas. 

Over 100 trucks carrying aid crossed from Egypt into Gaza on Sunday. 

Biden said

:
"Critically needed aid is going in and hostages are coming out. And this deal is structured so that it can be extended to keep building on these results."
---
Updated Nov. 22, 2023, 10:15 a.m. EST
A hostage deal has been reached, which will see the release of 50 hostages being held by Hamas in exchange for 150 Palestinian women and children 

being held prisoner

 in Israel. It will also include a four-day pause in fighting.

A spokesperson for the Israel Defense Forces said that this is an "operational pause" rather than a ceasefire and that the final details are still being ironed out. Israel has not confirmed when the fighting will stop.

Lt Col Richard Hecht, 

an IDF spokesperson

, said:
"We still have probably, maybe a day-plus before this thing matures, and things can happen in that day. And I assume today is going to be a day of fighting in Gaza."
U.S. officials confirm they will pause their surveillance drone flights over Gaza for six hours each day during the temporary pause in fighting.

The pause will allow fuel and humanitarian aid to enter the Gaza Strip.

Hostages' families or any other citizens have 24 hours to appeal to the Israeli Supreme Court to object to the deal.
---
Updated Nov. 21, 2023, 9:45 a.m. EST
Qatar's foreign ministry has said that hostage negotiations are at a "critical and final stage."

The deal is said to include a multi-day pause in fighting, and the release of 50 hostages in exchange for Palestinian women and children being held in Israel. There 

are a total

 of 83 Palestinian women and 380 teenagers under the age of 18 imprisoned by Israel in the West Bank, East Jerusalem, and Israel, according to the Palestinian Prisoners Club, an NGO.

Israel's Prime Minister Benjamin Netanyahu 

told reservists

:
"We are making progress. I don't think it's worth saying too much, not even at this moment, but I hope there will be good news soon."
WHO Director-General Tedros Adhanom Ghebreyesus 

said the organization

 was "appalled" by the attack on the Indonesian Hospital, saying that "health workers and civilians should never have to be exposed to such horror."

Over 50 journalists have been killed since Oct. 7, in what has been the deadliest time for journalists since the Committee to Protect Journalists 

began tracking deaths in 1992

.

More children have been killed in Gaza in one month than in any other conflict 

annually since 2019

.

A U.N.-run school in Gaza's Bureij refugee camp used to shelter displaced Palestinians was hit on Monday, with an unknown number of residents killed.

Russia's state-owned news agency Tass quoted Putin's calls for a ceasefire:
"The death of thousands of people, the mass expulsion of civilians and the humanitarian catastrophe that has erupted cause deep concern."
---
Updated Nov. 20, 2023, 9:30 a.m. EST
Israel has released videos that it claims 

show hostages

 and a Hamas tunnel network at Al-Shifa. Israel says the videos are proof that the hospital is the site of a Hamas command center.

Twenty-eight premature babies have been evacuated from the besieged Al-Shifa Hospital to Egypt via the Rafah border crossing. The babies 

are being cared for

 at Al-Ahli Emirates Hospital in Rafah.

The Hamas-run health ministry says the death toll is now above 13,000 since the Israeli invasion began, and that an overnight Israeli air strike on the Indonesian Hospital in northern Gaza killed 12 people. Indonesia has condemned the attack, calling it a violation of humanitarian law.

According to observers, the Indonesian Hospital 

remains the site

 of a siege, with armored military vehicles surrounding the building and snipers stationed on nearby roofs. Thousands of people are sheltering in the hospital.

Michael Herzog, Israel's ambassador to the U.S., said he is hopeful about an impending hostage release. Mark Regev, a 

senior adviser

 to Netanyahu, said:
"The reason people are a bit more upbeat about it is because Hamas needs a ceasefire. They need some time to rest and regroup. There will be a ceasefire only if there is a release of our hostages."
---
Updated Nov. 17, 2023, 10:00 a.m. EST
According to the Hamas-run health ministry, IDF troops are searching the underground levels of Al-Shifa Hospital. Observers say troops have been questioning patients and staff sheltering in the hospital.

Israel said they found military equipment, information, and footage of the hostages during their search. Israel released a photo and video of an "operational tunnel shaft," which it said 

was found

 inside the hospital complex.
"We have already found 300 shafts that go into these tunnels, most of them booby trappers, including in the vicinity of that hospital."
Hamas said Israel's statements are "nothing but a continuation of the lies and cheap propaganda, through which [Israel] is trying to give justification for its crime aimed at destroying the health sector in Gaza."

According to CNN

, U.S. intelligence says it has collected information that suggests Hamas was using Al-Shifa Hospital as a command node.

Yesterday morning, the IDF said fighter jets struck the house of Hamas leader Ismail Haniyeh.

On Wednesday, Yoav Gallant, Israel's Defense Minister, 

said the operation

 would eventually "include both the north and south."

The U.N.'s human rights chief, Volker Türk, 

warned that

 "massive outbreaks of infectious disease, and hunger" are on the horizon in Gaza. Two-thirds of the Gaza Strip's population of 2.3 million have been made homeless since the war began.
---
Updated Nov. 16, 2023, 9:30 a.m. EST
The Israel Defense Forces are searching the Al-Shifa Hospital for a second day. They say that the hospital harbors a secret Hamas base and subterranean fortifications, but has yet to produce evidence of this publicly. The argument that Hamas has a base at the hospital is

central to the IDF's defense

of its actions.

The IDF said it had taken "operational control" of the harbor in Gaza City.

Yesterday, the U.N. Security Council called for an immediate, multi-day humanitarian pause in the fighting to allow much-needed aid to reach civilians. The U.S. abstained from voting on the resolution, which passed without its vote.

Yair Lapid, who leads Israel's parliamentary opposition, 

spoke critically

 of Benjamin Netanyahu:
"Israel has lost faith in the prime minister. We cannot allow ourselves to conduct an extended war with a prime minister that the public does not trust."
---
Updated Nov. 15, 2023, 10:00 a.m. EST
Israeli forces entered the Al-Shifa Hospital overnight. Hundreds of staff and patients remain in the hospital, and some have been shot at when trying to leave, according to witnesses. The IDF went

from room to room

, questioning people on site. 

The IDF says that Hamas is operating a command center under the hospital, a claim Hamas and the hospital staff deny.

Israeli troops are continuing what they claim to be the "precise and targeted operation against Hamas in a specified area in the Shifa Hospital, in which they are conducting searches for Hamas terror infrastructure and weapons."

The World Health Organization said it had lost contact with health personnel in the hospital.

Leaders from the U.N., Turkey, and Jordan 

have condemned

Israel's attack on Al-Shifa Hospital.

Qatari mediators are trying to arrange a ceasefire and hostage release. The deal is being coordinated with the U.S. and would involve the release of 50 civilian hostages in exchange for a three-day ceasefire. Under the 

terms of the agreement

, several Palestinian women and children would be released from Israeli jails.

Dr. Ahmed Mokhallalati, a doctor at the besieged Al-Shifa Hospital,

told the BBC

 he was conducting surgeries yesterday with light sedation and that patients were "screaming in pain." Six premature babies have died in recent days because the hospital lacks the electricity to run incubators.

At least 25,000 liters of fuel have entered southern Gaza through the Rafah crossing, the first shipment of its kind since the siege began. U.N. trucks can now be refueled, but Israel is still prohibiting the fuel from being distributed to hospitals, water pumps, or sanitation facilities.

Philippe Lazzarini, 

head of UNWRA

, the U.N. agency for Palestinian refugees, said:
"Our entire operation is now on the verge of collapse. By the end of today, around 70 percent of the population in Gaza won't have access to clean water."
Heavy rain has 

begun to fall

 on Gaza, which humanitarian workers worry will make the situation on the ground worse for the hundreds of thousands of displaced people.
---
Updated Nov. 14, 2023, 12:30 p.m. EST
Israeli forces have reached Al-Shifa Hospital while hundreds of people, including dozens of babies, remain trapped inside. Palestinian officials

say the hospital

 is surrounded by heavy gunfire, making evacuation nearly impossible. The hospital has been cut off from electricity, and incubators for 

premature babies

 are non-operational.

The World Health Organization has said that forcing seriously ill patients to flee hospitals would be akin to a "death sentence."

The IDF has been adamant that Hamas operates bunkers underneath the hospital, a claim denied by both hospital staff and Hamas. 

On Monday, 

Biden said

:
"It's my hope and expectation that there will be less intrusive action relative to the hospital. The hospital must be protected."
The IDF 

confirmed

 that Israeli hostage Noa Marciano, 19, has died in Gaza. Hamas says she died in Israeli airstrikes.

UNICEF noted that over 700,000 children are now displaced within the Gaza Strip.

The Palestinian-run health authority stated that 11,000 people have been killed in Gaza, 40% of them children.

The U.N. said its fuel supplies will run out by today, impacting millions of people.
---
Updated Nov. 13, 2023, 12:00 p.m. EST
The Palestine Red Crescent Society said that attempts to evacuate the patients at Al-Quds Hospital have failed due to "continued shelling and shooting" by Israeli forces. They

stated

 that the hospital is no longer operational due to fuel shortages.

The World Health Organization says that Al-Shifa H

ospital, the largest in the Gaza Strip, "is not functioning as a hospital anymore" due to constant gunfire in the area. Three babies have died in the hospital because they could not

receive intensive care

.

Janez Lenarcic, the European commissioner for crisis management, urged for a more meaningful humanitarian pause. 

He said

:
"Fuel needs to get in. As you could see, more than half of the hospitals in the Gaza Strip stopped working, primarily because of lack of fuel, and fuel is desperately needed."
On Sunday, the 

EU condemned Hamas

 for using medical facilities and civilians as "human shields."

The U.N. agency for Palestinian refugees, UNRWA, said its fuel depot will run out in a few days and that the agency will no longer be able to resupply hospitals, remove sewage, and provide drinking water to the residents of Gaza. UNRWA is currently sheltering nearly 800,000 people.

The Israeli Defense Forces say that 

44 Israeli soldiers

 have died since ground operations began.
---
Updated Nov. 9, 2023, 12:00 p.m. EST
The Israeli military said they took control of a Hamas outpost in Jabalia in Northern Gaza after ten hours of fighting.

The Rafah border crossing is closed, but Israel has reopened an evacuation road that enables residents to move southwards from northern Gaza. Yesterday, roughly 50,000 people managed to evacuate by taking this route.

The Hamas-run health ministry in Gaza says that over 10,500 people have now been killed in the Strip since the war began.

Volker Türk, the U.N. commissioner for human rights, said Israel and Hamas are 

both guilty

 of committing war crimes.

Raids continue in the West Bank, particularly in the Jenin refugee camp. Since the beginning of the war, 150 Palestinians, including 44 children, 

have been killed

 by Israeli forces in the West Bank. 

Qatar has continued to mediate hostage talks between Hamas and Israel. Israeli Prime Minister Benjamin Netanyahu remains steadfast in his refusal to grant a ceasefire 

until hostages are released

, saying last night:
"I want to put to the side all sorts of idle rumors that we are hearing from all sorts of directions, and repeat one clear thing: there will be no ceasefire without the release of our hostages."
Carla Del Ponte and Graham Blewitt, two 

former international prosecutors

, have called on the international criminal court to issue arrest warrants for political and military leaders of Israel and Hamas.
---
Updated Nov. 8, 2023, 2:45 p.m. EST
Palestinians are continuing to flee Gaza City along the Salah-al-Din Road. Israel gave residents a

four-hour window

 to leave the city, between 10 a.m. and 3 p.m. local time, as it prepares for more targeted attacks. The IDF 

has warned

 that "time is running out to evacuate," adding that they have destroyed 130 Hamas tunnels since they began the offensive campaign.

The Palestinian Red Crescent Society has accused Israeli forces of targeting aid vehicles carrying "lifesaving medical supplies."

Kamala Harris 

had a call

 with Israel's President Isaac Herzog, in which she reiterated American support for Israel's right to defend itself against terrorism. In the call, Harris also "emphasized the importance of protecting civilian lives and respecting international humanitarian law."

Doctors Without Borders lost a colleague to airstrikes in a refugee camp. The organization 

renewed its call

 for a ceasefire, saying:
"It is clear that no place in Gaza is safe from brutal and indiscriminate bombing."
U.S. Secretary of State Antony Blinken met with G7 leaders and pushed for a humanitarian pause. 

He said

:
"Ultimately the only way to ensure that this crisis never happens again is to begin setting the conditions for durable peace and security and to frame our diplomatic efforts now with that in mind."
---
Updated Nov. 7, 2023, 1:30 p.m. EST
Israel's Prime Minister Benjamin Netanyahu said that Israel will have "overall security responsibility" in Gaza after the war ends.

While he maintains that there will be 

no ceasefire

, he referenced short humanitarian pauses:
"As far as tactical little pauses, an hour here, an hour there. We've had them before, I suppose, we'll check the circumstances in order to enable goods, humanitarian goods to come in, or our hostages, individual hostages to leave."
The U.N. is decrying the inhumane conditions in the Gaza Strip and confirmed that 70% of residents are now displaced. The 

agency spoke

 of the public health crisis:
"UNRWA shelters have reported thousands of cases of acute respiratory, skin infections, diarrhea, and chicken pox."
---
Updated Nov. 6, 2023, 2:00 p.m. EST
Over 10,000 people 

have been killed

 in Gaza, including 4,000 children, since Israel began its airstrike campaign in Gaza, according to the Hamas-run health ministry. Over 1.5 million people have been displaced.

U.N. Secretary-General António Guterres said Gaza was "becoming a graveyard for children."

Israel confirmed that its troops had reached the Gaza coastline and split the enclave between "north" and "south" zones in its ongoing ground operation. 

Israel's Prime Minister Benjamin Netanyahu continues to refuse to consider a ceasefire 

until all hostages are released

.

Since Oct. 7, over 9,000 rockets have been fired at Israel, according to government officials. This has led to the evacuations of 245,000 people. 

Government spokesman 

Eylon Levy said

:
"We do not see a conflict between the desire to take into account the humanitarian needs of the citizens in Gaza and the continuation of the fighting. We continue to produce humanitarian corridors."
Gaza's Health Minister said that 16 out of 35 hospitals in the Strip are out of service.
---
Updated Nov. 3, 2023, 12:30 p.m. EST
Amid world leaders calling for a ceasefire, Netanyahu said 

Israel rejects

the request to halt the attack on Gaza. The prime minister said during a televised address:
"Israel refuses a temporary ceasefire that does not include the return of our hostages."
Hamas still holds over 240 hostages that were taken on Oct. 7. 

Netanyahu stated this after talks with U.S. Secretary of State Antony Blinken, 

who called for a pause

 on the attack so humanitarian aid could get through to injured civilians. 
---
Updated Nov. 2, 2023, 1:30 p.m. EST
The Hamas-run health ministry in Gaza said more than 9,000 people have been killed in the Strip since Oct. 7. 

Israeli soldiers are in "face-to-face" battles with Hamas as the military continues to advance around Gaza City. The IDF claims it's targeting Hamas infrastructure and minimizing civilian deaths. 

Israel Prime Minister Netanyahu said troops are at "the height of battle" in the Gaza ground offensive. A statement released by his office said:
"We've had impressive successes and have passed the outskirts of Gaza City."
Gaza's border crossing authority released the names of around 600 foreign nationals allowed to leave through the Rafah crossing on Thursday, along with some injured Palestinians.

U.S. Secretary of State Antony J. Blinken plans to urge the Israeli government to briefly pause military operations in Gaza to allow for hostages to be released and for humanitarian aid to be handed out. 
---
Updated Nov. 1, 2023, 12:30 p.m. EST
Egypt, Hamas, and Israel agreed to a deal mediated by Qatar and U.S. officials to open up the Rafah border crossing to evacuate people trapped in the Gaza Strip. Injured civilians and foreign passport holders, including some Americans, are set to leave.

The deal covers "several days" of transfers and up to 500 people per day, according to a source briefed on the matter.

Another outage hit Gaza, taking out internet and phone services, and leaving overflowing hospitals desperate for fuel. 
---
Updated Oct. 31, 2023, 4:00 p.m. EST
On Tuesday morning, Israel said it hit 

300 targets in Gaza

 overnight through airstrikes and ground offensives. The Israeli military struck the Jabalia refugee camp in northern Gaza, an area where Israel told people to leave for their safety, killing the leader of Hamas' central Jabalia unit, Ibrahim Biari, and other Hamas fighters.

The refugee camp is the largest of eight in Gaza. As of July 2023, just over 116,000 Palestinian refugees were registered there by the U.N.

The Hamas-run health ministry said that 

hundreds of people

 were killed and injured — the exact amount unknown. People are continuing to search the rubble for survivors.  

U.N. Secretary-General Antonio Guterres released a statement saying he is "deeply alarmed" by the intensification of the conflict in Gaza and called again for a ceasefire. He said:
"This includes the expansion of ground operations by the Israel Defense Forces accompanied by intense air strikes, and the continued rocket fire towards Israel from Gaza…International humanitarian law establishes clear rules that cannot be ignored. It is not an a la carte menu and cannot be applied selectively."
The General Authority for Crossings and Borders in Gaza said that 81 Gazans with serious injuries will be allowed to enter Egypt to receive treatment via the 

Rafah border crossing

.

An Egyptian medical official told AFP:
"Medical teams will be present tomorrow at the crossing to examine the cases coming (from Gaza) as soon as they arrive... and determine the hospitals they will be sent to."
Abu Obeida, the spokesperson for al-Qassam Brigades, said in a televised statement that Hamas's armed wing plans to release several foreign hostages "in the next year days."

Craig Mokhiber, a director of a U.N. New York office, 

resigned in protest

, citing the organization's failure to prevent mass atrocities, protect the vulnerable, and hold perpetrators accountable.
---
Updated Oct. 30, 2023, 1:15 p.m. EST
Israeli troops attacked northern Gaza from both sides on Monday after starting their 

major ground offensive on Palestine

 over the weekend. Israeli military officials said they've killed four prominent Hamas operatives and struck more than 600 militant targets. IDF said in an update:
"IDF troops killed dozens of terrorists who barricaded themselves in buildings and tunnels, and attempted to attack the troops."
Israel has repeated warnings for civilians to move south as the military continues to advance into Gaza and intensify airstrikes on the region.

The death toll in Palestine has exceeded 8,000, most of them women and children, according to Gaza's Health Ministry. In the West Bank, more than 110 Palestinians have been killed in violent Israeli raids. More than 1,400 people in Israel were killed, mainly during the initial Hamas rampage on Oct. 7.

Israel cut off water and electricity in the Gaza Strip, leaving 2.3 million people desperate for aid. Thousands broke into U.N. warehouses and distribution centers in Palestine, searching for 

"basic survival items," said the organization

. 
"This is a worrying sign that civil order is starting to break down after three weeks of war and a tight siege on Gaza."
On Sunday, 

33 trucks with food

, water, and medicine entered Palestine from Egypt. Witnesses in Gaza report Israeli tanks cutting the main road attaching Gaza City from southern Palestine, effectively isolating the region. The international criminal court's top prosecutor, Karim Khan, said if this report is accurate, Israel's actions to impede humanitarian aid 

could constitute a war crime

. 
---
Updated Oct. 27, 2023, 12:45 p.m. EST
The Israeli military conducted "targeted raids" inside Northern Gaza for the second night in a row, hitting Hamas infrastructure and military command centers. The raids were conducted to "prepare the battlefield" for an 

anticipated full-scale ground invasion

.

EU leaders are meeting for the second day of a summit in Brussels to discuss various issues, including the Israel-Gaza War. The EU has announced that they will provide an additional $52 million in humanitarian aid for Gaza. The French government is sending 50 tons of support, including medicine, tents, and food, to Gaza. It is due to fly to Egypt on Saturday. 

The International Committee of the Red Cross 

has confirmed

 that a 10-person team of medical staff and experts crossed into Gaza today to offer desperately needed care.

Philippe Lazzarini, head of the U.N. 

Relief Works Agency for Palestine Refugee

, warned:
"Over the last week, I followed closely the focus about the number of trucks entering Gaza. Many of us saw in these trucks a glimmer of hope. This is, however, becoming a distraction. These show trucks are nothing more than crumbs that would not make a difference for the 2 million people [of Gaza]."
"Food and water are running out. The streets of Gaza have started overflowing with sewage. Gaza is on the brink of a massive health hazard as the risks of diseases are looming."
White House national security spokesman John Kirby 

said that the U.S.

 is "not dictating terms" to Israel in reference to a potential ground invasion. 

The U.S. military launched airstrikes early this morning on 

two locations

 in eastern Syria that are linked to Iran's Revolutionary Guard Corps.

The Islamic University of Gaza has been destroyed. Israeli army bulldozers ran over the memorial of late Palestinian journalist Shireen Abu Akleh in the 

Jenin refugee camp

 in the occupied West Bank.
---
Updated Oct. 26, 2023, 1:00 p.m. EST
The death toll in Gaza is now 

over 7,000 people

, with 3,000 children among the dead.

The Israeli army shot and killed a 17-year-old Palestinian during a raid on the Jalazone refugee camp inside the occupied West Bank.

Israel's military conducted an overnight 

ground raid

 targeting Hamas positions inside Gaza and identified 224 hostages 

being held

 in the Strip. 

Israeli Prime Minister Benjamin Netanyahu confirmed that the army is preparing for a ground invasion.

In a speech last night, Netanyahu said that Israel has "already eliminated thousands of terrorists – and this is only the beginning."

Turkish President Recep Tayyip Erdoğan called Israel's assault "barbaric" and stated that the West is not calling for a ceasefire or 

abiding by international law

 because the blood spilled in Gaza is the "blood of Muslims."

The leaders of 27 EU member states will meet in Brussels to discuss the war. The EU's foreign policy chief, Josep Borrell, has been vocal about calling for a 

humanitarian ceasefire

. There remains apprehension among the member countries about how a ceasefire might improve Hamas' positions.

China will provide $2 million in aid for Gaza on top of the $1 million that has 

already been provided

.

Twelve more aid trucks crossed into Gaza this morning, but still no fuel deliveries.
---
Updated Oct. 25, 2023, 12:00 p.m. EST
"If we do not get fuel urgently, we will be forced to halt our operations in the #GazaStrip as of tomorrow night. Fuel deliveries must be let in to ensure people have clean drinking water, hospitals can remain open and life-saving aid operations can continue."
39% of schools in the Gaza Strip have been damaged since the war began, and 625,000 children 

are not currently attending school

.

Over 600,000 people are internally displaced in the Gaza Strip, sheltering in 150 UNRWA facilities.

Turkish President Recep Tayyip Erdoğan 

said that countries

 outside of the region were "adding fuel to fire." He canceled his upcoming trip to Israel and stated that Hamas is a "liberation group," not a terrorist organization.

Qatar's Emir Sheikh Tamim bin Hamad Al Thani said that more children have died in Gaza than Ukraine and 

condemned the international community

 for "acting as if the lives of Palestinian children do not count, as if they are faceless or nameless."
---
Updated Oct. 24, 2023, 11:45 a.m. EST
The Hamas-run health ministry in Gaza has said at least 5,087 Palestinians have been killed in Israeli strikes since Oct. 7, 

including 2,055 children

.

Hamas has released two more hostages: Israeli citizens Nurit Yitzhak (also known as Nurit Cooper), 79, and Yocheved Lifschitz, 85, who were released on "humanitarian and poor health grounds." The women were transported by the Red Cross to Gaza's Rafah border crossing with Israel, after which they were reunited with family.

John Kirby, 

strategic communications coordinator

 for the National Security Council, said:
"The message was pretty clear to Hamas: 'release all the hostages.' That needs to be the first move here. We're not talking about a ceasefire right now. In fact, we don't believe that this is the time for a ceasefire.".
Twenty trucks of humanitarian aid passed through the Rafah border crossing on Monday, but the shipments did not include fuel. The U.N. is worried that desalination plants and electricity generators will cease to function, affecting hospitals and critical services, until fuel arrives. 

Israeli soldiers 

are participating

 in training exercises to bolster their "readiness and capabilities for ground operations" in Gaza.
---
Updated Oct. 23, 2023, 9:00 a.m. EST
Israel has intensified airstrikes in the Gaza Strip, in addition to one on the West Bank city of Jenin on Sunday, where Israeli intelligence claimed a mosque was being used as a "terrorist compound" and 

harboring Hamas fighters

.

Two people were killed, both of which Israel characterized as Hamas and Islamic Jihad groups preparing an "imminent terror attack." Eighty-nine Palestinians 

have been killed

 in the West Bank since Oct. 7.

The Hamas-run health ministry announced that 55 people were killed in an air strike overnight, bringing the death toll to 4,300 in the Gaza Strip since Oct. 7, more than half of which are 

women and children

.

The U.S. government is urging Israel to delay its planned ground operation in Gaza to allow more time for aid to reach the Strip and for further hostage negotiations. 

Judith Tai Raanan and 17-year-old Natalie Raanan, two American citizens who were being held hostage by Hamas, 

were released on Friday

.

Israel's President Isaac Herzog confirmed that a USB drive containing instructions for making chemical weapons to use on civilians was found on the body of a Hamas terrorist. 
---
Updated Oct. 20, 2023, 12:00 p.m. EST
After Biden and Egypt's President Abdel Fatah el-Sissi reached an agreement to send aid to Gaza, 

truckloads of resources are waiting to cross into Palestine

 at the Rafah border crossing. 

Over two million Palestinians are in dire need of food, water, and medicine and are eagerly awaiting the arrival of the aid. U.N. chief Antonio Guterres called for assistance to be allowed into Gaza immediately. However, he expects the first shipment of aid to enter Gaza in "the next day or so." He said:
"Civilians in Gaza lack all necessities of life. I call for a humanitarian cease-fire to deliver aid to Gaza."
Negotiations over the delivery logistics are holding up the support, partly to address Israel's condition of not getting resources into the hands of Hamas. Israel officials say they will not allow aid into Gaza via Israel's border until Hamas releases the approximately 200 hostages captured during the Oct. 7 attack. The 

IDF says that 20

 of the 200 are children.

The U.N.'s agency for Palestinian refugees called Gaza 

a "hellhole" for civilians

, and time is running out. The region's main power plant, desalination plants, and wastewater facilities have been inoperable for days while Israel releases near-constant airstrikes. 
---
Updated Oct. 19, 2023, 12:30 p.m. EST
Biden stated that he received information from the Pentagon that suggested the Israeli Defense Forces were not responsible for the Gaza hospital blast that killed hundreds of people.

Biden and Egyptian President Abdel Fatah el-Sissi 

reached an agreement

 to allow humanitarian aid into the Gaza Strip through the Rafah border crossing. Aid will possibly start moving into the Strip on Friday. Lorries are building up at the border, 

waiting for entry

.

Israeli airstrikes killed over 30 people and injured dozens in Rafah on Thursday morning. Three Palestinians were killed during clashes with Israeli forces in the 

occupied West Bank

. The Health Ministry in Gaza places the current death toll at 

over 3,700

.

The Israeli army announced that it has arrested 80 people in the occupied West Bank, 63 of whom were 

members of Hamas

.

The IDF has notified the families of 203 people it believes are being held hostage by Hamas in Gaza.

Hamas 

has called for

 "a day of global solidarity for the children of Gaza" on Sunday.

The U.S. State Department 

issued a rare worldwide alert

today, advising American citizens abroad to exercise caution, citing "increased tensions in various locations around the world, the potential for terrorist attacks, demonstrations or violent actions against US citizens and interests." The Senate will vote on a resolution affirming its support for Israel this afternoon. Read the resolution here.
---
Updated Oct. 18, 2023, 10:30 a.m. EST
The blast at the Al-Ahli al-Arabi Hospital has caused widespread panic throughout Gaza City. Hamas blames Israel for the explosion, while the Israel Defense Forces claim it was caused by a misfired Palestinian militant rocket.

President Biden, on a visit to the region, backed Israel's denial of involvement with the deadly blast. The visit was meant to calm tensions on both sides, but Arab leaders canceled meetings with the president. 

Hamas continues to fire rockets targeting Israel, while Israel continues to carry out heavy bombing across Gaza.
---
Updated Oct. 17, 2023, 3:45 p.m. EST
At least 500 people were killed by an explosion caused by Israeli authorities at a hospital in Gaza City, according to Palestinian reports. The Palestinian Health Ministry says the number of casualties will rise. The hospital was acting as a shelter for many civilians. 

A spokesman for Israel's military said they are "checking" if it is responsible for the deadly airstrike. 
---
Updated Oct. 17, 2023, 12:00 p.m. EST
Biden is scheduled to visit Israel to show support for the country and to urge Israeli leadership to consider the humanitarian needs of Gazan civilians. 

National Security Council Coordinator for Strategic Communications John Kirby 

said Biden will

:
"Speak to other leaders in the region about the humanitarian assistance that we want to make sure it gets into Gaza, about Israeli plans and intentions going forward, how this is unfolding on the ground."
"We don't want to see this conflict escalate and widen; there are no plans or intentions to put US boots on the ground in combat in Israel — everything we're doing right now is about sending a strong signal of deterrence."
The U.S. Department of Defense has approximately 2,000 military personnel in a "heightened state of readiness" 

due to the war

.

Hazem Qassem, the spokesperson for Hamas, 

told CNN

:
"Unfortunately the U.S. administration and the U.S. President Biden took a very aggressive measure against the Palestinian people and fell for the Israeli narrative. His visit is only to support the Israelis financially and morally and to encourage the occupation to commit more massacres against our Palestinian brothers and sisters, children and the elderly."
The U.N. warns that food supplies in Gaza will last for less than a week, and bread is swiftly running out as only one of five flour mills in the Gaza Strip remains operational.

The security situation in Gaza 

is deteriorating

, with nearly 3,000 people killed in Israeli airstrikes. 

Spain's Foreign Affairs Minister José Manuel Albares 

said his country

 supports the opening of humanitarian corridors and had pledged more aid, in addition to the 1 million euros already sent.
---
Updated Oct. 16, 2023, 12:30 p.m. EST
In Gaza, over one million people have been forced to flee their homes, and 2,329 people have been killed.

Israel has refused to agree to a ceasefire in Gaza to allow humanitarian aid in and civilians to leave.

As of this morning, only a few U.N. vehicles 

have been allowed through

, most with humanitarian deliveries.

Israel's military has confirmed that 199 people are being 

held hostage in Gaza

by Hamas, a significant increase on the number previously feared.

The U.S. embassy in Israel has warned citizens 

to move closer to the Egyptian border

as it may only be open "for a limited time."

Biden told Israel that occupying Gaza would be a "big mistake." 

He continued

:
"What happened in Gaza, in my view, is Hamas and the extreme elements of Hamas don't represent all the Palestinian people."
"What I've heard from virtually every partner was a determination, a shared view, that we have to do everything possible to make sure this doesn't spread to other places; a shared view to safeguard innocent lives; a shared view to get assistance to Palestinians in Gaza who need it, and we're working very much on that."
The Israeli military is preparing for a coordinated offensive, utilizing ground, air, and naval forces. The military has ordered citizens to move south and has accused Hamas of trying to use civilians as human shields.

Israel has announced the 

evacuation of residents

 within a one-mile zone next to Lebanon.
---
Updated Oct. 13, 2023, 1:30 p.m. EST
Israel dropped 

leaflets over Gaza City

, urging Palestinians to evacuate "immediately" to south Gaza. More than a million civilians reside in the region. Israel has been carrying out heavy airstrikes and is expected to order an offensive ground attack.

Some countries are urging Israel to hold off on the attack, while White House national security 

spokesman John Kirby said

 Washington is not second-guessing Israel's decision. He continued:
"We understand what they're trying to do and why they're trying to do this -- to try to isolate the civilian population from Hamas, which is their real target."
President Mahmoud Abbas of the Palestinian Authority, a rival of Hamas, 

told U.S. Secretary of State Antony Blinken

 that this forced displacement of Palestinians in Gaza is a repeat of what happened in 1948, when hundreds of thousands of Palestinians were driven from their homeland, which is now Israeli territory.

Hamas 

vowed to fight

 until the last drop of blood and told residents to stay put. By Friday afternoon, there was little sign of a mass evacuation. Israel's message gave residents 24 hours to leave. 

As of Friday, more than 423,000 people had already been displaced from their homes, with around 60% seeking shelter from Israeli bombing, according to the U.N.

The commissioner general of the U.N. Palestinian refugee agency said:
"Gaza is fast becoming a hellhole and is on the brink of collapse. The scale and speed of the unfolding humanitarian crisis in Gaza is bone-chilling."
The World Health Organization 

warned late on Thursday

 that hospitals in Gaza are "at their breaking point." The facilities have just a few hours of electricity each day and are being forced to ration fuel and medical supplies. 

The 

death toll in Gaza

 has reached almost 1,800 people, including 583 children.
---
Updated Oct. 12, 2023, 11:30 a.m. EST
Over 338,000 Palestinians have been internally displaced in Gaza. At the moment, Palestinians have 

almost no way

 of leaving Gaza and face a mounting humanitarian catastrophe.

Israel has 

amassed nearly 300,000 reservists

near the Gaza border. 

The state says the siege of Gaza will not end until all Israeli hostages are released. Israel's

Energy Minister Israel Katz

 said:
"No electrical switch will be turned on, no water hydrant will be opened, and no fuel truck will enter until the Israeli abductees are returned home. Humanitarian for humanitarian. And no one will preach us morals."
Gaza's only power station stopped working on Wednesday after running out of fuel, and the International Committee of the Red Cross (ICRC) says fuel could entirely run out in the besieged city in a few hours.

The U.N. agency for Palestinian refugees (UNRWA) is 

urgently seeking $104 million

 for its humanitarian efforts in Gaza.

Israeli settlers 

have shot and killed two Palestinians

 in the occupied West Bank as they were attending a funeral.

Ebrahim Raisi, the president of Iran, 

has accused Israel

 of committing genocide.

Secretary of State Antony Blinken arrived in Tel Aviv today and is scheduled to meet Palestinian President Mahmoud Abbas on Friday.
---
Updated Oct. 11, 2023, 4:15 p.m. EST
The death toll in Israel has hit 1,200, and in Gaza, it is over 1,100. At least 22 American citizens and 11 U.N. security staff have been confirmed dead.

The U.N. Secretary-General is 

pushing for humanitarian aid

 in Gaza. Essential food, fuel, and water supplies have been cut off during Israel's bombardment and blockade. 

The U.S. is in talks with Israel, the U.N., and Egypt on allowing some aid in and residents out, according to the White House. 

The Israeli military said hundreds of thousands of troops are near Gaza, "ready to execute the mission we have been given." The U.S. Secretary of State Anthony Blinken is on his way to Israel and said the U.S. would give the state "everything it needed."
---
Updated Oct. 9, 2023, 2:40 p.m. EST
The death toll continues to rise in Israel since Saturday's attack by Hamas: 900 killed, including 260 people massacred by gunmen at a music festival.
In retaliation to the attacks, Israel has been striking Gaza, where nearly 600 people have been killed. Israel's defense minister has ordered a "complete siege" of the Gaza Strip.
9 U.S. citizens are confirmed dead.
The Al-Qassam brigades - the armed wing of Hamas - announced it will:
"[B]egin executing an Israeli civilian captive in return for any new Israeli bombing of civilians houses without pre-warning."
---
What's the story?
Over the weekend, the 

Hamas militant group carried out shock attacks on Israel

, leaving hundreds of civilians dead.

Rocket attacks from Gaza continue to target Israel. The nation's Defense Minister Yoav Gallant ordered a "complete siege" of the Gaza Strip from Hamas, cutting off food, fuel, electricity, and water. Israel says it regained control of its communities near Gaza, but militant groups remain active. 

Israeli Prime Minister Benjamin 

Netanyahu said on Saturday

:
"We are at war and we will win it."
Casualties
More than 700 people have been killed in Israel, including 260 people murdered by Hamas gunmen at a music festival. More than 500 people have died in Gaza since Israel began retaliatory air strikes on the area. 

Dozens of people have been kidnapped. Nine U.S. civilians are confirmed dead. The U.N. said more than 120,000 Gazans have been displaced from their homes. 

The Israeli military says the attacks launched by Hamas are like the 2001 terrorist attacks on the U.S. A spokesman said:
"This is our 9/11 - they got us."
U.S. response
"My team and I will continue to be in close contact with our Israeli counterparts to ensure they have what they need to protect their citizens and defend themselves against these heinous terrorist attacks."
President Biden confirmed Sunday morning that he and Netanyahu spoke, with the assurance that more U.S. assistance would be coming to Israel in the coming days. The White House wrote:
"The President emphasized that there is no justification whatsoever for terrorism, and all countries must stand united in the face of such brutal atrocities."
What's to be expected?
The U.N. Security Council 

held a closed-door meeting

 on the matter. Future statements on Hamas and civilian deaths are expected but uncertain.

Russia and China are advocating for a cease-fire and a return to the two-state solution negotiations.

Observers note that a major Israeli assault on Gaza may be on the horizon, especially as hostages are involved.

The conflict may disrupt diplomatic efforts, 

notably potential Saudi-Israeli normalization

.
This is a breaking story that will be updated.
How do you feel about the U.S. response so far?
-Jamie Epstein, Emma Kansiz, and Laura Woods
(Photo credit: BASHAR TALEB/AFP via Getty Images)