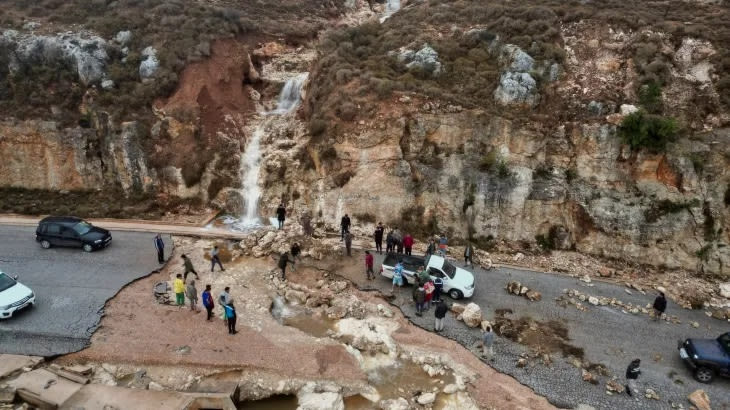 Catastrophic Flooding in Libya Kills Over 11,000
Share to help Libyan communities impacted by the flood.
Storm Daniel, a Medicane, hit Greece, Bulgaria and Turkey wiping away bridges and homes with more rain than ever before due to climate change record temperatures before hitting Libya, collapsing 2 dams and killing 6,000-10,000 with 10,000 missing and 30,000 displaced.

 At least 6,000 are known dead overwhelming hospital morgues, and possibly as many as 20,000 with 5,000 to 10,000 missing and 30,000 displaced based on the number of districts destroyed by flood waters. Counts are difficult to confirm with so many washed out to sea, hospitals closed except for morgues, and 2 rival governments operating in Libya.

 It's unknown if the 1970s era damns failed due to lack of maintenance, hurricane strength rain or both.

 What is clear is all infrastructure needs evaluation for the record breaking temperatures and rain that has been occurring every year.

 "Spokesperson of the interior ministry Lieutenant Tarek al-Kharraz on Wednesday told the AFP news agency that 3,840 deaths had been recorded in the Mediterranean city so far, including 3,190 who have already been buried. Among them were at least 400 foreigners, mostly from Sudan and Egypt."

 "Hichem Abu Chkiouat, minister of civil aviation in the administration that runs eastern Libya, told the Reuters news agency more than 5,300 dead had been counted so far, and said the number was likely to increase significantly and might even double."

 "Derna Mayor Abdulmenam al-Ghaithi told Saudi-owned Al Arabiya television the estimated number of deaths in the city could reach between 18,000 to 20,000 based on the number of districts destroyed by the flood."

 "Officials have put the number of missing at 10,000. The UN aid agency OCHA said the figure was at least 5,000."

 "Morgues are full in hospitals that remain out of service despite the desperate need to treat survivors of the disaster, according to staff."

 "Rescue teams have arrived from Egypt, Tunisia, the United Arab Emirates, Turkey and Qatar"

 "The two Wadi Derna dams were built between 1973 and 1977 by Yugoslav construction company Hidrotehnika-Hidroenergetika, now based in Serbia, as part of an infrastructure network that would irrigate surrounding fields while supplying Derna and nearby communities with much-needed water. The two dams, dubbed Derna and Mansour, are described on the company's site as clay-filled embankment dams with a height of 75 metres and 45 metres respectively. The Derna dam's storage capacity is listed as 18 million cubic meters of water, while the smaller Mansour dam has a capacity of just 1.5 million cubic meters. "

 "It is too early to determine whether the failure of the dam was caused by a lack of maintenance or whether it was not designed to be resilient to the exceptional amount of rainfall that fell"

 "Stephens stressed that it was still unclear to what extent even a well-maintained dam of the same proportions could have withstood the hurricane-strength storm's onslaught, she said that such extreme weather events would only become more common as the climate crisis worsened. "

 https://www.reuters.com/world/africa/what-caused-floods-libya-why-are-they-so-bad-2023-09-14/

 https://www.reuters.com/world/mediterraneans-devastating-storm-daniel-may-be-harbinger-storms-come-2023-09-12/

 https://www.aljazeera.com/amp/news/2023/9/13/libyans-search-for-families-after-catastrophic-flood-kill-thousands

 https://amp.theguardian.com/world/2023/sep/14/destruction-derna-flooding-libya-port-city

 https://amp.france24.com/en/africa/20230913-libya-s-deadly-dam-collapse-was-decades-in-the-making

Around the world, we are witnessing OUR HUMAN impact on our planet! Another study trying to put 'numbers' together to 'measure' how close we are to a tipping point.

Earth is outside its 'safe operating space for humanity' on most key measurements, study says (from @AP)

https://apnews.com/article/c8582c3ae0344b5a88cc38cd8e725702



From the article ...

"University of Michigan environmental studies dean Jonathan Overpeck, who wasn't part of the study, called the study "deeply troubling in its implications for the planet and people should be worried."

"The analysis is balanced in that it clearly sounds a flashing red alarm, but it is not overly alarmist," Overpeck said. "Importantly, there is hope." "

And a little more ....

"But Carnegie Mellon environmental engineering professor Granger Morgan, who wasn't part of the study, said, "Experts don't agree on exactly where the limits are, or how much the planet's different systems may interact, but we are getting dangerously close."

"I've often said if we don't quickly cut back on how we are stressing the Earth, we're toast," Morgan said in an email. "This paper says it's more likely that we're burnt toast." "

This is horrible.   

It is the result of Storm Daniel.  

Storm Daniel was a "Medicane" or a Mediterranean Hurricane also called Cyclones.  

Storm Daniel was a Category 1.  

These storms were extremely rare in the past.  

However with Global Heating and the Climate Crisis they are increasing in severity and frequency.  

In 2020, there was one that reached a Category 2--but it did not hit a vulnerable dam and kill ~5,000 people!  

This will continue to worsen all around the world.