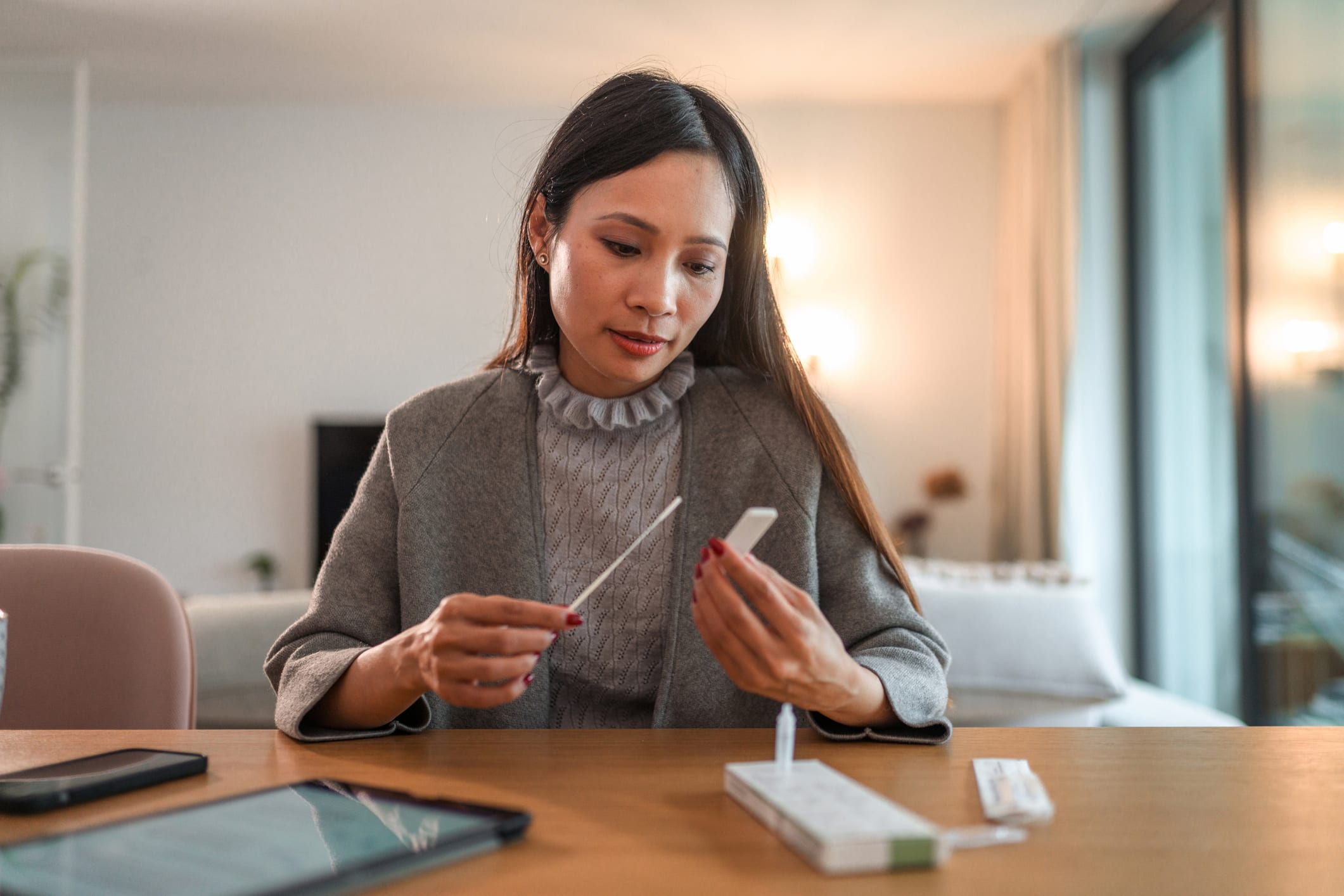 Gov Offers Free At-Home COVID Tests as 'Tripledemic' Looms
Will you get the next booster shot?
Already scheduled my appointment. A local pharmacy comes into our building and holds several clinic days each month during fall into the winter. Makes it so easy, and it's good to know neighbors and businesses in the building are vaccinated. This year they are offering the new COVID vaccine, flu, Hep B, pneumonia, RSV, Shingrix and/or tetanus.

Science indicates it would be the intelligent thing to do so, yes, I'll be getting my booster as soon as it's available.

As a researcher I have my own way of preventing getting COVID which would bother the crooked Pharmaceutical Industry which shuns cures.  By the way, I don't and will never wear a mask.

I currently work at a school and have been covering classes for teachers out with COVID. Because of my health & age, I will definitely be getting the booster & follow all protocols to avoid getting sick.

There is nothing political about this. It's science & research that have demonstrated the efficacy of vaccines. I will trust the science & the epidemiology experts and not some nut job social media meme. 

 

"Participants who received a bivalent mRNA booster vaccine dose had lower rates of hospitalisation due to COVID-19 than participants who did not receive a bivalent booster vaccination, for up to 120 days after vaccination. These findings highlight the importance of bivalent mRNA booster vaccination in populations at high risk of severe COVID-19. Further studies with longer observation times are warranted."


https://www.thelancet.com/journals/laninf/article/PIIS1473-3099(23)00122-6/fulltext


Of course I will get the fall Covid shot along with the RSV shot, the flu shot and I think the shingles shot.  I do it with great hesitation because these shots make me sick for a week to 10 days every time but it is better than dying from one of these conditions that we have all been warned about. Duh!

I was cured from herpes with his herbal remedy

He cures different health issues with herbal mixture

I got my Ex lover back with his love spell

His result is 100% guaranteed..

Great Work Keep it up Dr.……

I Like This Very Much…….

Absolutely fantastic

New cure for

Hepatitis B,

Herpes simplex virus 

Herpes zoster,

Shingles,,

Cold Sore,,


💜💜💜💜 Robinsonbuckler11[gmail com]💜💜💜💜

waiting for the apt ! Getting vaxed is not only for myself, but also for my family, friends and community.

At our age my wife and I would be reckless not to get the booster.  We have had the entire series and thank God, no COVID. 

I have already requested the free Covid home tests and will get the booster when it is available (I just called the pharmacy and they have not gotten their shipment as yet.)

Yes, I will.  I am not an idiot and I do not have any desire to die of Covid

I already got the booster. I don't understand why Republicans have made such an issue of the covid vaccines, when they don't seem to have an issue with the flu or RSV vaccines. They took the lead of the orange idiot early on and can't let go of that warped view. 

The boosters as well as masks being put back in place in public places are necessary and should be free to all.

I will get the next booster shot along with my flu shot. I do not intend to get long COVID, nor to have any serious version of either disease. 

I'm glad these will be available, but I still wish our government were doing it all it can to prevent and plan for the next pandemic.

This is a very good proven vaccine. It will prevent hospitalization and serious illnesses in majority of vaccine receivers. It will also increase herd immunity in the community thereby reducing the transmission.

"Recent findings published in September 2023 in the peer-reviewed Journal of Alzheimer's Disease suggest that a combination of three specific vaccines may help protect your brain down the road"

"Paul E. Schulz, MD, senior author of the study and the Umphrey Family Professor in Neurodegenerative Diseases at McGovern Medical School, commented: "The findings suggest to us that vaccination is having a more general effect on the immune system that is reducing the risk for developing Alzheimer's."

"In May 2022, Dr. McGovern's team also presented research revealing that getting just one influenza vaccine could reduce Alzheimer's risk by 40%, compared to those who didn't get vaccinated."

"Individuals who received the Tdap/Td vaccine exhibited a 30% decreased risk of Alzheimer's."

"Researchers evaluated older adults aged 65 and above with no history of dementia in the past two years. Over an eight-year period, they compared two groups closely matched in characteristics: One group received vaccinations against tetanus, diphtheria, shingles, and pneumonia, and the other group didn't. The goal was to determine how much these vaccines influenced the chances of developing Alzheimer's disease."

"In perspective, 7.2% of the vaccinated group developed the disease, compared to 10.2% of those who weren't vaccinated. (The researchers' formula to arrive at the 30% difference was: Risk in unvaccinated – risk in vaccinated / risk in unvaccinated X 100%)"

"those inoculated with the herpes zoster (or shingles) vaccine saw a 25% reduction in Alzheimer's risk, with 8.1% of the vaccinated cohort developing the condition compared to 10.7% unvaccinated. The pneumococcal vaccine was associated with a 27% diminished risk. In this case, 7.92% of vaccinated patients developed Alzheimer's, as opposed to 10.9% of their unvaccinated counterparts."

"Avram Bukhbinder, MD, a pediatric neurology resident at Massachusetts General Hospital and alumnus of UTHealth Houston, suggests that "vaccines may change how the immune system responds to the build-up of toxic proteins that contribute to Alzheimer's disease." Dr. Bukhbinder further posits that the vaccines might improve the efficiency of immune cells, enabling them to clear toxic proteins more effectively or modulate the immune response to minimize damage to healthy brain cells."

"some vaccines protect against conditions like shingles, which can contribute to neuroinflammation, which is a potential factor in Alzheimer'sdevelopment."

https://www.thehealthy.com/alzheimers/news-vaccines-reduce-alzheimers-risk-univeristy-of-texas-study/


 

I received all the previous vaccines and contracted Covid. My symptoms were mild and I recovered quickly, I am 73 years old and have had open heart surgery. I trust in science and believe that the vaccines helped in my bout with Covid.

I don't get a flu shot and I will not be getting a covid shot. I got the original shot and after seeing how misleading a lot of the information that was pushed I realize absolutely any further shots are completely unnecessary. 

At 71 I was not in love with needles but less desiring illness. So I got my first of many more shots to come. I will wear a mask if needed and run from anyone who coughs. Now at 74 not having had COVID and having watched several younger friends die or become seriously disabled I take every shot they will give me.

These vaccines for covid cause more harm than covid! Myocarditis is making young people drop dead, even healthy athletic types! Now we have all the research, studies, and facts and science backs them up! Same with masks! They don't work! They cause more harm than not! Even mask manufacturers label the side of the box saying they "don't protect against covid or other viruses"! 



enough is enough! 

You think you can frighten me into taking a shot that hasn't been tested on people yet? Not a chance!