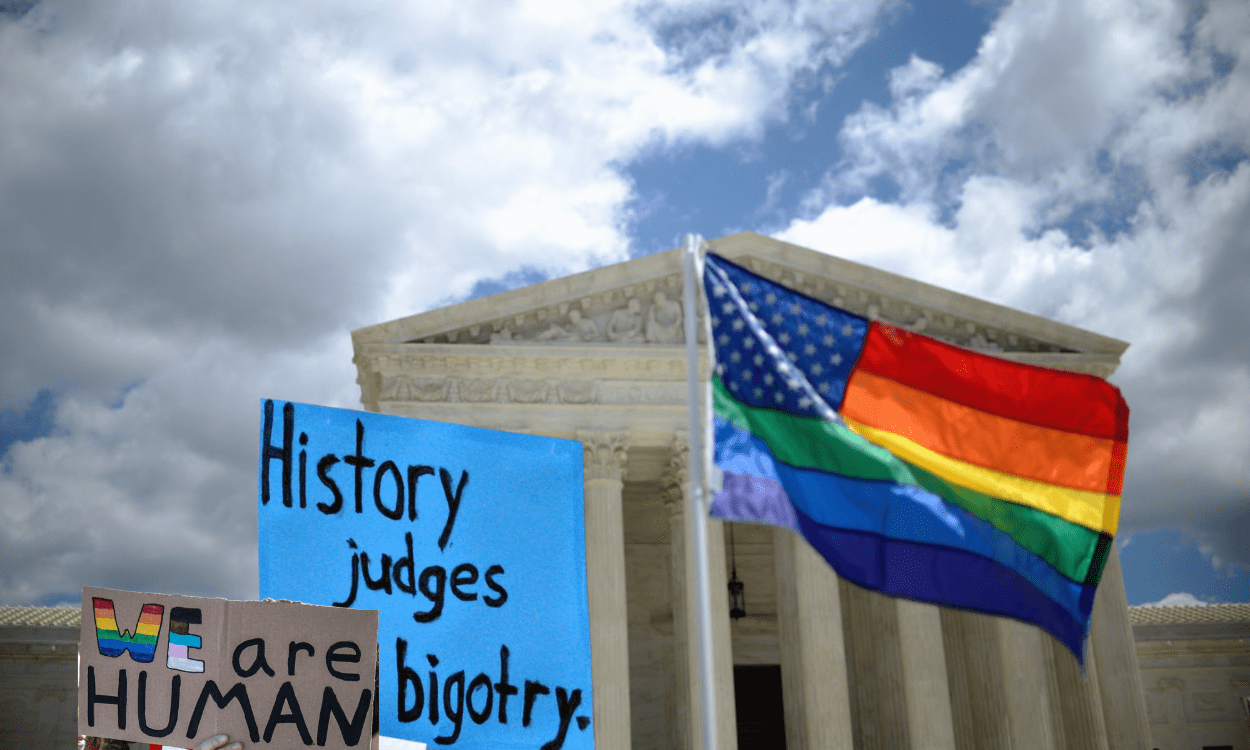 SCOTUS Issues Blow to LGBTQ+ Protections
How do you feel about the court's decision?
The Four Horsemen of Democracy's Apocalypse-


1) Newt Gingrich: 

For initiating the weaponization of political discourse, for treating opposing political views with a highly regimented block-voting political declaration of 'war', using the 'ends' to justify the 'means' of winning their 'war' - because after-all, 'winning' by any means no matter how immoral, unethical, or reprehensible can oft be justified in order to 'win the war', and initiating the technique of coordinated, well crafted, and institutionalized disinformation to appeal to the electorate's biases and fears- in order to 'win' unearned re-elections. 

Newt initiated the changing of a political party into a political faction, existing to protect the party's interests first and foremost instead of our country's. Listen to the Republican Cartels discourse on elections with a strict emphasis on 'winning' as opposed to the Democrat's who want to accomplish change to support the populace generally and ask to be re-elected in order to enact those changes. 


2) Mitch McConnell: 

For obliterating the norms and precedents that once allowed the institutions of our (or any) Democratic governance to interoperate with the requisite trust which is the only glue that holds these institutions together, for taking a leading role arguing the Citizen's United travesty which allows massive dark money funds to be easily used to unaccountably buy the political influence of legislators, for abusing the norms for judiciary appointments to stuff the courts with Federal Judiciary based upon how 'right' they are leaning, unaccountably blocking executive branch judiciary appointments for over a year using arguments that he totally ignored when it benefited his party.

When a political faction begins to juggle the rules unethically, dishonorably and immorally for their party's self benefit, they become a Cartel instead of a faction, dedicated solely to preserving their political power and financial well being by any means. Cartels only represent their own self-benefit and can no longer represent the will of the people. The Republican Cartel's members are wantonly ignoring their oath's of office to work for the good of the country and the people that make it up. There is NO oath of office to protect a politician's benefactors, their political base, their constituents nor themselves. 

By extension, the actions of Mitch McConnell, Republican Cartel leaders, the RNC, and state legislators are ignoring the principles needed to sustain our Democratic governance and eroding it with small cut after small cut to the point that it soon will die the death of thousand cuts - which is a primary means of transforming once functional democracies into full fledged (kleptocratic) autocracies. 

 

3) Leonard Leo and his Supreme Court Minions:

For his (and their) decades long effort to gather massive dark funding from the wealthiest conservatives to reshape the Federal Judiciary and Leo's fallacious argument that this country was founded on Christian ideals used to promote his vision of a Christian Nationalist governance. The founder's and the framer's were mostly deists and were not Christians - they believed in a God, but not in a God that mucked around in human affairs nor required any particular form of religious fealty. That is why the framer's emphasized freedom of religion and the separation of church and state - allowing people to freely practice their own religious beliefs so long as their practice did not take away the rights of others generally not their right to practice their differing religions. Christian Nationalism requires that the State not interfere in a chosen religion but says that a particular 'chosen' Christian religion should be able to control the state (Sounds a lot like Iran's governance). 

Leonard Leo has been involved with the grooming, selection, vetting and/or confirming of each of the six sitting conservative Supreme Court Justices. The selection, vetting and confirmation of the last three conservative Supreme Court Justices was totally outsourced by the trump to Leonard Leo for rubber stamp confirmations by McConnell and the regimented block-voting Republican Cartel's Senate. Leo has been openly referred to as the 'third most powerful person in the world' by Justice Thomas.

Leo, as a VP of the Federalist Society, solicits massive funding from mostly dark money benefactors, including one legally shifty donation of $1.6 Billion and was an early supporter of the Citizen's United travesty; One recent fund raiser would not accept any individual donation of less than $70 Million. The funds are shuffled through a maze of mob-like shell companies and non-profits, and distributed to pay Republican AG's to write Amicus briefs and get the 'right' cases into the 'right' courthouses in order to groom Leo's selected federal judges in what is known as his 'from law school to the Supreme Court' program, used to pay the huge legal expenses of getting select cases to the Supreme Court for decisions that would benefit their conservative ultra-wealthy donors, or used to foster 'friendships' with the wealthiest donors who have cases that are or will be pending before the courts.

All of the current conservative Supreme Court Justices are beholding to Leonard Leo and the Federalist Society for their appointments, they know it and most if not all are card carrying members of the Federalist Society. I cannot imagine that either the founders or the framers could condone this organized, unethical and dishonorably hidden purchased influence over our judiciary. I cannot see how anyone could accept these tactics as being in concert with the founding principles of our country.

If the conservative Justices were worthy of the title 'the honorable' they would all summarily resign for their knowing participation in the bastardization of these democratic processes - instead of continuously moving our country to re-establish the 'Golden Age' of the 1830's.

 

4) Big Money Influence and Wonton Greed: 

For the enabling, feeding and sustaining of the first three pestilences to democracy. 

Businesses in general solely exist to provide goods and services at desirable price points. If they are well managed and out perform competitors they acquire market share they become profitable or even very profitable. That is the definition of pure capitalism - but that is not what is practiced in this country anymore.  Now, with the primary focus of being profitable first, corporations, in particular, have found a better return on their investments by buying political favor to ensure their revenue streams than otherwise investing in remaining truly capitalistically competitive. That is why so many things that were invented in this country are now being greatly improved upon and manufactured by foreign competitors; without the ability to buy US legislator's political influence, these foreign competitors have out-competed and taken market share from many of the American company originators.

Citizen's United has greatly expanded the ability of Big Money interests to outright buy big influence over all three branches of our governance with no accountability for their greed to sustain short term unearned profitability.

In fact, to slay the first three horses of democracy's apocalypse, we only need to slay this one: The Republican Cartel would no longer be profitable and, in general, politicians who want to responsibly govern and who are interested in preserving our country's future instead of just it's past will come to the fore; There will no longer be wealthy conservatives able to shape the federal judiciary to suit their financial interests through hidden and highly targeted investments, and self serving executive branch high office holders would lose the financial perks that they can currently quietly accrue through dark money PACs. 


But - What About the trump? 

Well the four horses above are the disease that is infecting our democracy, the trump is just a byproduct, no more than just a sorry symptom of that disease. If history remembers the 'trump' at all, it won't be about the current sad excuse of a big mouth bully and sociopathic narcissistic mob boss that this person is - it will only be used as an adjective to describe any politician with most of those attributes, as in 'DeSantis is another trump, a bit smarter and a bit more careful with his bluster'. 

Beyond the obvious radical activism of the conservative supermajority in this case, how will we know how far this type of "artistic expression" goes? Why is a website artistic, but a cake is not? Who will draw that line? Will businesses tell people up front that they discriminate, or will LGBTQ people have to find out the hard way, when they get rejected or turned away?

 

Religious freedom is ill-defined in this country that says it supports the concept but never seems to make decisions on behalf of Jewish, Muslim, or Hindu religious freedom. What if someone who is Muslim wants to deny service to Jewish people because of the crimes of Israel against Palestine, will that be ok with this court?

 

Again we see an arbitrary ruling in favor of one person's religious freedom that demonstrates one religion and one type of expression, but it's too hard to know the extent of this ruling until we see more cases and more decisions. 

 

Hold on tight.

I expect much worse than this from these unethical, bribed, religious zealots and reactionaries.  These people have a very clear agenda set forth by the Federalist Society.  We need to make some harsh changes to the Supremely Catholic Court...

We have a deeply corrupt Supreme Court without a code of ethics,  that enriches itself with large financial gifts from close friends including a financial interest in cases before the Court.

We have a Supreme Court Justice whose wife communicated on a frequent basis with individuals who sought to overturn a presidential election to keep a corrupt twice impeached President in power.

We have a conservative Supreme Court that acts more like an arm of the Republican Party than Supreme Court Justices, that has no quams curtailing Americans' civil rights or legal protections, that has no respect for Stare Decisis, that issues ad-hoc opinions favoring right-wing causes using ad-hoc legal reasoning based on fringe theories of constitutional law tailor-made for the occasion.

We have a Supreme Court that cares nothing for for the health ,safety, livelihoods, civil rights, voting rights, or equal rights under the law of LGBTQ+, racial, ethnic, immigrant, Black, or minority citizens.

We have a Supreme Court that denies women control over their own bodies or reproductive choice. We have a Supreme Court that has never seen a gun it didn't like, that has helped put a target on the back of every American.

 

It's time to demand reform of the U.S. Supreme Court, to demand that they adopt a code of Ethics, and if necessary to demand impeachment of corrupt justices, term limits, and expanding the number of Justices on the bench.

Why would you want to even do business with a business that doesn't like you to begin with. Go elsewhere. There are plenty of businesses that would do what you would like. You will never end some people's ignorance. Yes the lady won her case. But did she? 

As with many social issues in our country, this one cannot be reduced to black and white categorization. But fundamentally, no one is entitled to the products or labor of another; a person cannot be coerced or forced to produce by another. This is slavery. Could this ruling lead down a slippery slope of using religion as an excuse for racism? Absolutely. But I wonder if people's opinions of the case would have been different had it been a neo-Nazi requesting a website from a Jewish web designer, or requesting a swastika cake from a Jewish baker...

Is the Supreme Court really a court of law?

Doesn't a case require a party to show harm to have standing to be heard in a court of law?

Isnt presenting false evidence perjury?

Shouldnt Justices like Amy Coney Barrett associated with ADF recuse themselves from the case?

Lorrie Smith, a graphic designer, never had a gay client. The alledged client claims he never was a client, and has been married to a woman for 15 years. Since he is also a graphic designer he believes some one used his website contact information.

The Alliance Defending Freedom (ADF) has spent 25+ years as an anti-LGBTQ "hate group" according to the Southern Poverty Law Center with a $50M budget funding legislation (75 state laws passed in 2023), law suits (sodomy laws, same sex marriages, business services to gay couples, transgender rights) in the U.S. and advising hate groups in other countries (Belize, India, Jamaica and 51 other countries).

ADF is funded by:

-The Servant Foundation, a Christian grant-making organization - $50M (2018-2020)

-the Covenant Foundation

-the Bolthouse Foundation

-the Edgar and Elsa Prince Foundation

-the Richard and Helen DeVos Foundation

the Bradley Foundation

-the Charles Koch Institute donated $275,000 to ADF in 2020

-The M.J. Murdock Charitable Trust, $1M (2007 to 2016)

"To have standing, a party must show an "injury in fact" to their own legal interests. In other words, has the party itself "suffered" some sort of actual harm? "

"I can confirm I did not contact 303 Creative about a website...It's fraudulent insomuch as someone is pretending to be me and looking to marry someone called Mike. That's not me...He has also been happily married to a woman for the last 15 years...He said he is a designer with a fairly sizable following online. The inquiry to Smith sent in 2016 lists his personal website, where he used to have his email and telephone number displayed, so it's possible a stranger could have collected those to impersonate him."

"Alliance Defending Freedom, or ADF, which has been labeled an anti-LGBTQ "hate group" by the Southern Poverty Law Center, a designation the group disputes. Since its founding nearly 25 years ago, ADF has been linked to efforts seeking to criminalize homosexuality, restrict transgender people's access to sex-segregated facilities and permit businesses to deny service to LGBTQ people."

"75 anti-LGBTQ+ bills were signed into law in the first five months of 2023 – more than double the entire amount passed in 2022"

"Individuals associated with ADF have included U.S. Supreme Court Justice Amy Coney Barrett, former vice president Mike Pence, former attorney generals William Barr, and Jeff Sessions, and Senator Josh Hawley."

https://www.nbcnews.com/news/amp/ncna936391

https://adfmedialegalfiles.blob.core.windows.net/files/WhatIsStanding.pdf

https://www.findlaw.com/criminal/criminal-charges/perjury.html

https://amp.theguardian.com/law/2023/jun/29/supreme-court-lgbtq-document-veracity-colorado

https://amp.theguardian.com/world/2023/jun/30/christian-hate-group-funding-us-anti-lgbtq-anti-abortion-organizations


"I learned the hard way that a law degree from Yale meant one thing for White graduates and another for blacks, no matter how much anyone denied it," Thomas wrote. "As a symbol of my disillusionment, I peeled a fifteen-cent price sticker off a package of cigars and stuck it on the frame of my law degree to remind myself of the mistake I'd made by going to Yale."

clarence you simply are a 15 cent lawyer with the shallow self serving views - should have stuck the sticker on your biz card!  

Until america elects / appoints well read well traveled scholars and 'statesmen' (& stateswomen) to key positions and with limited tenures we are simply going to paddle backwards 

The Supreme Court's recent decision regarding a web designers's right to refuse her services to LGBTQ+ people is a dog whistle to those who would discriminate against and deny services to any category of people who they dislike.

The purpose of this ruling is not to protect free speech but to whittle away at hard won equal rights of LGBTQ+ persons, to intimidate them, and force them back into the closet.

The ruling places LGBTQ+ people, who already face emotional, psychological, and physical danger and even death for simply existing, at added risk from hate groups and individuals.

Drumming up fear and hatred of the "other" doesn't strengthen America, it weakens it.

To me it looks like the Catholic conservative majority forcing their religious beliefs down our throats. Definitely time to do away with the tax exempt status of all religious organizations 

Why can't We The People have a say about SCOTUS?  Biden needs to install judges. I don't care how he does it at this point.  Just do it! Get-er done! The 6 political idiots on the bench are destroying all the rights of We The People. They are a total disgrace to the robe.

We really need the Supreme Court itself as a discussion topic (a Cause) 

We also need Affirmative Action as a topic.

 

Time to vote all GOP supporters of this blantent bigotry out, pass ethic laws for the Supreme court and limit their terms.

 

I am sick of these right wing extremists at Corrupt SCOTUS WE ARE GOING BACKWARDS. THESE REPUBLICANS JUSTICW WERE PICK BY LEO LEONARD WITH MILLIONS OF DOLLARS FROM THE LIKE OF BUDDIESS LIKW CROW, LEO. HOW FAR WILL DEMOCRATS LET THIS GO ON. WE MUST TAKE ACTION TO ENLARD JUSTICE COURT. IF NOT WOMEN AND MINORITIES WILL HAVE NO RIGHT BECAUSE PEOPLE LIKE CLANCE THONAS CARES ONLY FOR HIMSELF AND HIS LUXURY LIFE STYLE. HIS WIFE IS A DANGER TO DEMOCRACY. WE AS AMERICANS WILL NOT ALLOW TRUMP AND HIS EXTREMIST IN THE COURTS TEAR THIS COUNTRY APART. THOMAS SHOULD BE FORCED TO RESIGN AS HIS CORRUPTION IS CLEAR. HIS WIFE HELP THE INSURRECTION THAT RIGHT THERE IS ONE REASON THOMAS SHOLD LEAVE THE COURTS THEY BOTH CORRUPT. DISGUSTING AND DISGRACEFUL TO THE LAW OF THIS COUNTRY TOM MCCLINTOCK IS JUST AS CORRUPT AS THESE RIGHT WING EXTREMISTS HES A DISGRACE TO AMERICA AND CALIFORNIA. 

First of all... a decision that makes ANY American citizen second class is abhorrent to the spirit of our Country.

Second... No one asked the petitioner to create a website for a gay couple, so the case is based on a lie at worst, and hypothetical at best. How can a plaintiff have standing if they were not harmed?

Third... the person who WOULD be harmed had this case been an authentic dispute would have been the one who was turned away from a business for their active discriminstion against them.

So, in essence, this case lets those who wish to discriminate win. 

Based on what? A person's 'deeply held religious beliefs' from a faith that was founded by someone (Jesus) who stood up for the down-trodden and rebuked those who are supposed to kinow better. 'Love one another as I have loved you' doesn't seem to resonate with these people... and if it does, it doens' tinclude the ones they don't like, don't agree with and can't stand. And that is AGAINST the prinicples of Christianity.

If you don't want to sell your goods or services to certain people don't go into business here!  All people are created equal here!  This is land of the free and home of the brave..........GET IT?

Bigotry is now the law of the land.  Of course, I expect nothing less from the GOP Fascists and their rabid, frothing at the mouth base.

SCOTUS did not strike a blow to LGBTQ right, it ru g the bell to freedom of choice! Why would anybody want to do business with someone who doesn't want to do business with them..... the old story, "no short, no shoes, no service "

The Supreme Court in this country is a joke, it's sad and sick joke that's affecting millions of people. It seems like the Republican Party has become the party that wants to control everyone's every move and every thought. They want to be big brother. I'm really sick of it I used to be an independent voter I never will be again I will never be able to vote for another Republican.

To begin with, let me say that someone's sexual preference is NONE or your business!

In Our Constitutional Republic we have Equal Rights and Equal Opportunity. Not Equity, Not Affirmative Action, Not Protected Classes of Citizens and it is Far past time to get Unconditional Laws Repealed.

Politicians need to get busy or  much busier to get these Unconstitutional Laws Repealed.

God Bless The USA

In view of the fact that the plaintiff had not been asked to create a website for a gay couple, the courts had no business taking on the case. This is a case of activist judges making a preemptive law that supersedes Congress and state legislators.