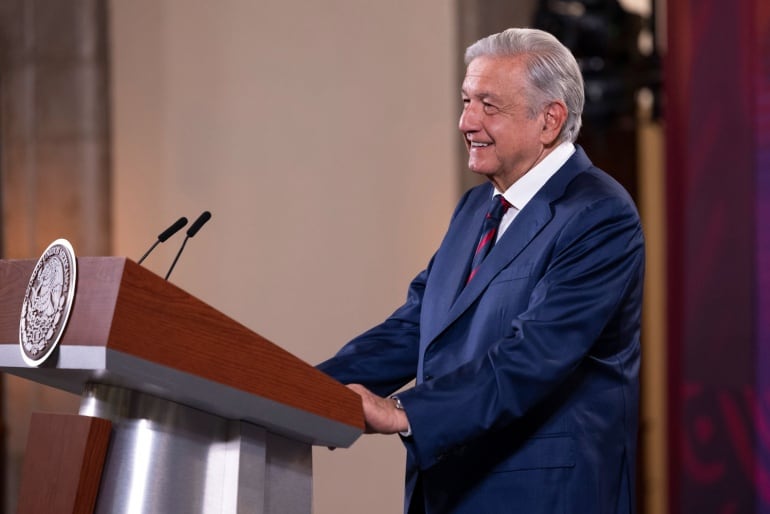 Mexico's President Backs Peace Agreement with Cartels
Do you support the "hugs, not bullets" programs?
Well, it's really not up to us, since it's not our country. 

There is a lot of evidence in this country that funding social programs is more effective than spending on policing to combat crime and addiction, but we still refuse to fully fund social programs in most states/areas, so who are we to know?

However, military intervention is not acceptable. Mexico is a sovereign country and should fix their own problems with our diplomatic advice. If we actually invaded their country with our military, that would just continue our awful history of colonialism and make us no better than Russia.

The guy is either dreaming or shitting bullets! 
narcos only know one language 

there is only ONE realistic solution 

eliminate controls make it practically free! those who use will use anyway no matter cost or hurdles

take the money out of and it dies

BUT politicians & crooks (in the same breath) will lose all those greenbacks! 

solutions are simple - finding the will is difficult 

It's up to the Mexican government to decide how to run their internal affairs. The US can use resources like foreign aid or manpower (DEA, FBI, military, etc) to assist or try to influence decisions but the US government can't make these decisions.

This ain't gonna save Mexico from ruthless cartels, you can't combat violence with hugs. Good luck to Mexico...

Why not? And besides the biggest threat to drug cartels is not law-enforcement it's legalization.

As the old saying goes----"nothing ventured, nothing gained".  Wish him much luck with this attempt but he needs to flush out the undesirables within his own law enforcement departments.  Vengence and retaliations cause more harm than they do good.  Sadly it is all about greed and power over the masses.  It wouldn't hurt if Mexico would be tougher on its imports not only from the U.S. but China and other countries as well.  But then again, "money talks" and the rich get richer while the rest of us have to pay the price.

Mexican Cartels are involved with human trafficking, feeding prostitution houses-spas with women and girls, drug deaths due to fetynal exceed 100,000 just in the US, and finally they are clearing an estimated billion dollars moving South-Central Americans over our Border. We should make clear to the Mexican Government this list is unacceptable and we expect action to reduce their grasp.

The US should go after the Cartels and their distribution networks from our side of the Border.

I find it sad and somewhat desperate that our next door neighbor's  President, Andrés Manuel López Obrador, is left to negotiate a peace deal with cartels. As much as I would like to repeat the mantra of so many on this site, "not my monkeys, not my circus", I want to reply, "How's that working for us?"

 

Its not working. We have an inordinate amount of drug and people trafficking along our southern border. The root cause: the cartels!  In the past year, tourism has suffered in Mexico and the lives of American visitors have been put in peril. 



If we do not help our southern neighbors find solutions to their cartel problems, continue to look the other way, verbalize that it's "not our country", then we have only ourselves to blame when it comes to illegal drugs, border crossings, and American tourists' deaths. 



We seem to have no problem helping our European allies sort their border issues. I wish we would find the same kind of money, resolve, and planning to help ourselves. It's not too late. 

Why would anyone in a government position make agreements with criminals instead of bringing them to justice?

Well, since the "crack down" (if it really was a crack down) didn't seem to work, it seems rational to try another approach.  Whether this "hugs" approach will work remains to be seen, but trying a new approach seems warranted.