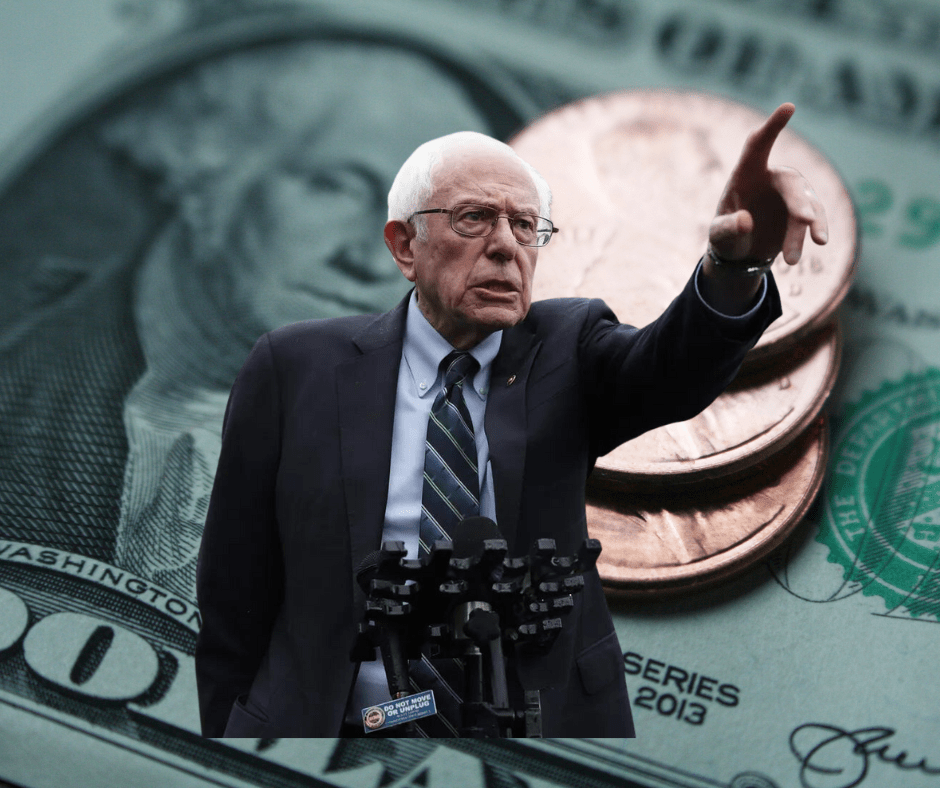 Amidst Sanders' Fight, NYC Raises Wages for Food Delivery Drivers
Should we raise the minimum wage?
Despite no Congressional minimum wage legislation, 8 large companies, 35 cities and 10 states have raised minimum wage to $15

1) 8 large companies (Aetna, Amazon, Bank of America, Costco, IKEA, Target, Walmart, Wells Fargo)

2) 10 states (CA, CT, DE, FL, IL, MA, MD, NE, NJ,  NY) already at $15/hr now or next couple of years

3) 35 cities (Albuquerque, Chicago, DC, Los Angelia, Minneapolis, NYC, San Diego, San Francisco, Santa FE, Seattle, Tucson, etc). 

With all the grassroots efforts like the Tucson voter proposition that passed and became ordinance, 8 companies, 30 states and 35 cities, how can Congress continue to ignore the national minimum wage?

https://www.npr.org/2022/01/31/1076978207/starbucks-union-push-spreads-to-54-stores-in-19-states

https://tradingeconomics.com/united-states/interest-rate

https://www.ncsl.org/research/labor-and-employment/state-minimum-wage-chart.aspx

https://tucson.com/news/local/govt-and-politics/voters-pass-tucsons-15-minimum-wage-proposition/article_66860bfe-3757-11ec-9988-630cb6e35849.amp.html

https://www.patriotsoftware.com/blog/payroll/what-is-minimum-wage/

https://www.nelp.org/publication/raises-from-coast-to-coast-in-2022/

https://ogletree.com/insights/minimum-wage-increases-in-2022-a-chart-of-upcoming-changes-and-interactive-map/

https://www.shrm.org/resourcesandtools/hr-topics/compensation/pages/big-companies-are-raising-wages-for-lowest-paid-workers.aspx

https://www.cnbc.com/2021/12/29/minimum-wage-employers-moving-faster-than-states-to-raise-hourly-pay.html

https://www.federalreserve.gov/newsevents/pressreleases/monetary20220316a1.htm

https://www.irs.gov/newsroom/interest-rates-increase-for-the-second-quarter-of-2022

https://www.reuters.com/business/feds-harker-says-four-rate-hikes-are-appropriate-this-year-2022-02-01/

https://www.cnbc.com/2022/03/16/federal-reserve-meeting.html

https://www.reuters.com/business/feds-policy-pivot-track-despite-uncertain-impact-ukraine-war-powell-says-2022-03-02/

https://www.npr.org/2022/03/01/1083720431/target-minimum-wage

https://ogletree.com/insights/tucsons-minimum-wage-ordinance-takes-effect-on-april-1-2022-dont-be-fooled/

https://www.causes.com/comments/1523347

https://www.causes.com/comments/1519370

https://www.causes.com/comments/1527662

https://www.investopedia.com/articles/investing/080515/top-5-us-cities-highest-minimum-wage.asp

https://www.investopedia.com/articles/markets-economy/081416/top-8-companies-raising-minimum-wage-mcd-sbux.asp

https://worldpopulationreview.com/state-rankings/fifteen-dollar-minimum-wage-by-state#


Yes please, listen to Bernie.  There are two people in this government that we have that make good sense with money.  One is Bernie Sanders and the other is Liz Warren.  Put those two in charge of all the money dicisions!  We will always come out on top.

Prices skyrocket because of that senile puppet in the White House and his Energy Policy.  He and he alone was the cause of our inflation going up.  He took a page out of the Carter playbook.  Only Two Democrats had the brains to be President, JFK and Clinton.  

Raising the minimum wage would speed up our entry into a recession.  It would hurt small businesses.  Bernie is a socialist and like I've always said Democrats love to buy votes with their ridiculous ideas.  They prey on the ignorant and gullible.  

 

Minimum wages probably need to increase.  However, a sudden raise in wages cannot be absorbed easily by smaller businesses and nonprofits.  A slow steady increase is more reasonable for all concerned.  There is no easy one answer to low income families. 

Do the math! If one were a head of household, a $17 minimum wage yields around $34,000 a year. That may not be terrible, but it certainly would be a tight pinch in some parts of the country. The current federal minimum wage of 7.25 an hour yields $14,500 a year, which is unacceptable anywhere. It isn't just teenagers working summer jobs who are at minimum wage. It is many adults who are trying to support families. Clearly, the current standard is woefully inadequate and needs to be greatly increased to make it a liveable wage. 

No matter how you look at it, prices will go up on everything so as not to lose that damn profit margin.  It will continue to be that way until the government steps in and regulates big money corporations, housing costs, medical costs, and other necessities we need for survival.  We will be fighting this game playing till we are all dead and gone unless we all get our heads out of our arses and start voting idiots who are easily bought off, out of office.  Humanity must come first.

I'm 95% progressive liberal.  I do NOT support raising or even having a minimum wage.  I DO support having government welfare provide a minimum basic income.  Welfare is the responsibility of government, not the employer.

Wages should be a function of the availability of workers, and the value of the worker skills.  If you have NO skills, you're not going to get paid much -- but that doesn't mean you have no value or will have to live on the street.

If "Joe" works in a factory making widgets, and he can make 10 widgets an hour, and the company makes $1 on each widget (after paying all other expenses), then they can afford to pay Joe up to $10/hour.  If the government steps in and requires the company to pay Joe $17/hour -- what do you think happens to Joe?  He'll get laid off, because they're losing money on him.  And then he'll be 100% on welfare.  If the company can keep him employed at $10/hour, the government should (MUST!) have a welfare program to make up the difference.

This is why we have self-service kiosks in stores.

Implement a tax-paid program to make up for wage shortfalls, to ensure EVERYONE has access to basic shelter, food, healthcare, and education.

Sanders and the Democrats are idiots. The GOP is weak.. 

Grow some GOP and stop talking and start prosecuting. 

 

The uniparty time is over

Economics 101...increase wages, increase costs...its the circle of the economy....

Higher wages, higher costs.......

Bernie Sanders has fought tirelessly for the working class and now its paying off! Hurrah! Minimum wage must be a living wage. Time for the class/caste system that has existed in this country to end!

Hell YES. There is so much misplaced, wasted and corrupt money in this country.  The corps andv1% are the grifters and thieves.  Time to regulate corp, Wall St, hi-tech and Pentagon spending.  They are living off the sweat of the rest of Americans. We've had enough

The current federal minimum wage is $7.25 an hour. I don't know where this would be a liveable wage in this country. More than doubling it, as suggested by NYC's mayor, is the minimum that needs to be done in order to make a liveable wage. 

Yes, we should raise the minimum wage.  I'd like to see any of the walthy people in The House and The Senate try to live on what is now minimum wage-they could not do it!  And then, all the while, they cut benefits for the poor while they cash in their checks from wealthy donors(legalized bribes) and vote the way they are paid!

We need to raise the minimum wage, but we also need a law that prevent rich CEO's from profitting through that raise of wages.  Some owners of large companies raise prices dratically and the blame it on the increase in the wages of their employees.  When in fact the vast amount of the money just enriches the owner of the company.  This harms America.  Greed gives capitalism a bad reputation.

To barely be able to live in the USA at this time, the minimum wage must be set at $25/hour. Additionally, the wage must go up each year with the rate of inflation.

Sanders like most Democrats is communist - he honey mooned in Russia.  Has no clue about anything and millionare himself. How did that come to pass. Hey comrade, why are you sharing that money eh.. 

Get better jobs after you go to a trade school. Forget college, they have become worthless.  Degrees in gender science are useful for what???

Only if you like inflation, and increase cost to city to deliver to illegal immigrants.

No.  This is only a cyclic increase which will only be repeated in a few years with another increase.  Without action to hold costs down, the raise will be eaten up instantaneously.

This is great news for drivers in New York, but there are still far too many workers across this country struggling to make a living wage.

Employers are desperate now and are hiring teens in the hopes they can pay them less than they might have to pay adult workers.

We need a workers' bill of rights that protects the working class and punished the corporate executives for keeping their employees in poverty.

I am skeptical.

My fellow New Yorkers don't want the pass-a-long raises on top of the food price raises that have not come down since the Pandemic (in addition to many restaurants using greatly inferior ingredients (eg using pink slime instead of ground meat in Tacos, Pasta Bolognese, etc).

In interviews on Radio & TV saying people will greatly lower or even stop tipping.

On 6/11 on radio station 1010 WINS the commentator was saying that one or more lawsuits will be filed.

I've spoken to a couple of restaurant owners and I've gotten an array of responses. #1. The App charges the restaurant too much. #2. They getting fewer local orders since people can now order from distant restaurants. #3. You better be a good tipper or deliverers will ignore your order. Deliverers say the last one is a lie IDK.