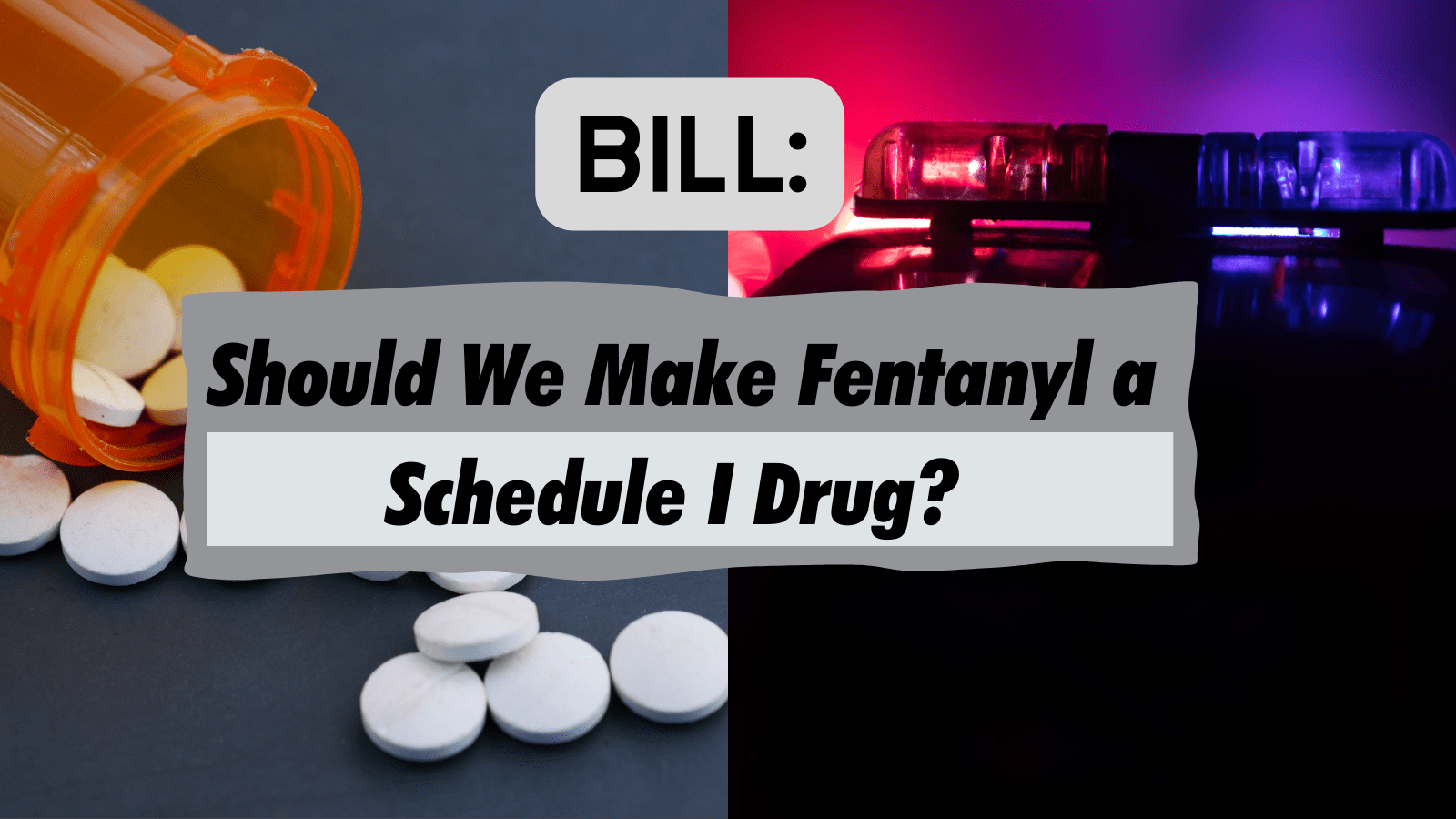 BILL: Make Fentanyl a Schedule I Drug? - Halt Fentanyl Act - H.R.467
Do you want your Senators to pass the bill? Tell them what you think.
"The United States is facing a poisoning epidemic caused by illicit fentanyl and its related substances that are pouring over our southern border. I'm tired of hearing stories about mothers, fathers, daughters, and sons that lost their lives at the hands of this lethal drug. I'm proud that the House took this action today, which will undoubtedly save lives. The fight isn't over, our border is still unsecured, but this is a positive step that I hope the Senate will take up swiftly."


The White House released a statement saying Biden-Harris Administration has long supported the HALT Act. 

I have to admit, I know very little about this drug. Other than thousands of Americans die every year. I am watching the news, seeing Republicans blaming an open border, Biden administration not doing anything. Well from what I see both parties do very little to rein in border control or giving monies needed to control drug use, or rehabilitation. Each quick to blame the other. Our borders need to be closed and only allow normal immigration entry. Drug rehab facilities need to be free and accessible. Both parties are making money from an open border. Someone is making money on fentanyl sales or all this would stop. What idiot suggested the Bill. Come on voters, do you really want someone with this mentality representing you. 

Do you want your Senators to pass the Halt Fentanyl Act - H.R.467

Absolutely Not! 

" JUST SAY NO"....the old waron drugs line.

This would not solve the drug issues on the street, but would harm patients who benefit from it.

Politicians that know nothing about drug production and distribution creating legislation that won't stop fentanyl precursors being shipped into the US from China to make illicit fentanyl and analogues. Drug schedules only effect pharmaceutical grade fentanyl. Nor will it help those with substance abuse problems as they will end up in jail not treatment programs if they don't die first from a drug overdose.

 People are dying of illegally made fentanyl and fentanyl analogues so changing schedule classifications used for legal distribution of pharmaceutical fentanyl won't affect the precursors coming from China by mail to make illicit fentanyl in homemade labs.

 After China agreed to control fentanyl , Chinese companies shifted to mailing precursor drugs directly to the U.S. as there are legitimate drug production uses for the precursors to make drugs other than fentanyl.

 To control the fentanyl problem we need 

 (1) global scheduling for dual-use chemicals which currently relies on self-regulatory mechanisms for pharmaceutical and chemical industries around the world — to reduce the ease of availability of precursor agents for drug trafficking organizations. 

 (2) anti-money laundering standards in the banking sector.

(3) step up DEA & DOJ enforcement activities 

 The cartels & gangs have plenty of resources and many options to evade physical barriers at borders, airports, ports.

 Recently DOJ attacked the heart of the fentanyl crisis by going after companies and people selling the chemical precursors used to make fentanyl.

 US DOJ charged 4 Chinese Companies & 8 people for illegally trafficking fentanyl precursors used to make fentanyl for the 1st time ever following Blinken's recent trip to China.

 "The U.S. Justice Department on Friday filed criminal charges against four Chinese chemical manufacturing companies and eight individuals over allegations they illegally trafficked the chemicals used to make fentanyl - a highly addictive painkiller that has fueled the opioid crisis in the United States."

 "The companies at the heart of the three separate indictments are accused of selling precursor chemicals to the Sinaloa Cartel in Mexico, which has flooded the U.S. with the drug."

 "Federal prosecutors in Manhattan announced the unsealing of an indictment against the China-based Hubei Amarvel Biotech, along with its executives Qingzhou Wang, 35, Yiyi Chen, 31, and Fnu Lnu, also known as Er Yang, with fentanyl trafficking, precursor chemical importation, and money laundering offenses"

 "In the Eastern District of New York, prosecutors announced the unsealing of two more indictments against three other Chinese companies and individuals accused of conspiring to manufacture and distribute fentanyl."

 "Prosecutors said the companies - including one called Hebei Sinaloa Trading Co - advertised precursor chemicals on social media in Mexico and the U.S., and used false customs forms and mislabeled packages to ship the chemicals by boat and air."

 "Two months earlier, the Justice Department charged leaders of the Sinaloa cartel with running a fentanyl trafficking operation fueled by Chinese chemical companies, including three sons of Joaquin "El Chapo" Guzman, the onetime cartel leader now imprisoned in the U.S."

 "The Justice Department said undercover Drug Enforcement Administration (DEA) sources posing as fentanyl manufacturers met with Wang and Chen earlier this year and agreed to buy 210 kg of fentanyl precursors in exchange for payment in cryptocurrency. The DEA retrieved the chemicals from a Los Angeles warehouse in May."

 "Deputy Attorney General Lisa Monaco said the cases "break new ground by attacking the fentanyl supply chain at its origin."

 "Fentanyl poses a singular threat, not only because the smallest doses can be lethal, but because fentanyl does not occur in nature. It is entirely man-made."

 "Also on Friday, Blinken announced he would convene a virtual ministerial meeting on July 7 of dozens of countries and international organizations, to launch a Global Coalition to Address Synthetic Drug Threats."

 https://www.causes.com/comments/91871

 https://www.dea.gov/sites/default/files/2020-03/DEA_GOV_DIR-008-20%20Fentanyl%20Flow%20in%20the%20United%20States_0.pdf

 https://www.reuters.com/world/us/us-files-first-ever-charges-against-chinese-fentanyl-manufacturers-2023-06-23/

 https://www.brookings.edu/research/china-and-synthetic-drugs-control-fentanyl-methamphetamines-and-precursors/

 https://www.dea.gov/sites/default/files/2020-03/DEA_GOV_DIR-008-20%20Fentanyl%20Flow%20in%20the%20United%20States_0.pdf

Considering they gave it to me after surgery (while in the hospital) I can say from personal experience the statement it "currently have no accepted medical value" isn't correct. 

It's illegal fentanyl that we have a problem with in this country, not with how it's legally handled. 

Wow! Besides Fentanyl killing people, we also have guns killing people. I hope the Republicans will take appropriate actions to control guns, too. 



The HALT Fenatnyl Act is completely wrong-headed.  

First--Nothing should be listed as Schedule 1.  

            Schedule 1 labels the drug as entirely useless and restricts research concerning the drug.  NO drug is entirely useless.  In fact, several drugs on Schedule 1 have important potential uses and research is being impeded.

Second--Fentanyl is useful for patients with intractable chronic pain especially for cancer patients.  So, unless the Federal government wants to take heroin off of Schedule 1 for cancer patients to use, leave Fentanyl off Schedule 1.  By the way, Heroin is routinely used for intractable pain in terminal cancer patients in the UK.

Third--The Drug War Never Worked!  

Criminalizing drugs only imprisons more people.

Senators:

We most strongly urge you NOT TO PASS THIS BILL.

As was said in the lede for this issue: 

"Increasing drug war criminalization is a disproven, failed strategy. The goal is not to address the overdose crisis and keep people alive. The goal is to grandstand using 'tough-on-crime' rhetoric of the past to control communities and provide a false sense of safety."

Rep. Frank Pallone Jr. (D-NJ) said during the floor debate:
"The American people deserve bipartisan solutions that address both public safety and public health. This bill fails on both fronts and simply continues the status quo, allowing opioid use disorder and the overdose crisis to continue to devastate American families across the nation."

We urge Congress to provide the resources to Universities for Research into safe and effective pain medications and strategies. 

Many Americans are suffering from overwhelming pain. Current options are limited and ineffective or dangerous. Criminalizing their efforts at pain relief however misguided is a grave injustice. 

I support restricting the flow and distribution on fentanyl, but the "War on Drugs" never worked and just resulted in the mass incarceration of far too many Black men and women while the drugs continued to flow. 

This bill is not the answer. We must institute better systems for helping people to avoid drug addiction, stop the over-prescription of opiates, and provide free and equitable healthcare for all. If people did not have reasons to use fentanyl and good means of resisting its pull, then we wouldn't have such terrible problems with overdose deaths in this country.

Do not pass this bill.

While the need to control this substance is obvious, given the arguments against passage of this bill, I'd have to agree that passage would do little to address this problem in an effective manner.  Is quite evident that the "war on drugs" has and is a failure, so why keep doing the same thing over and over, other than it makes the Republicans look tough on crime.