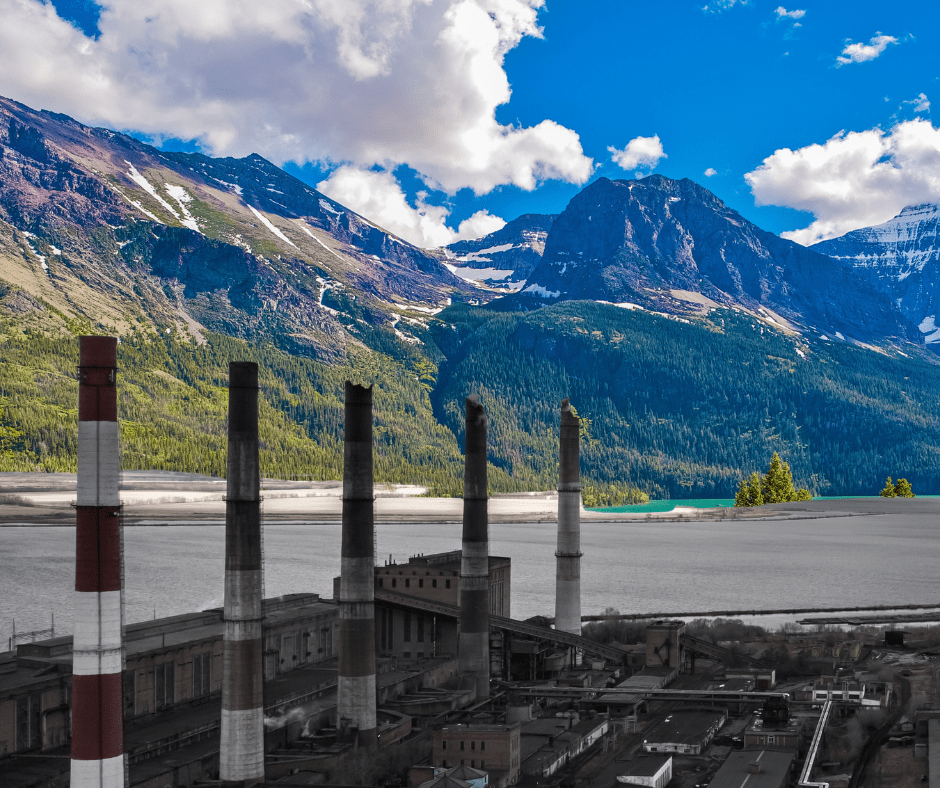 Montana GOP Lawmakers Sign Aggressive Anti-Climate Science Law
What do you think of Montana's anti-environmental law?
Only an idiot would want a law that allows the destruction of the environment.  We all LIVE on the environment, destroy enough of it and we ALL die!  Can the Congress pass something that would require proper EPA evaluation of ALL major projects, including state projects?  I would vote for that!

The Montana legislators are obviously being supported financially by the fossil fuel corporations or they wouldn't completely ignore the will of their constituents and the health of our nation as a whole, even the health of their children and grandchildren!  This is not only stupid but immoral. We are mandated by our Judeo-Christian beliefs that we are to care for all creation, not destroy it!  I believe that ALL major religions believe this. The legislators who voted for this and the governor who signed it into law all need to be impeached by the people of Montana if the courts don't reverse this.

And in my State of Ohio, it's ridiculous to think there are two sides of the climate change crisis to teach in schools.  Are teachers supposed to teach that the members of the GOP in the Ohio legislature and our Governor Dewine are ignorant of the science and are being paid by fossil fuel companies?  That is something they can teach with honesty!

Climate Change is real.  How extensive is it?  Not sure.  Most blame it on Carbon Dioxide emissions.  If that's the case then why is U.S. Patent 8,674,373 ignored.  It was sent to the Obama administration, the Trump administration and the Biden Administration.  That Patent stops CO2 emissions so you could even burn coal with no emissions.  Must be something that involves a lot of money otherwise why would the Politicians ignore it?

Where is the smiley face options???  I want to use the smiley face not the ambivalent or frowny face!!!  This is GREAT NEWS!!!!  There is no such thing as man made climate change so why should it be a consideration?  NOAA says that April 2023 was cooler than April 1895 despite a 1000% increase in CO2!!  How can that be if you believe in the cult of climate change?!?

Wow Montana is really on a tear!

I wonder how they'll like it when their national parks no longer have glaciers or lakes and nobody wants to come there for tourism.

Montana government----Bought and paid for by the Republican Party and their "big money" financial supporters for no other reasons than greed, lust for power, and their own overblown egos.  How can any decent human being respect a government that refuses to listen to the will of its people?  It never ceases to amaze me that these idiots are continually re-elected term after term by the very people they ignore.  Maybe they ought to consider illiminating all wars and see how that could change things regarding the environment and climate change.  The only thig that is for certain is that the more we remove things from the earth itself, the faster it shifts on its axis.  That includes all undergroung activity.  And yes, North Korea, I'm looking at you as well as all other countries which rape the earth upon which we depend for survival.  Maintaining the balance in all things is mandetory for the protection of the earth from it's human inhabitants.  I cannot believe the stupidity of not just the politicians but the average voter as well.  Thankfully, the planet will heal itself in due time.  Hopefully those who survive will make sure this piece of history doesn't repeat itself.  Those who come after us must be taught well the dangers of upsetting the balance of nature.  I can only hope for the best.

What asses! It is like standing on the train tracks and wondering why you get run over. They do not care about their constituents! 

Causes is so leftist it cannot even put a smiley face for this one. Montana is right on target passing their bill. America first - we have the cleanest energy in the world and the Democrats want to give money to countries who hate us for their energy. I am sure it is just another avenue to launder money that ends up in thier pockets. 

Democrats are morally and ethically depraved. Rhino's are right up there as well. 

What can you expect from a state that would put someone in the governor's mansion that assaulted a journalist on the eve of his running for office for the senate(?)  Gianiforte is a bullying moron.

The people of Montana suffering over their satanic republican voting, go figure! You just can't count on the rich to run your lives now can you! You don't put the rich in charge of your government or else this happens!

This is what the GOP does. They pass laws against the truth and do everything in service of the 1%. If anyone in the US thinks the GOP is trying to help the people, they are completely deluded.

I often get frustrated with those that vote for right wing candidates, but in talking with them, I have realized that they don't hear about things like this. What they will hear about is the great Montana law that was passed to protect them from the leftist socialists that are trying to steal their jobs. Another result of GOP backed bills that removed laws like the Fairness Doctrine Act.in the media and others like Citizen's United that let the money flow unchecked to help people who are educated and know better to pretend that they don't know they are devastating the majority of US citizen's to benefit a few. 

We need to be protecting the environment at all costs. This is a stupid law that only hurts the environment. 

As a native Montanan, I am so disappointed with our state. It seems we have become more ignorant about climate change, guns, crime,and child safety. I hope the people in Montana see the light, before this  State is destroyed.  Our governor, and a  senator are not from this state, but came here as million/billionaires to get into goverment.  Why did they choose Montana?  I am sure I am leaving many more influencial wealthy people who have also migrated here and changed our whole state.  Sad! 

Can we put. Some over the state to keep their pollution from harming the rest of the country?

Montanas business not causes business. According to AOC and Al Gore the world has already ended. 

Bunch of stupid cotton eared blind folded American idiots that are only interested in now and how this affects the dollar in theyre own clueless pockets, why is it that the alleged greatest country in the world is run by idiots that were voted in by even bigger idiots running around shouting

.......... "GOD BLESS AMERICA" ..........

..............................IDIOTS THE LOT OF EM !! .................................

So sad to see how politicized respect for the earth has become. I used to think that "conservative" meant actually conserving things. Now it just looks like it means "do whatever the heqq I want to do and leave me alone."

Montana should be banned from receiving any funds for climate disasters like wild fires drought or flooding 

Time to be energy independent once again!

Of course they did... Basically it's another tax cut for corporations while putting their heads in the sand. Climate change will only mildy affect me and my kids, but the grandkids, watch out! Short term gains and long term pain. They'll all probably be dead or out of office when their actions start to hurt, so who cares? Right?

What a disgrace by another set of self-centered GOP lawmakers at the expense of everyone else.

What, no smiley face to choose? Aparently you don't want to really know how people feel. Climate change has been happening since the world began. It is much slower than we are being told. There are many scientists who have proven that it is a hoax designed to get us to voluntarily surrender our freedoms in the name of survival. Remember Al Gore? His dire predictions about climate change have not come true. The true scientific evidence is being labeled a conspiracy theory and it is being silenced by most of the media. I'm glad that at least one state is seeing the truth of the matter.

Strike another blow for big business. They have made another payment to the coffers of the Republican Party. When will the voters in these states VOTE for the people who actually have their best interests at heart, not the party line?