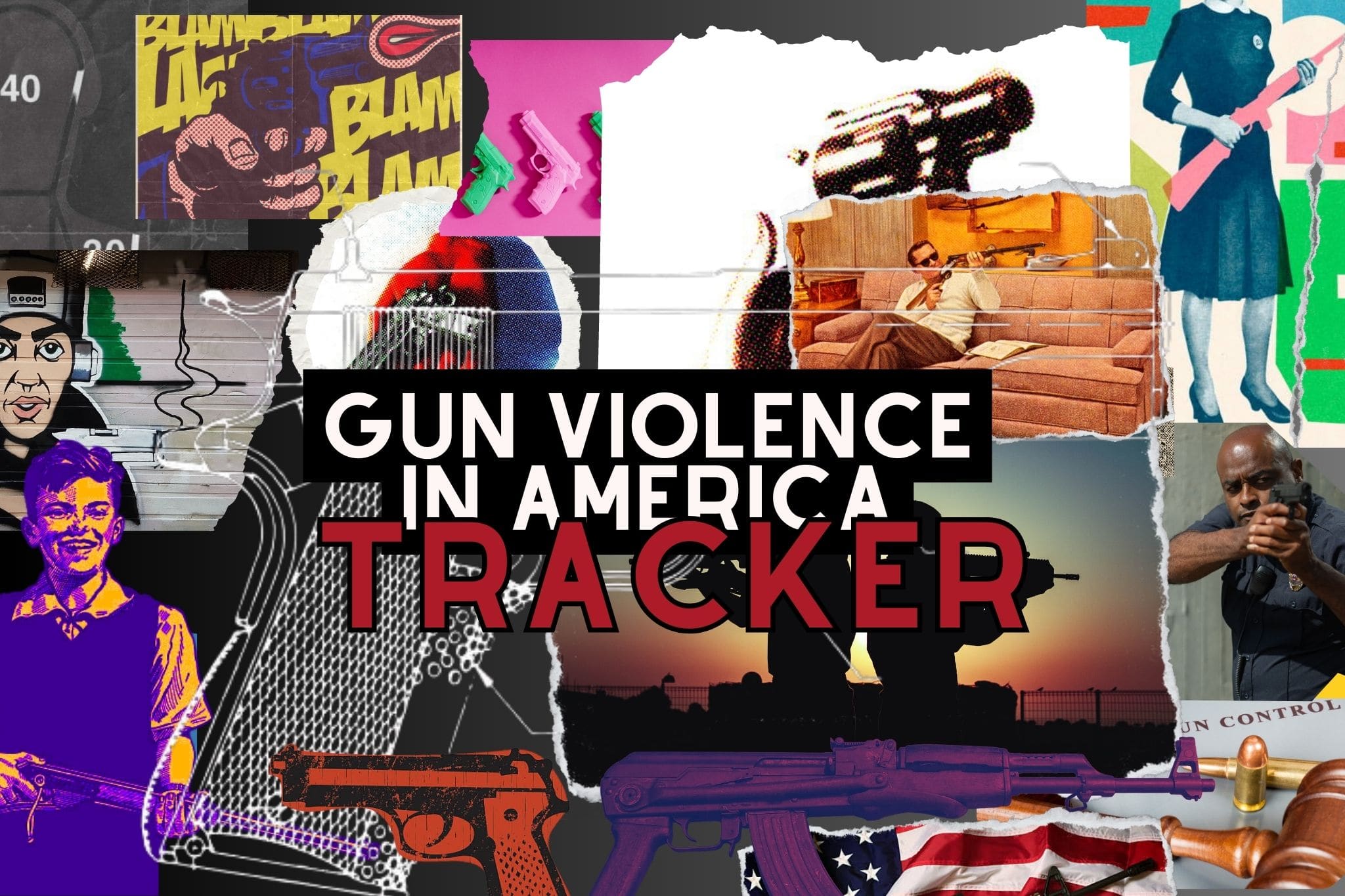 Gun Violence Tracker
Demand your reps take action on gun violence
John

Yesterday at 3:29 PM

Republicans have given approval to carry a gun almost anywhere any place any time in America except for at a republican rally! If guns are going to be everywhere I want to see guns a republican rally and political events. The Republicans sacrifice the population in order to protect themselves I'm about sick of it.

When our forefathers wrote about gun rights they were using muskets. I see no where in the 2nd amendment that people can have any type of gun they want. Gun rights are way out of control. When I was a teen you could transport a gun if it was cased, separated from amo and carried in a trunk.now people buy guns with out checks and carry concealed. This is crazy and must stop

The fear-mongering on right-wing media is exactly designed to drive gun sales.

"Crime is out of control" equals "buy more guns to defend yourselves." And it's worked.

There are more guns than people in this country, and right-wing people driven by fear are stockpiling weapons.

The gun industry and right-wing media have cause this rise in gun violence, and they're never going to take responsibility for it.

We the People need to fight back by forcing our government to act: reduce the number of guns and increase regulations on firearms.

More children die from gunshot ones in this country in from anything else!

Guns don't kill people Republicans do!!!!

PattiZ accused Democrats of using abortion to control the population in a different thread on here.

Tell me how Republicans aren't using guns to control the population? 

Shall we compare the number of people killed by guns to the number of abortions?

So, 1 in 5 have lost someone to gun violence in what is supposed to be the greatest country in the world.  I hear a lot about "freedom" when is comes to gun safety regulations.  That is the biggest argument against it.  I am old enough to have lived through the age of "air raid" drills in elementary school.  We didn't get it.  It was just a time when we didn't have to do school work and we got to hang out under our desks (like THAT would have protected us if the situation had become real!)  Schools had open campuses then.  People let their kids walk to the bus stop, go to school, took them shopping or to the church of their choice and didn't have to worry about getting blown away.  Now, kids have fire drills, tornado drills and active shooter drills.  How, I ask, is this "freedom"?  Living in fear is the opposite of living in freedom.

Hooray for Washington state somebody finally with enough gumption to do some thing about gun violence. When I hear Republican lawmaker say "banning certain weapons is not the solution to gun violence. We must deal with those who are using guns and other weapons to commit violent acts." It makes me want to do two things, laugh and vomit.
Dealing with people using weapons of war to kill people has not worked for years on end and will not work for years on end what will work is if they don't exist it's a pretty simple equation. A.R. 15s are meant for one thing killing people. That's what they were designed for to kill people. I am so sick of Republican bullshit pandering  an absolutely small base which is all they have a left to keep votes. It's clear to see that Republicans have absolutely no interest in making this a better nation or they wouldn't be backing or liars, proven liars and proven And most likely soon to be proven criminals ie Donald Trump.

After all wasn't a company that he runs just found guilty of tax fraud! It's all bullshit the Republican party is not anything but the derogatory party the party against America the part party against American freedoms and Americans"banning certain weapons is not the solution to gun violence. We must deal with those who are using guns and other weapons to commit violent acts." being allowed to live a safe life.

As sickening as it sounds we have now gotten to the point where more children in this country die from him from gunshot wounds than anything else, let me say that again more children die from gunshot wounds than any thing else. The fact of the matter is guns don't kill people Republicans do!

Do something meaningful to Protect Children and others in Texas and all over the U.S.

Ban all Assault Weapons now!

As a responsible gun owner, the govt already knows I have guns, so gun tracking is not a big deal to me.  
However the ones that obtain guns illegally are the ones we have to worry about (Hunter Biden and the hate crime against Christians comes to mind).  Both individuals should never have been given any guns legally.  Something is wrong with that picture! 

Hey Reps., READ, if you're even educated cornyn, crenshaw, cruz and my State Reps. like abbortt, paxton, holt and others as well. The OLD STYLE SHERIFFS WERE FAR SMARTER THAN YOU!!

https://www.smithsonianmag.com/history/gun-control-old-west-180968013/?fbclid=IwAR0dLISZXLCh_01LU6F9x-vLTV0gagawUJDJRA0okvJzGyvBFmtiXj_v1sI&mibextid=SDPelY

'Frontier towns with and without gun legislation were violent places, more violent than family-friendly farming communities and Eastern cities of the time, but those without restrictions tended to have worse violence. "I've never seen any rhetoric from that time period saying that the only thing that's going to reduce violence is more people with guns," says Winkler. "It seems to be much more of a 20th-century attitude than one associated with the Wild West."'

You need a background check to adopt a Puppy! In some States you can buy/own a gun like buying a dozen  eggs--no check, no background check of any kind. Then you can carry the gun with you wherever you go--church, school, wherever. In the "so-called" Wild West there were laws and restrictions when and where you could carry your gun....The Wild West!

After all, the 2nd Amendment says,  ..."well-regulated militia...", right? It doesn't say, for your self-defense, does it? How about a "Well-regulated citizenry "?

Every act of gun violence and every child slaughtered in this country by gun shots, which is now become the Number one killer of children in America can be traced back to Republican leaders and the Senate in Congress.

The children are the future of this country but because the GoP and those beholden to the far right and their donors the future generations very future is at risk. 
We are inundated by almost daily mass shootings, police shootings gang shootings, drive by shootings and on and on. It's seemingly never ending.

We as a country need to stop the insanity, starting with gun manufacturers and those that say it's their god given right to own AR 15's and other weapons that are for nothing but killing other humans!

PS - God did not give anyone the right to own guns or kill their fellow humans. 

Enough already. DO SOMETHING about AR-15's (ban), hi-capacity magazines and bump stocks (ban), enforce background checks (i.e., those w/ mental health issues), and destroy confiscated guns vs putting back on the street. This is a START.

We're tired of being prisoners in our home and want to exercise our right to go out in public, but not at the risk of being killed at a grocery, pharmacy, bank, church or public space. This has to stop. And sending more officers into harm's way is NOT going to curb gun violence, just send more officers to their death. Get real--IT IS THE GUNS, with more accessibility, fewer restrictions.

Republicans are killing Americans at a wholesale rate. With their fear mongering in their total lack of any responsibility for all of the shootings in America today. It's utterly astounding that now more children die by gunfire than anything else. More than car accidents more than disease more than any accident. Children are shot to death in this country at a frightening rate. And what did the Republicans to stir up more fear mongering and do nothing about it. I'm about sick of it. The Republican Party has become the party of bullshit lying.

Lying that leads to the death of our children and the death of our citizens the blood is on their hands. The problem is the stomach from Fox News to Marco Ron DeSantis Rubio to Lindsey Graham to Donald Trump to the Supreme Court etc. Absolutely across the board the Republican Party has failed America it is totally out of touch with America.

As a gun violence survivor, things need to change now. My life has been turned upside down and nothing is being done to prevent more lives from being turned upside down. Do better, protect us.