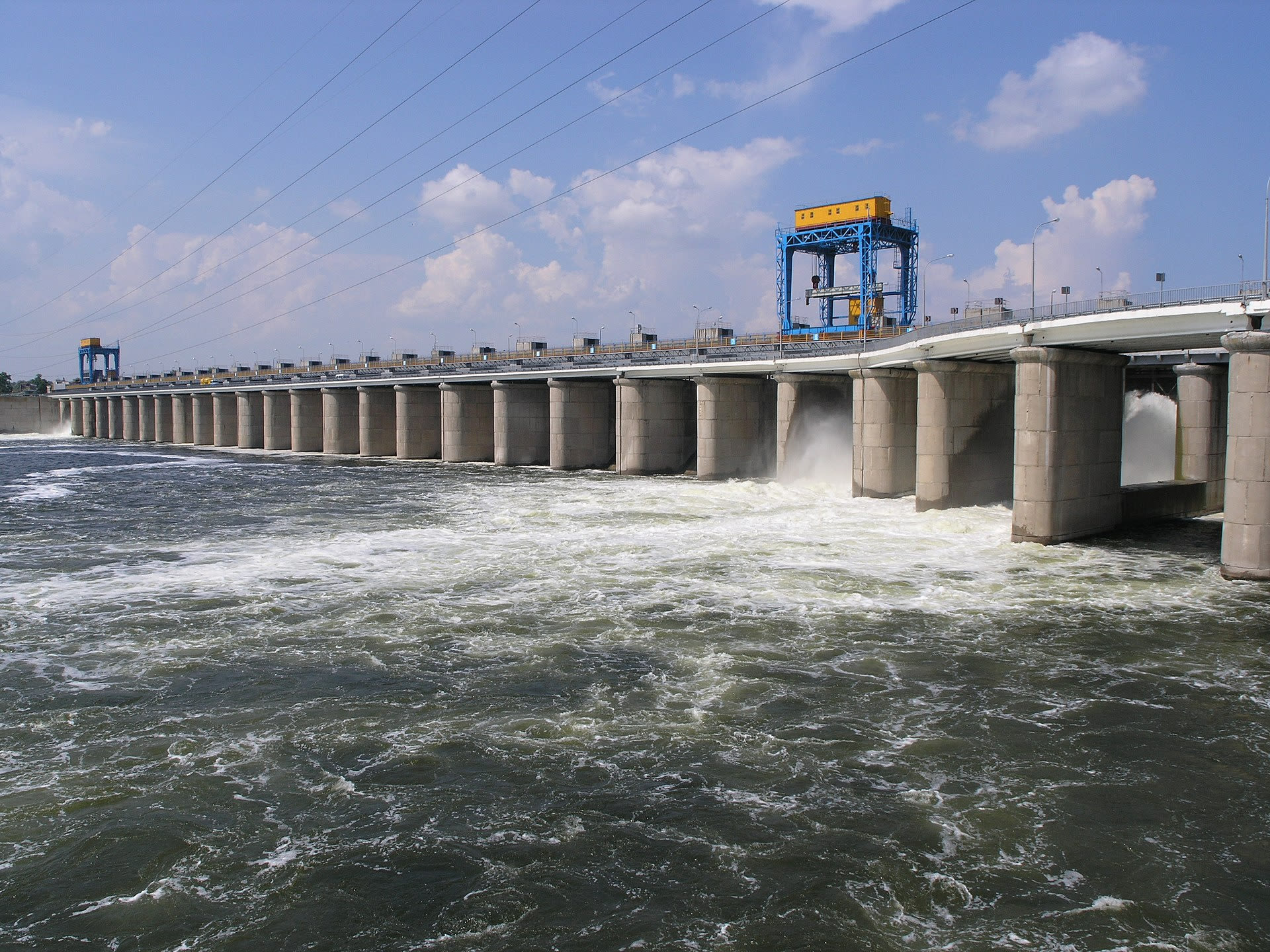 Russian Invasion Causes Water Crisis in Ukraine
Do you think the U.S. should be doing more to help Ukraine?
The civilized world needs to proactively get Ukraine the military weapons and and equipment that it needs to decisvely remove the Russian presence in all of it's sovereign territories. The Russians are attacking civilians, kidnapping and 'reprogramming' their children and destroying Ukraine's civilian infrastructure. We need to get the military aid that Ukraine needs to them, now.  So far it has always been too little and always too late.

Meanwhile the cicivilian population is being killed outright, being starved, denied power during the cold of winter and now have a major source of potable water intentionally being taken away,

If this continues, there will be little left of Ukraine, their people, their culture, or their history. And for what? Just so the putin can realize his dream of becoming the reincarnation of Peter the Great. It is disgusting and the Putin must be stopped or the whole of Europe will be at risk. 

We need to get more equipment to Ukraine than they currently need, so they can rid themselves of these war criminals and the Russian people can rid themselves of the putin.

The putin's war is a disgusting stain on the history of the world and it must be eradicated. 

My thoughts on this situation is the belief that Russia and it's government does not have the ability, common sense, or intellect to take care of its own population except by way force on the population.  They may have removed the country's monarchy but they have put into power dictatorial, self grandizing control freaks  who obviously wish to bring down the entire world.  I'm waiting to see what will happen when they try to pull this stunt on China or vice versa.  Both countries have a reputation for "back stabbing" any entity that tries to remove their control.  It will cost many lives and do the earth itself, no favors.  There will always be rebellions no matter how hard you try to stop them.  Each and every country needs to work for the betterment of ALL through health education and well being and by allowing each and every one of us "free wiil" to follow our own paths, make our own choices, and live our own lives to the best of our abilities without governments and religion forcing their ideaology upon the masses. 

I support financial aid and military equipment, and that's all at this time. I'm troubled by this water issue, but we should allow NGOs and the European neighbors to help with this. We are providing enough support for now, although I wish those tanks would get there sooner.

 

Yet another reason that Ukraine needs to recover its eastern lands in order to control its water & electrical supply needed to sustain life in Ukraine as the Zaporizhzhia Nuclear Power Station supplies over half of Ukraine's power needs, and the Kakhovka Reservoir supplies southern Ukraine and much of Ukrainian agriculture with water, as well as the hydroelectric plant used for power generation. 

The US needs to supply the weapons needed in a timely manner so Ukrainians can take back their land and resources to sustain life in Ukraine.

https://www.npr.org/2023/03/22/1164838051/ukraine-russia-war-kakhovka-reservoir


How is the Russian Invasion Causing a Water Crisis in Ukraine?

     (EXTRARPT)  Russia appears to be draining an enormous reservoir in Ukraine, imperiling drinking water, agricultural production and safety at Europe's largest nuclear plant, according to satellite data obtained by NPR.

     Since early November 2022, water has been gushing out of the Kakhovka Reservoir, in Southern Ukraine, through sluice gates at a critical hydroelectric power plant controlled by Russian forces. As a result, satellite data shows that the water level at the reservoir has plummeted to its lowest point in three decades. Separate images provided by the commercial companies Planet and Maxar show water pouring through the gates, and shoreline along the giant reservoir emerging as a result of the rapidly falling water levels.

     Water levels in the Kakhovka Reservoir have dropped sharply

Water levels have dropped by approximately 2 meters (or about 6 feet) (EXTRARPT)

       Source: https://hydroweb.theia-land.fr/collections/hydroweb/L_kakhovka?lang=en&

We started this mess and we need to end it. Stop preventing peace and fueling the fire. We are the original aggressors trying to control the world and thankfully the world seems to be waking up to our BS. 

Everyone needs to do more to end this stupid war.  Too much needless deaths, kidnappings, and destruction.  Arrest the idiot putin and his minions for war crimes.  It's a no brainer.  This is all just a game to him.

You asked me on one of my sources? Here is one. SmartNews.com

You can search at the top!

Mr. Puttin is waging an all-out war if we are doing any business with them we are supporting it. The same goes for the Chinese if they choose to support them we need to limit import goods and have American companies rethink the cheap labor model they thrive on. As for the people in this country from Russia if they are not citizens or in the process we need to take a serious look at repatriating them to mother Russia.

Send weapons faster and provide more  humanitarian items.

Examples: Medical supplies, blankets, clothing and food to namr a few.

Send military materials faster. Also, replenish our inventory because Tiawan is next

Yes, the US should be doing everything we can to help Ukraine.  Those who say we have no interest in this conflict are ignoring the lessons of history.  During the lead up to WWII, as Hitler began his conquest of Europe and Japan attacked its neighbors, America naively thought we could stay out of it.  Ignoring aggressors never works. Aggressors have no limits and when they succeed, it encourages them to go further.  Anyone who thinks Russia will stop with Ukraine is delusional.  Anyone who thinks the US can continue to ignore Russian aggression when they move on to other countries is delusional.  The time to stop Russian aggression is now.  Ukraine has not asked us to directly engage in the fight. They have asked us for the weapons they need to defend their own country.  That is a reasonable price for us to pay and many other countries are contributing as well.  The Ukrainian people have demonstrated impressive courage, commitment and ingenuity as they fight for their freedom.  Americans should see in them our own struggle for freedom and should want to help.  I find it very interesting that some republicans seem to almost admire Russia while condemning Ukraine. These republicans seem to find common cause with fascist dictatorships like Russia, Hungary and Belarus while decrying the dangers of socialism. Let's be clear - Sweden and Norway are socialist democracies where people are free.  There is no freedom in the kind of society Russia is trying to spread.  Appeasement will never bring peace.  Finding common cause with nations who believe in freedom is the path to security.

I think we should have given them everything they needed to win this war from the beginning instead of dragging it out for over a year now. It's like we are afraid of the Russians and letting them dictate to us. This is a war that has to be won for the sake of democracy. Help them win.

WE are already doing the lions share (with a tip of my hat to Poland!!!) The rest of Europe needs to match what the US taxpayer is BORROWING to give to Ukraine. 

This is a crisis for freedom and democracy around the world. Although many republicans in congress do not support democracy, the american public does! If you haven't studies history, you might not know or remember what happened when we appeased dictators in the 1930s. That did not end well for the world and Putin is on the same trajectory. The world must do all it can to defeat Russia.

As long as we are also protecting our own stocks. We can't give it all away to the point that we aren't protecting ourselves too. More manufacturing jobs would be helpful. For us, and them.