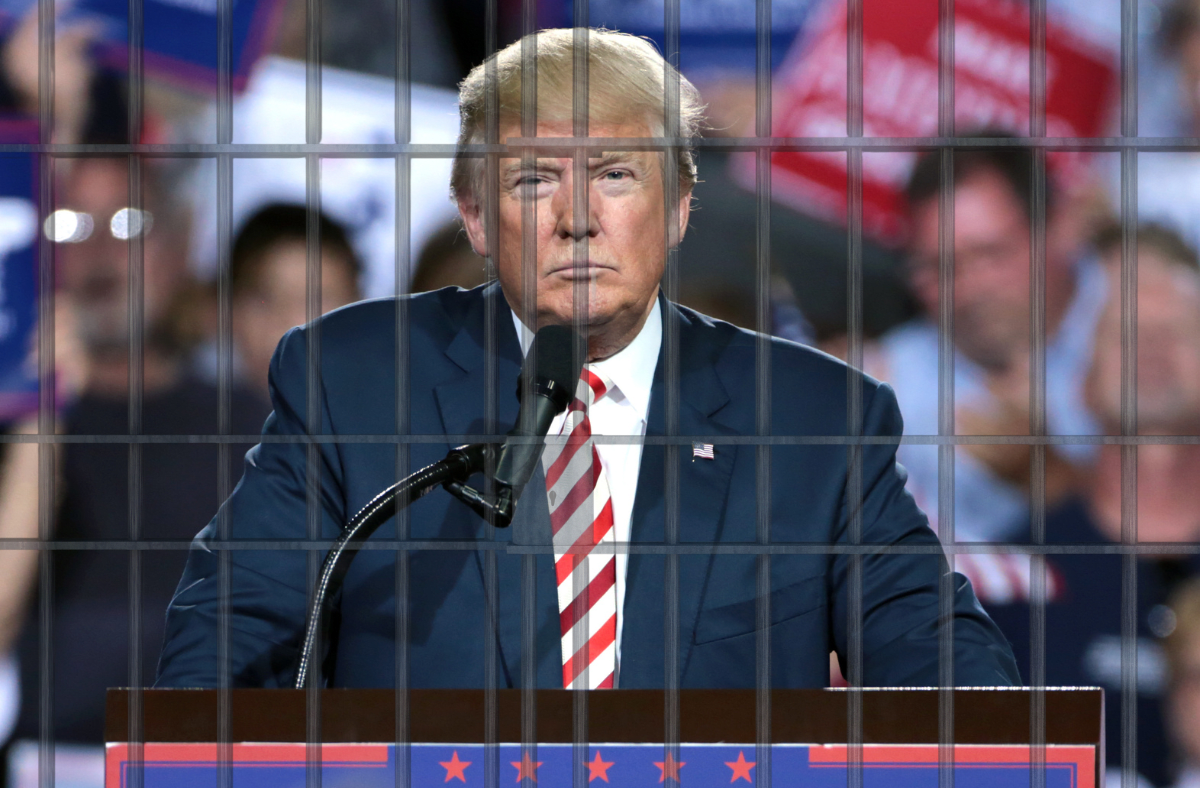 Trump Says 'Country Going To Hell' After Indictment
Do you think the Manhattan DA should press charges against Trump?
I am looking forward for the battle between the Manhattan DA, the Georgia DA, and several different DOJ prosecutors over who gets to have the first perp-walk of the trump in chains to his different trials.

I know that the trump is kind of looking forward to a perp-walk becuase he thinks he can use it to solicit more funds out of the poor fools that support him. That ay be true, but most of the electorate, I believe, are still in favor of the rule-of-law and equal justice for ask convicted criminals.

It will be interesting to see how the trump himself reacts when his illusion of wealth and power is finally seen by everyone as the optical illusion of smoke nad mirrors tha it actually is. I imagine that once a narcissist's shield of presumed wealth and power is taken away, they will have a major emotional reality to deal with.How will the trump deal with it?

When he is found guilty, all his presidential perks MUST BE RESCINDED.  He is a traitor to our country.  He tried to make us a dictatorship, for God's sake!  We must not allow a traitor to receive a salary, Secret Service protection, free postage or whatever benefits a true president would have.  On January 6th, and afterward with the stolen documents, he relinquished any rights to be treated as a former president would be - WITHOUT A DOUBT!

And isn't it wonderful to see how the Fox News hosts TRULY FEEL about their audience?  Amazing how so many can continue to show their ignorance by still watching them. 

This will bring the MAGA supporters out of the woodwork. 



I believe the statue of limitations has expired BTW

I am amazed how long justice takes to happen in the US whenever it is someone rich and powerful like Donald Trump getting sued or prosecuted. I mean, how much more evidence would any prosecutor or judge need finally put the guy behind bars? He literally called for his supporters to illegally protest Congress to prevent him from leaving office! Come on, lawyers! Prosecuting Trump should have been a walk in the park, man! 

This is not about setting a precedent.  This is about asking a man who is NO LONGER a sitting president to pay for his crimes as the rest of us would.  He relinquished the title and rights of President on January 6th!  Who would EVER believe that a treasonous, and at the time, sitting President would ever be allowed to run rampant committing crime after crime without any consequences.  Certainly not our Founding Fathers in the Constitution they labored over and created.  Does the Dump walk free just because our Founding Fathers never believed that such a thing would be possible? They would think that CRAZY; just as any educated, common sense, moral person would.  Should he be found guilty, he must lose all his presidential perks.  He violated our country as never before.  He was instrumental in the hundreds of thousands Covid deaths, even before the deaths on January 6th.  It is way beyond time for this man to be held responsible for his crimes.  Enough already!  He deserves no special treatment. Those who think otherwise are absolutely incorrect.  

All lies just to stop Trump from running again. We need to arrest the Biden's for accepting payments from China. It's all coming out and you socialists can't stop it

He has repeatedly broken the law.  He needs to go to trial.  A jury will decide what to do with him. Of course most of us are expecting a lenghty prison term when you consider the billions of dollars laundered and lost etc etc.  He was a New York Criminal and people made him President of the United States.  It must never, ever happen again!

While this has been the most stressful time that I can remember having in our country.  I believe that it is going to bring us back to our very foundation of laws and liberties and growth and prosperity.  We have all witnessed criminal behavior at the leadership level and never want to experience it again.  Truth, liberty, honesty and justice built our very foundations and we are moving right back to it.  I am so proud of our State in particular.  No more machine guns in the State of Michigan!!!!  Thank you all so much that brought that into being. God bless you!

Adel Easterday

Sault Ste. Marie

How do you expect to continue to live in a "free country" that has sets of rules and laws that 80% of the people can follow without any trouble. Then come out of a whirlwind of corruption from a criminal leader and a criminal political party that sets all on it's head upside down?  Get the corruption in jail, make sure that the public is well aware of what happens to such liars and theives (NO PARDONS) and then hold your head high and celebrate your return to freedom and justice and the American Way.  We all look so forward to it. 

Prosecute him to the fullest extent of the law.

the article provides a general overview of the potential legal and political ramifications of Trump's rumored arrest, and it presents the perspectives of various stakeholders involved. However, it is important to note that the post is based on rumors and speculations rather than confirmed facts. Therefore, readers should approach the information presented with a critical mindset and consider multiple sources before forming their conclusions.

https://www.pensionsweek.com/retirement-gears/best-4-wheel-walker-with-seat/

Yes, press charges. The Republican complainers are either those numb nuts that support the trump or those that know that they may be next for the financial crimes that they themselves have been committing, or the bribes they accept in selling political favor. The hypocrisy that they feel that they are above the rules that govern the rest of us or that we all ethically abide by - is the core problem.

Take the money out of politics and most of these problems will away - becuase, if the Republican Cartel has to actually do the hard work of governing instead of soliciting, these congresspeople enriching themselvess won't be interested in staying in office.

As far as the Frankentrump, there have literally been hundred of like prosecutions, including fraud convictions from this DA's office - and what exactly give the trump or his MAGA-nuts the idea that he should be treated differently than everyone else?

Enforcing equitable enforcement of the law IS an act of getting our country back as the law and ethics based country it used to be.

Letting scammers lie, cheat and steal, no matter the office that they may have held, is sacrificing the very principles and precepts upon which our country was founded. 

Purely political. The charges are ridiculous. Even left-leaning prosecutors and former prosecutors say so.

95% of the registered voters in Manhattan are Democrat, so the pool of jurors is NOT close to being a split for a jury of his peers.  The Judge is a major Democrat campaign donor, and I will not go into his daughter's liberal connections.  The statute of limitations on the charges are two years and all under it have expired.  The balance of the charges are under the 7 year limit, which has already expired.  Bragg is trying to say that justice was delayed 2 years by Covid, so he is barely within the 7 year limit. There is NO SUCH LAW which suspends legal matters for Covid, so those also are expired.  No charges left to prosecute.

Most of you Democrats posting on this site, are pushing for ANTI-TRUMP MOB RULE, not the rule-of-law. Please show PROOF of LAWS that Trump has broken.  And as for a GAG ORDER, you would prevent a candidate from conducting POLITICAL campaigns.  That is AGAINST the rule-of-law, a violation of the First Amendment.  The one and only reason for the continued PERSECUTION of Trump, is to stop Trump from campaigning, as the LIBERALS cannot beat him on the issues, and you all know it!

Biden loses on the: ECONOMY, BORDER/IMMIGRATION and MIGRATION, FOREIGN POLICY, COVID, EDUCATION, SPY BALLONS, EMPLOYMENT, ENERGY INDEPENDANCE, and many other issues. All validated by LIBERAL polls!  OVER 70% of those polled, say the Liberal agenda is on the WRONG TRACK.  Will you LIBERAL posters on this site, ever wake up?  I doubt it as you only watch MSNBC, CBS, CNN, and ABC, therefore you are only getting the singular MARXIST verson of the truth.

Sentence trump for all crimes and to full extent of law, Now!

Faction GOP clearly they don't represent the majority.

Justice Clarence Thomas accepted several luxury trips paid for by GOP megadonor!!' Why is this lieing partisan pig still in the court today?  Just another example of what a disaster Republican Party is today, corrupt liers, All instigated by Donald Trump. More and more Republican Party is forcing its way into peoples private lives becoming the party big government and the party of government interference. Any Republican with any amount of self-respect has got to see what's going on with their party, it's pathetic.

Jim Jorden should be investigated For his connection in the January 5 attempt to violently overthrow the government. It seems more and more apparent that he does have direct connections to it.

Stop giving the man airtime. If he says something that further implicates him, please share. Otherwise quit giving him a platform for threats, lies, half-truths, and his perceived victimhood. 



Only his delusional followers, China, and Russia are impressed with this coverage. 




Everyone should be disgusted  

 

The country went to hell when Dumpf was president. It will return to honesty and even a iota of benevolence when it punishes a filthy rich foul mouthed criminal instead of gunning unarmed poor or mentally disturbed people on the street. Let the rule of law rule the land and make them laws for the people, not for corrupt politicians and their wealthy cronies.

Is there any  question that he broke the law?  What funds did he use to pay Daniels off?  Money from his campaign funds?  How can he explain his other pay-offs if he is innocent?  He is guilty!

New York is to spend 200 million on police for a 150k incident????? WHAT A WASTE OF MONEY! Do you support the prosecution of President Trump?

And just why does the trump continue to think that just HE is the country?

I respect the Office of the President primarily, and the person currently serving the the head of that office as our serving President  - so long as they do not abuse the privileges associated with that office nor responsibilities.

I am really tired of this Frankentrump thing continually dominating the news cycle with his narcissistic sociopathic victimhood commentary.

Frankly I am beginning to gag every time I hear his name.

I hope that the judge will issue a gag order on he who's name should never be spoken aloud. It will save my the expense of the ant-acids needed from inadvertent exposure to this pestilence infecting our Democratic government.