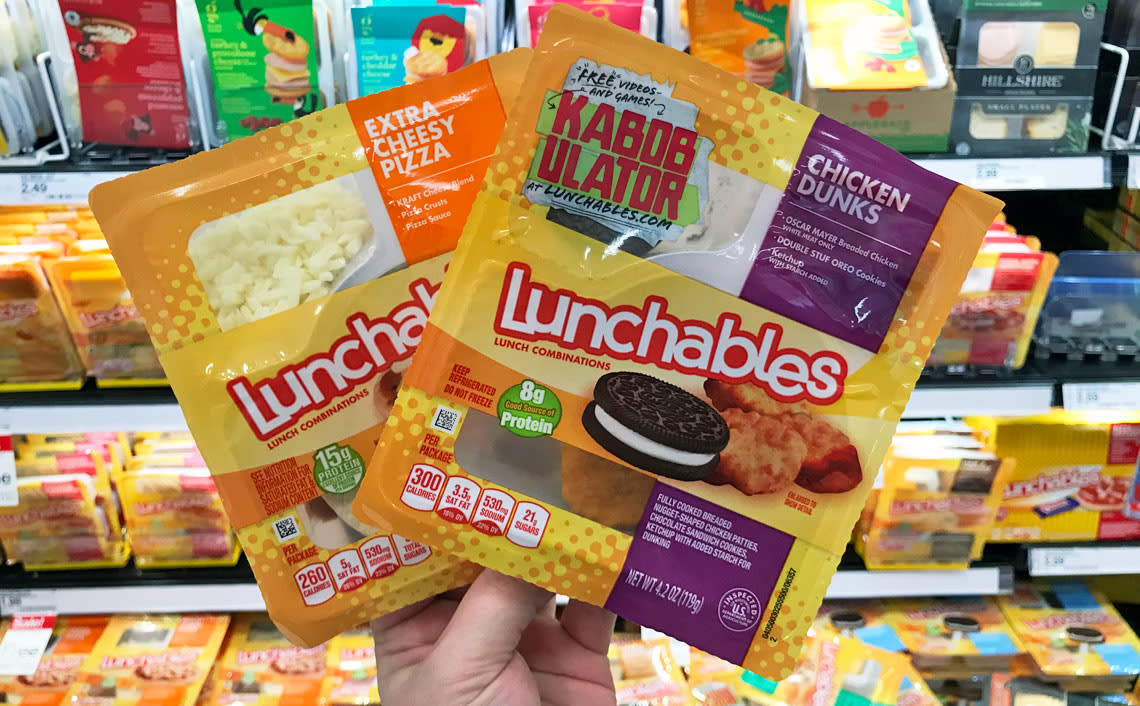 Lunchables Will Soon Be Sold in School Cafeterias
Do you support Lunchables being sold in schools? 
Why not just cut the costs of this and ship raw packs of sugar and salt tablets, along with a little left over bacon fat. Perhaps it could be made a bit more palatable by soaking the ingredients in used and other discrded institutional cooking oils YUMMY.

We can do better for children in the USA!!!  



Actually, we can do MUCH better. 

I said yes, only because I know the kids would love it. But it's something that's real garbage and kids shouldn't be eating more than once in a blue moon. Its basically an on the run snack. For the car or whatever. 

'' won't somebody please think of the children''

Children need healthy, real food, for free, so not to shame the poor. don't sell them food products from a box.

In a functional society, we feed all school children so they can learn better, and grow up healthy. where is the outrage from the ''pro life'' types? don't they care about feeding the children?

Need a maybe on this one as most would not consider Lunchables a nutritious meal but they do meet the National School Lunch Program (NSLP) guidelines and the "whole grain" criteria, and are better than letting children go hungry.

I can see the reason why a nationwide rollout would use this product like many parents do because it's convenient with everything in one box, it's has a reasonable cost, it's shelf stable for 3-4 hours making it logistical easy to implement, and Kraft is a large company with the means to supply schools nationwide.

While better than letting kids go hungry we can do better and need to update NSLP guidelines, and contractual requires with Kraft. Maybe Kraft could improve its product nutrition for both its commercial & government business which is a win-win for everyone?

Yes, I do.  A lot of younger children like lunchables, and will eat them, therefore, I support them being sold in schools.

 

 

Prepackaged foods are good they are nutritious. Children don't like to eat nutritious food they want pizza and pizza. Find a way to get around it. You spend time on other stuff. Spending a lot of time on this side. Kids are going and getting very unhealthy.

LACKING FRUITS AND VEGATABLES!!

IF "SOLD" AT SCHOOL MANY STUDENTS WOULD NOT BE ABLE TO PURCHASE.

I THOUGHT HEALTHY FREE LUNCHES WERE BEING CONSIDERED IN MANY  SCHOOL DISTRICTS.

Unfortunately, I don't think most people know what is actually healthy food anymore. They feed this stuff to their own children at home too. The marketing of what is healthy or not is all over the place and I don't think many know what it is healthy anymore. We don't teach it. 

This sort of food appears to be acceptable to those who are forcing women to have babies but doing nothing to protect them once they are born. Vote them all out of office and protect our future!

The preservatives and sodium  plus other chemicals used in the making of these foods is NOT HEALTHY.  Freshly prepared foods from local markets would be much better option regardless of costs.  These young people are the future of humanity and should be fed properly not necessarily cheaper which "Lunchables" are not cheap.  Wonder who is going to profit off this idea.

From what I see younger people no longer cook.  School lunch may be a child's only shot at a hot balanced meal.  Let's not take that away from them.

absolutely not! Lunchables are shitty food, as is most/all of packaged food. I believe that part of the function of providing food to children in schools should be to provide healthy options that they might not otherwise have.

Fake food, to go along with the fake education too often purveyed at some schools. Anything with Oreo cookies (made with "chocolaty" as opposed to real chocolate) is not appropriate. 

That's all we need.  More unhealthy fatty, high carb food to exacerbate overweight youth and an excessive high number of diabetics. Sad part, this is all that many will eat because that is all they know because of the cost of healthy food and what they eat at home.  A healthy school lunch, that students will eat, is essential to a healthy and secure country and society. 

Children need and deserve fresh food, not more processed foods and sugar

No Lunchables.  Go back to peanut butter and jelly as was served in my school in the 70's.  Cheaper and more nutritous. 

High processed food leads to obesity in children and not to mention the amont of salt and preservitives with chemicals of unkown origins and worst of all these are GMO products with no long term studies to determain if they cause serious illnesses . When I went to school children had regular cooked meals with local food products that were healthy for growing children . I say no to what's not healthy for any children anywhere here in the United States or anywhere else in any country around the world.