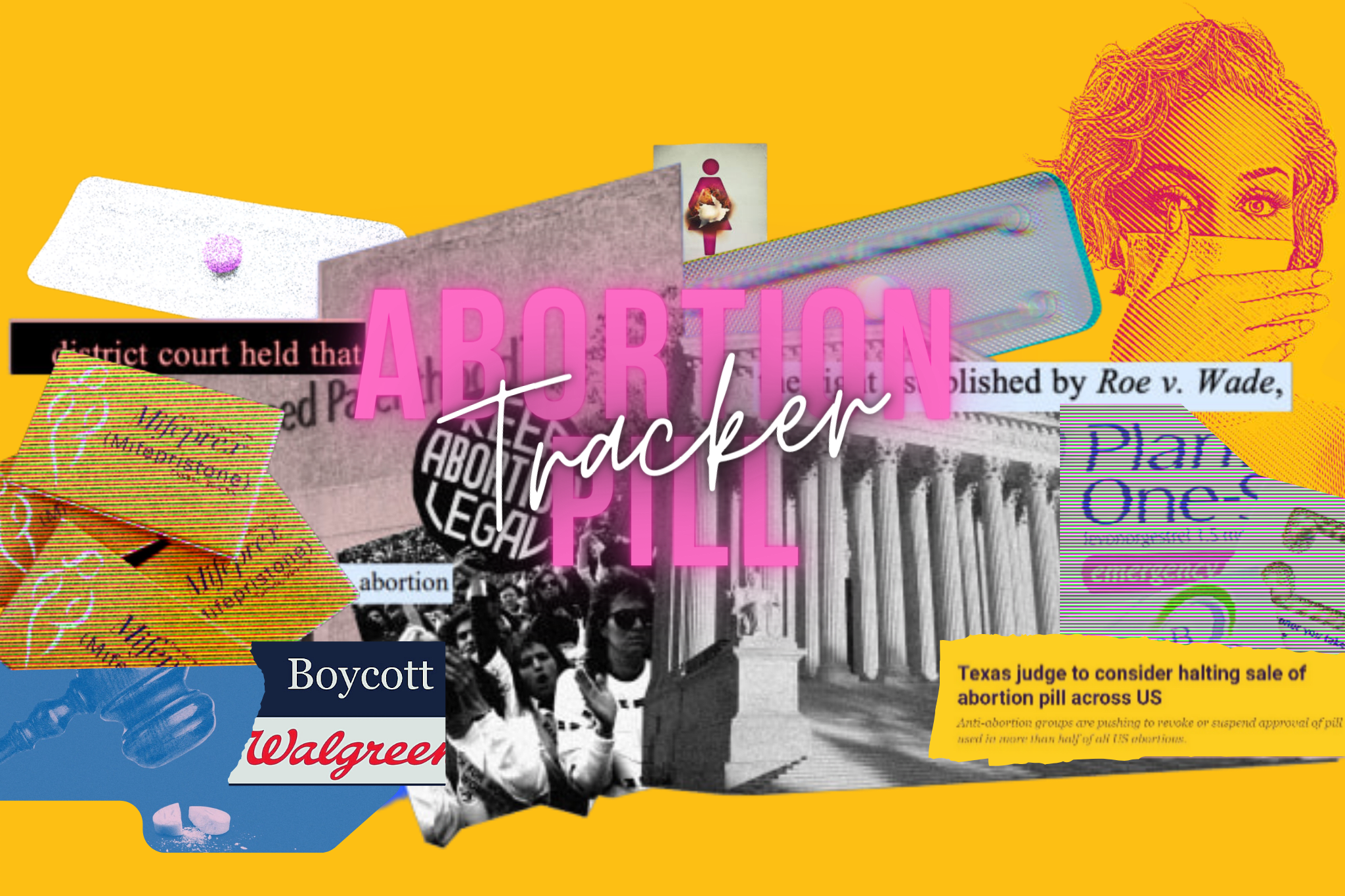 Abortion Pill Tracker
Contact Your Reps about medication abortion
Legislators, my immediate family,  my extended family, and my friends ask thst you most strongly oppose efforts to  ban abortion pills. Please stop these authoritarian efforts, be they well intended or otherwise. 

Best Regards.

I oppose any ban on the abortion pill! Every woman has the right to abortion! Woman's rights are human rights! 

Mifepristone is safer than penicillin or viagra based on 23+ years of US, and 30+ years of global safety & surveillance data. It's also safer than carrying a pregnancy to term given the high maternal mortality rates especially in red states where a pregnant woman won't get medical care while pregnant for cancer, immunologic diseases, miscarriages, etc. which increased 40% in 2022. Hospital maternity wards are being close, and doctors leaving these states, as neither wishes to incur the risks of lawsuits or losing licenses creating maternity care deserts.

Plan B pills are safe & probably bought by men for women as often as women buy them. Women have rights to our own bodies & futures. The very idea that one conservative judge could control our body autonomy is repugnant. You have men in congress who are anti-school lunches + anti family leave + anti child care + anti equal pay for women + prolife = WTH? Men have never felt the pain of ovulating, menstruating, childbirth, or being told "It's not mine!" For centuries, women have been raped, pillaged, plundered, enslaved, & mistreated by men, & we are done with it. White men are especially terrified of being on equal footing with women & people of color! ENOUGH! Stand up for us, & we'll remember your humanity, but should you continue to allow conservatives to grind us under their heels, we won't forget at the polls. You know what's right. No woman thoughtlessly uses birth control or has an abortion. Both disrupt the body & break the heart, but we sacrifice our minds & bodies for mankind daily to proliferate the species; however, we decide our fates & futures as every citizen should. STAND UP FOR US, PLEASE!

Anyone who is not a doctor has no business in the way of federally approved and properly prescribed medication.  Period.  This includes states, pharmacies, everyone.  We need to return to trusting the practice of medicine to those trained and licensed to proactice medicine and get everyone else out of the process.  

It is always wrong to kill an innocent human being. I have contacted my reps and told them that truth. 

Not only the right wing state of Idaho stop delivering babies, but stop supplying women and girls necessary hygiene and this is by a Republican women?

There are a lot of reasons a women may need to take the proven SAFE abortion medication. And, frankly it's none of the politicians business. Same on husbands, boyfriends and fathers that are not supporting the females in their lives. 



There are too many contrary opionions out there among the radical right. They want to ban abortion and force women into delivering more babies; is it a population thing? A religious thing? A control thing? Or all of the above.  They want to control who will have the right to vote. they want to control what is learned in schools-truth or what they perceive as truth. And, then they want to close the borders and restrict immigration. Sounds like Hitler Germany. He too was a sad little white man who had many mental disorders. These ideas are totally contrary to what America has been about throughout its history. I'm so very saddened to see us move backwards toward the dark ages.

I am to old to ever worry about ever needing this pill. But I am in favor of individual choices. We should not be ruled by peoples religious beliefs. This should be controlled by medical people not judges or the religious mafia. 

As an Idaho native, I firmly believe in the pro-life stance. 

Abortions competed with drugs at home offer no assistance to an expectant mother who just ended a life. Whether she knows it at the time or not, she will need some support after going through something like that. Furthermore, for the environmentalists out there, we are allowing these abortion drugs to be introduced into our sewer and waste water treatment facilities. These facilities clean the water and reintroduce it to the environment, but not all chemicals are removed, including medications and abortive drugs will be no exception. These abortive drugs  need to be administered only by doctors and only under emergencies. 

I agree with Chris Rock that all abortion should be legal up to age 4.  This would ensure that this detriment to women's health and finances could be resolved.  

decisions about what a woman decides about reproductive health is a matter for the person and her doctor. men should not be involved at all. 

This is a safe medication that can be done at home.  Do not deny access to this medication.  It alows women to decide when they want to have children. 

More women will die, and it may be your adult girls. Each year sense the abolish our abortion the pepercent i

Banning drugs only creates another illegal path of access that increases cost and impedes on proper medical care of women. This drug is used after rape, incest, &  a perfectly safe treatment in very early stage of fertilization - cell expulsion. Because of its early use, it's safer than a D&C abortion.

For those who oppose abortion, don't use. I believe in abortion until there is a heartbeat, but not if there's a heartbeat and organ development.