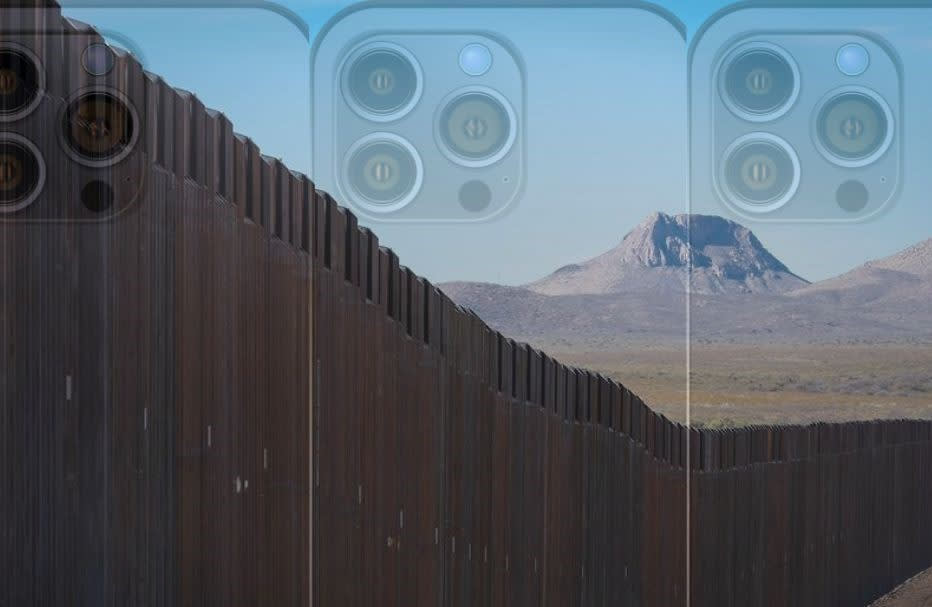 Mandatory App for Asylum Seekers Fails Darker-Skinned Applicants
Do you support the use of a mandatory app for asylum seekers?
I prefer the tact that the Obama administration was perusing of establishing safe havens within foreign countries staffed by US agents to expedite political asylum claims. Applicants could get answers regarding their eligablility without risking the life threatening trek to get to the US border with their presumption that our borders were open - often promoted by unscrupulous traffickers to take the life savings of desperate people, as well as by foreign adversaries who want to cause chaos at the border with false promises.

Obama's safe havens had their funding pulled by the trump in his quest to undo nothing and everything that Obama had done - like unbundling the CDC pandemic watch offices around the world, disbanding the national security team trained to resopond to a pandemic threat, and refusing to pay the maintenance costs of the US strategic stockpile of pandemic response medical supplies and equipment.

Safe havens staffed by immigration specialists and stregically located would help dissuade desperate people from thinking that the borders are open, would get timely feedback to asylum seekers and not have to rely upon a one size fits all app.

I have used the app approach for technical support and what would take a few minutes to resolve by talking to someone often takes weeks to resolve, only if I can withstand the hassle of continually having to re-explain the issue.

I am reasonably conversant with these technologies and thiose who may nit be may simply choose to make the trek than having to deal with the hassle. 

While there may be technical difficulties with the App, it isn't going to be solved by letting people physically cross the border and then camping out on streets and public places, or housing them in camps and then shuttling them around the US to Federal facilities to insure there isn't over crowding. It's far less costly to add more servers, fix the language translation and facial recognition, provide WiFi areas, expand NGO support across the border than housing all these people in the US while processing them through the court system even with the new Final Asylum rule adding more asylum officers and giving them the authority to accept or reject claims.

The App needs to be fixed. And until then there are NGOs operating across the border with daily quotas to assist. The fact is they just can process more than the quotas.

The fact the complaints are coming from Cubans, Haitians, Nicaraguans, Venezuelans is suspect as these are socialist countries under Russian influence and susceptible to Russian troll farm misinformation about open borders. 

"U.S. Customs and Border Protection expanded the capability of its CBP One app earlier this month to allow migrants to make direct appointments to request protection at a port of entry, which the Biden administration touted as part of its plans to address a record number of unlawful U.S-Mexico border crossings."

"But providers along the border say the app disadvantages the most vulnerable asylum-seekers who may not have access to a smartphone or consistent WiFi, or the tech savvy to navigate the platform. They described constant glitches, limited foreign language options, and a lack of transparency about how many appointments will be available each day."

""As far as the user experience of the app, we have mixed feelings," said Sachau, managing attorney at the Florence Immigrant & Refugee Rights Project. "Ultimately, access to asylum needs to be equitable, fair and free."

"Joanna Williams, executive director of the Kino Border Initiative, said she has "no idea" how migrants who are not working with a nonprofit like her "would be navigating some of these different challenges."

"Since Jan. 18, each morning at 9 a.m. Eastern Time, migrants are invited to sign into the app in hope of securing an appointment slot for 13 days in the future, which could be offered at one of eight ports of entry along the U.S.-Mexico border. The app's function for asylum-seekers is also "geofenced," or geographically limited, to areas in northern and central Mexico to prevent fraudulent claims."

"Providers said appointments typically move quickly. They also pointed to a slew of issues with the app that have undermined its accessibility. The app often freezes while migrants attempt to navigate it, and the facial comparison feature, which requires migrants to submit a live photo of themselves to verify their identities, sometimes struggles to capture migrants with darker complexions, nonprofit workers said."

"Providers said appointments typically move quickly. They also pointed to a slew of issues with the app that have undermined its accessibility. The app often freezes while migrants attempt to navigate it, and the facial comparison feature, which requires migrants to submit a live photo of themselves to verify their identities, sometimes struggles to capture migrants with darker complexions, nonprofit workers said."

"It's a glitchy app. If you don't have really robust internet service, it's not going to work for you," said Erika Pinheiro, executive director of legal services organization Al Otro Lado."

"The refugee who has the resources to get a hotel with very strong internet access will be the one who gets an appointment," Pinheiro said. "The refugee staying at a shelter where a thousand people are sharing one internet connection will not."

"Additionally, the app is only available in English or Spanish, leaving out migrants who speak French, Haitian Creole, or indigenous languages."

"And even within the Spanish language format, drop-down menus frequently include results displayed in English, according to multiple nonprofit workers who provided screenshots to CQ Roll Call."

"On one screen, the app asks for "color de los ojos," or eye color in Spanish, but then lists possible colors in English. On another, a request for "estado civil," or marital status, lists options in English, including Divorced, Marriage, Annulled and Separated. "

"A CBP official, who discussed the app on the condition of anonymity, said certain technical issues with the app can be caused when many individuals are trying to access it at the same time when appointments become available. The official said the agency is working to dedicate more servers to the app."

"The CBP official also said the agency has been made aware that portions of the CBP One app's Spanish section are still in English and that it will work to address the issue."

https://rollcall.com/2023/01/31/migrants-grapple-with-government-app-to-make-asylum-appointments/


Require use of an app, from people coming here with nothing? But they have to have a device loaded with specific app? 

wtf, come on!

 

I support prescreening or registration in advance, in theory. But not all would-be migrants have access to this app in advance, and now that it sounds like it might discriminate against darker-skinned people, it can't be trusted. This is a known problem with facial-recognition software. 

Maybe we need to do a better job of engaging with governments in Central America and Mexico to find and register potential asylum seekers before they get anywhere near the border so that we can prescreen them there and tell them whether or not their claims will be heard.

I'm sure that will be difficult, but the current system isn't working, and detention is not a humane option. So long as there is an incentive for people to come here to seek a better life, we will always have migrants trying to come.

It only takes proper lighting like taking the pictures outside facing the light for even the blackest or dark skin person to get an acceptable picture. 



I just recently got off a cruise ship and there were no less than 25 professional photographers. There were many very dark skinned and dark black peoples on board getting pictures made. I didn't hear one photographer saying hey I can't take s picture of you because of your dark skin. After your pictures are taken they then post them on a wall and you then know your photos are complete and ready for pickup. Even the darkest black person had beautiful pictures. 



 

In addition to the problems re: recognizing darker skinned individuals (which should be disqualifying enough for the app), a mandatory app assumes that all asylum seekers even have a phone. And if they have a phone, that is it a modern-enough phone to accommodate whatever technology the app requires. This is yet another case of rich people not recognizing the difficulties of being poor/homeless/persecuted etc. 

Please fix it and look into other possibilities. Stop turning people away for no reason.

Equipment /app  need fixing before ever being used.

The cost is huge

Those seeking enterance would have to have a smart phone and wifi access .My hunch is they do not the money needed.

Continue efforts on increasing Judges, Social worker ect... to speed up the process at the border.

These people do not need a technological hurdle placed on top of all the others.  It will be extremely detrimental for the elderly.

It is not fair to classes of immigration applicants who lack the technological know-how or access to the supported devices.
On the flip side, using an App gives preference to those applicants who are tech-savvy and who possess the needed hardware.

Evidently, there are unaddressed problems with the implementation of the App. This needs to be addressed promptly.

Further, there are well-known issues with facial recognition software that puts all users at risk, but there are greater issues with the use of facial recognition software in identifying people of color.

I am far more concerned with clarifying immigration policy, I recognize there is a wide range of views on the issue and the current divisive and charged atmosphere makes clarifying immigration policy a virtual impossibility.

How many people are going to do this? Can we track the 0000.1 who will do this? This president should be ashamed of himself! Because he is giving an enormous middle finger to the people who are trying to do it right. This is their solution because people are flooding into the interior. Moreover the "so-called" Smug outlets like the New York garbage and the Washington compost will never challenge the WH press about this because she would make it about her. My question is will this administration allow us to keep track of people who uses this app ? incase if these people who has criminal history? This title 42 has to stay because if we start allowing the president to remove titles then what would prevent any president to remove titles? 

I'm a U.S. citizen with adequate resources and reasonable intelligence.  I hate cellphones.  They are a torture device to me.  And don't get me started on cellphone "apps"...  

Now imagine anjectly poor people from Central American fleeing death and rape.  They hardly have any shelter along the way.  They don't have access to a reliable source of electricity.  

Now how do they use that cellphone app the U.S. Immigration demands?

CAUSES TELLS ME, THEN ASKS: " Immigration rights activists say that the U.S.'s newly released app required for asylum applications is not only beset by technical problems but is failing to recognize the faces of Black and darker-skinned migrants.Do you support the use of a mandatory app for asylum seekers?"   ME: Nope.  First, for a long time now it has been known that the technology has many problems, incluidng the failure to properly identify non-whites.  Next, IMHO facial recognition techology is a massive invasion of personal privacy -- witness China -- with its entirely conceivable use by law enforcement and governments to target political oponents and specific populations.  Big Brother is, indeed, watching YOU.

I don't own an Iphone, and I live in the U.S. why would we expect a refugee, typically, who just has the clothes on their back, to have an Iphone? this is either just a tone deaf idea, or is a malicious way to discriminate, and make it immpossible to comply.

There should always be a paperwork alternative for any procedure. Phones are expensive, insecure and unreliable. Also there is often no audit trail. 

Why is it a surprise, that the same government that brought us Obamacare Sign-up site can not do an app?

Having a screening system makes sense as does having true asylum seekers, seek safety in the first country they land in.

It will seperate those seeking safety asylum vs economic betterment.

Seeking asylum is hard enough already.  Stop adding more barriers.