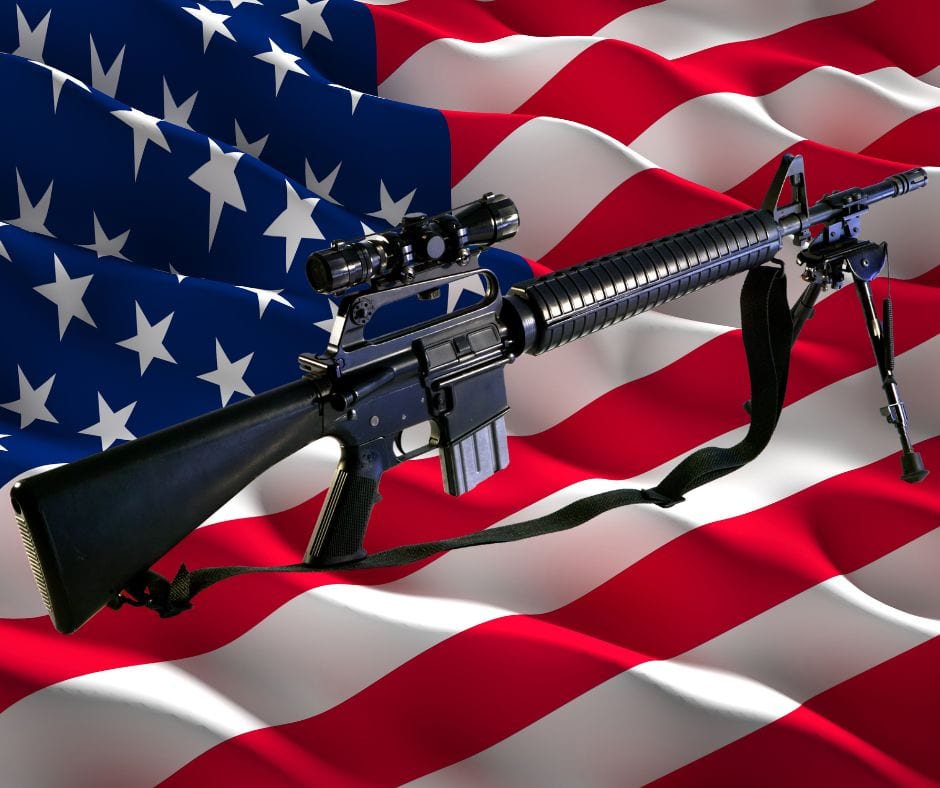 Proposed Bill Would Designate AR-15 the National Gun of the U.S.
How do you feel about the AR-15 being a proposed national symbol of America?
Apparently there is no limit to stupidity!? 



shame on congress

shame on judiciary 

shame on corporate america 

 

I can now understand why Benjamin Franklin wanted the Turkey as our National Bird. It would highly represent our Congressional folks.

Shouldn't the "national" gun of America be a smooth bore flintlock rifle? I mean, that's what the colonists used to defeat the British. The ones used by a WELL REGULATED militia. The very arms the founders were speaking about in the constitution. Just sayin'..........

Even if there weren't huge numbers of shooting deaths going on, do we need a national gun?  Do we need a national everything?  I'm in favor of the second amendment, but this is an obvious political ploy - and one in poor taste I might add.

I think it's a great idea. Legally owned guns are not issues. The left always want to attack laws when gun violence is in the news. Long guns are rarely used in gun violence. I like the idea. This will really tick them off.

Will be interesting to see if it actually gets to the House floor for a vote, and who votes for it. I'm sure it's the vary same people receiving campaign contributions from the NRA. Anyone not voting for it will be cut off the gravy train.

So we need a National Gun of the U.S.? First off, no we don't. Secondly, if we did...

Wouldn't the colt innovative revolver or Winchester repeating rifle be more appropriate given those gun inventions are what's considered the guns that won the west? They both have great historical value in our country, but given this appears to be some pr stunt by a gop, that likely won't matter. Because this is all about them, forget history, forget country, just cause division. Rinse and repeat. 

The ar-15 is the favored gun of mass shootings and was first developed for the military use. Not nearly the historical valve of a colt or Winchester. What the AR-15 is known for is mass shootings, so of course a gop is all in. They continue to drink the how low can you go koolaid. 

I'm torn. Not about how tone-deaf, offensive, and appalling this proposal is. But how depressingly appropriate it is, in all the wrong ways.

Really, what's wrong with the bald eagle? 

Would the 89% who are against this proposal please post "Gun Free Zone" in front of their homes ... 

I wholeheartedly support banning the AR15 and AK47. And anyone who uses these are murderers who must be held accountable 

Once again this shows how incredibly broken our government is. Instead of looking at issues connected to global warming and income inequality, the right misdirects with bullshit legislation that further divides the country rather than solving problems and bringing us together.

Do you mean like Communist, Marxist, and other symbolic flags of revolution? Never underestimate the predictability of stupidity by some to make guns their solution to everything. Here's one, ever heard the expression'the pen is mightier than the sword'? Let's not allow this country to become an 'idiocracy' on top of everything else.

There has been too many mass shootings in US caused by ar15 & to use this gun as a symbol of some sought of America, is a slap in the face to victims & families of mass shootings. 

Send more guns to Florida, they don't have enough guns and ammunition to be safe!

In Crimea Russia teaching children military training, bag math, language, history, science or future. 
Maybe this see to be the future for the U.S.

No! Our symbol should be the bodies of the dead, specifically dead children. Evidently that's what republicans and the nra want!

Majority of true Americans want the AK-15 banned not glorified.  This bill will encourage more mass shootings in public schools, malls, and entertainment areas.  

You live my the gun, you will die by the gun. We see this every day. The Republican Party will have you believe that there are not enough guns, at what point will it be safe?

This is a gun designed for war and destruction of the target. Having a national gun let alone an AR-15 is a ridiculous idea.

It's absolutely appalling to see that this is the kind of attention we're paying to guns instead of looking at the countless lives, children and otherwise, taken in school shootings every year.

This is honestly gross they don't have any other things to do than this 😕 guns only hurt and kill why would we want them to be a national symbol 

This is one of the most insane ideas ever. Anyone who says they're "pro-life" must not care about the welfare of American citizens. We need more stringent guns laws, and banning the use of the AR-15's to the average American citizen is a life saving idea that is so needed. The AR-15's should be for military use. I'm so disgusted that nothing is being done on gun laws as we hear everyday of shootings.