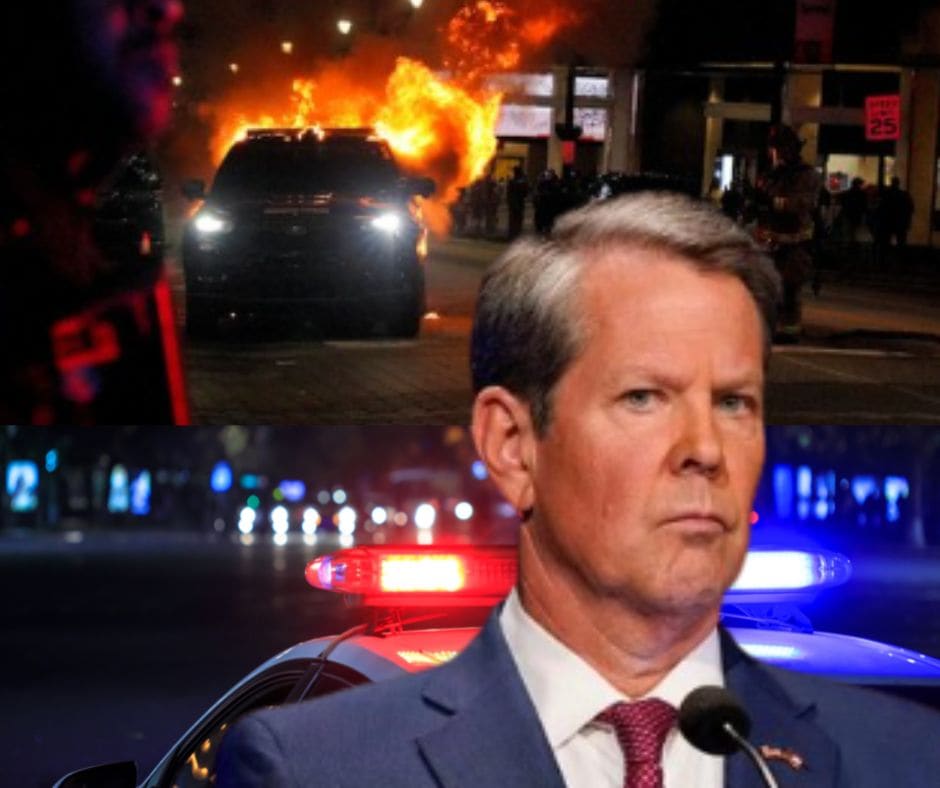 Activists Face Domestic Terrorism Charges as Atlanta's 'Cop City' Protests Escalate
Do you support or oppose Kemp's declared state of emergency?
From the introductory write-up, it seems that some over-zealous swat team members killed an environmental protester who was in a protester encampment - and the property destruction came after the shooting. It would seem that the answer is to first investigate the shooting to quell the property destruction before calling in the troops.

For some reason, Republicans seem to feel it is their mandate to tell people how to behave and what to do instead in listening to their concerns and finding ways to address them, or try to explain to them why what they are protesting is necessary and ultimately in the protester's interests. 

This has the potential of turning out quite badly, much like the Kent State shootings a few decades ago. Cooler heads are needed to address the issues without the political power play to show the protesters just 'who is the boss'.

It appears every time some group files for a protest March or a protest on public property, along comes the rioters. I am in agreement with safe peaceful protesting. But when it comes looting, burning, damaging property I totally disagree. It is sad when we have to use our National Guard to keep idiots out of peaceful protests.

Governor Kemp has over-reacted and it will likely cost more lives.  Of course, Kemp feels that he "must look strong" to his MAGAT's.

I think a state of emergency is fine, and Kemp has the right to try to reign in violence.

However, the protests are also warranted. How is it ever ok for police to not have their body cameras on when they go on a raid? How will we know what happened during this raid and why they killed this activist?

Further investigation is required, and the people of Georgia deserve answers. Violence is never the answer, but protests should continue until answers are heard.

I think the protests are warrented; violent protest is not. At that point (when incindiary devices are being used), declaring a state of emergency is fine.

As a sub-comment, I'm amused that MTG thinks Antifa is an organization.

It does seem these protests have gotten violent, and that's not ok. I hope Kemp and the authorities can find a way to de-escalate this so that peaceful protesters are allowed to continue exercising their First Amendment rights while law enforcement is not harmed. 

What a surprise that a Republican governor has allowed this to get violent. 

@Andy, sounds like your all for violence!  I don't mind the police around my neighborhood at all.  It's the anarchist protesters I don't want.  And I would cry a river if it meant putting down Bang Bang protesters!  

I can't fathom agreeing with kemp. Ever. Hard to see a soul in him. Easy to see the hate. 

I just came by to read the democrat leaning Causes excuses for domestic terrorist and read their stories of why we should defund the police. One of the "peaceful" protesters fired on a Ga St Police officer and got exactly what he deserved.

The demonstrators tried to get authorities to listen first. and again. and again. Once that forest is gone, that's it, it's wasted. I'd take dramatic action, too.

We dont need more racist cop to be even more armed then they are now killing us in the streets, & even in our own homes while we sleep!!!

Would Democrat Nadler et al remind us how AntiFa is a "myth"?  And how ironic to have an attorney from SPLC arrested, too.  But my favorite part of this story?  Most of these rioters were from "elsewhere" & have not been given BAIL. Good. 

When did it QUIT being WRONG to intentionally hurt innocent people, including those who want to learn how to better protect people in their community? These thugs do nothing to better our society.  Why did these "Antifa" people gather?  They wanted to domestically terrorize future police officers from learning how to be better prepared to do their jobs.  Therefore, they should be named Domestic Terrorists and treated as such.

This was a police training facility that was being built.  After all the talk and action of defunding the police and how they should be retrained, now you don't care their destroying the facilities their building for them to get new training?  Where do people think there gona build these training facilities?  And why do you think they don't have the right?  It wasn't on private property.  Even if it was, I'm sure they had permission.  These activist have been camping out in the woods for quite a while.  What gave them the right to camp out there?  If you want to protest you have that right.  You get a permit and march were you have the right to protest.  You don't come after dark to a police training facility that's being built and attack police or anybody, and destroy property.  They may not have had guns but police didn't know what they would pull on them.  There cocktails and rocks and ice water bottles and anything else their using as a weapon, is a weapon!  The police didn't come looking for them, those innocent protesters with weapons were looking for police.  And a policeman did get hurt.  And they weren't there just to go to a concert.  They came from all over the country and two outside the country.  Just as they come to any protest they know of so they can start violence and do there radical Marxist deeds.  They show up in Portland, Oregon, New York, Washington DC, all over where they can disrupt, cause chaos, and do damage ... and death.  It's what they did three years ago when they helped riot over the Black Lives Matter issues.  Billions of dollars in damage, people lost there livelihoods, actually their lives.  Then police or government or anyone of authority were blamed when they fought back.  They organize and cover their faces.  Why do so called innocent protesters cover their faces?  Their not republicans and/or MAGA supporters.  Their not even white supremacy, (who I condemn).  That's not their MO.  But if you want to think so, then your who they love because you play right into their hands by keeping the hate and agitation going. The Governor has the authority and is expected to protect people and property.  These people who claim to be activists do not have the right to harm and destroy.  

cop city must be stopped!!!!

protesting is not a crime."The Atlanta Police Foundation piloted further 'surveillance innovations' at the expense of Black Atlantans, as some claim 'political unrest and public protests...compounded the police department's need for a force multiplier.' These controversial surveillance pilots contribute to over-policing and raise civil liberties concerns." —
Read Color of Change's full report on police foundations at policefoundations.org. Link in @stopcopcity bio

Enshrined in our Constitution is the rights of the people to peaceably assemble and petition their government for redress of grievances. That is exactly what we are seeing in Atlanta and no declaration or law is valid to supress that activity under our national constitution.  Either TALK to the people or give it up, those are the ONLY honorable choices! 

This is what "fear mmongering" creates.  Common sense has deserted the average human being causing even more inconsistancy.  Why weren't the so-called officers wearing body cams?  We will never know what caused the killing since we cannot jump into a "time machine" and revisit the incident.  PEACEFUL PROTESTING is one thhing whereas violent activity, destruction of private property, death or enjury to another human being is NOT ACCEPTABLE.  Not listening to the voice of the people shows failure of politicians and other government officials proving they are NOT the right person for the job.  It breaks down to the laziness and gullibility of we the people due to a neglect of proper education of facts and truths.  No matter how you look at it, it still boils down to wasting the people's tax dollars instead of putting those dollars to good use through health care, education, affordable housing, and safe roads and bridges.  The people of this country need a serious "wake-up call" ASAP.

These anarchists are not protesters. Period. 

They are not environmentalists or they would not destroy property and resources belonging to anyone. 

They are criminal terrorists and need to be convicted and imprisoned as such. 

 

I don't support the state of emergency, it's not needed, but I do support using whatever force is necessary to stop the destruction of the training facility.  Arson is a forcible felony and deadly force is authorized to prevent it. It's time to take a stand against these militant "protestors" and start treating them like the thugs and terrorists they are. 

CAUSES ASKS: "Do you support or oppose Kemp's declared state of emergency?"  ME:  MAYBE, which is not a Causes option; I don't live there, nor have I particular knowledge about the scientific validity of the enviornmental and/or other concerns behind the protests (which according to the article attached appear to have been at least partially  mitigated).  From what I've read this has been a long escalating situation, and I tend to agree with the assessment of law enforcement regarding "domestic terrorists" (the criminal charges against a group of the most violent, property-destructive, protesters), and Kemp's statement regarding intolerance of the same.  Further, in the article,  regarding those arrested "... two of those arrested are from Georgia, while the rest hail from states from Maine to Arizona and one each is from Canada and France."   While I absolutely support the First Amendment right to protest, it has specific paramators: "...the right of the people peaceably to assemble, and to petition the Government for a redress of grievances."  Operative words: "peaceably to assemble.".   So.  This appears to be far from a "local" event, and if it's beyond the "local" control to prevent further violence, then calling in peace-keepers may be a good idea. 

None of this, however, in ANY way condones the police killing of a protester -- whose mother, according to the article, lives in Panama and is planning on coming here to protest.  

 

https://www.cnn.com/2023/03/06/us/atlanta-cop-city-protests/index.html 

Hell yes!  If Kemp had treated these A-Holes like terrorists to begin with he wouldn't be in this mess!  That SPLC (so-called} Lawyer should still be locked up too.  The organization is nothing but a planning operation for left-wing goons.  All of them should be sent to a Black Sight and interrogated until they squeal like pigs and tell who funds their operation.  The difference in reporting and treatment of the people involved shows what an absolute farce the January 6 narrative really is.