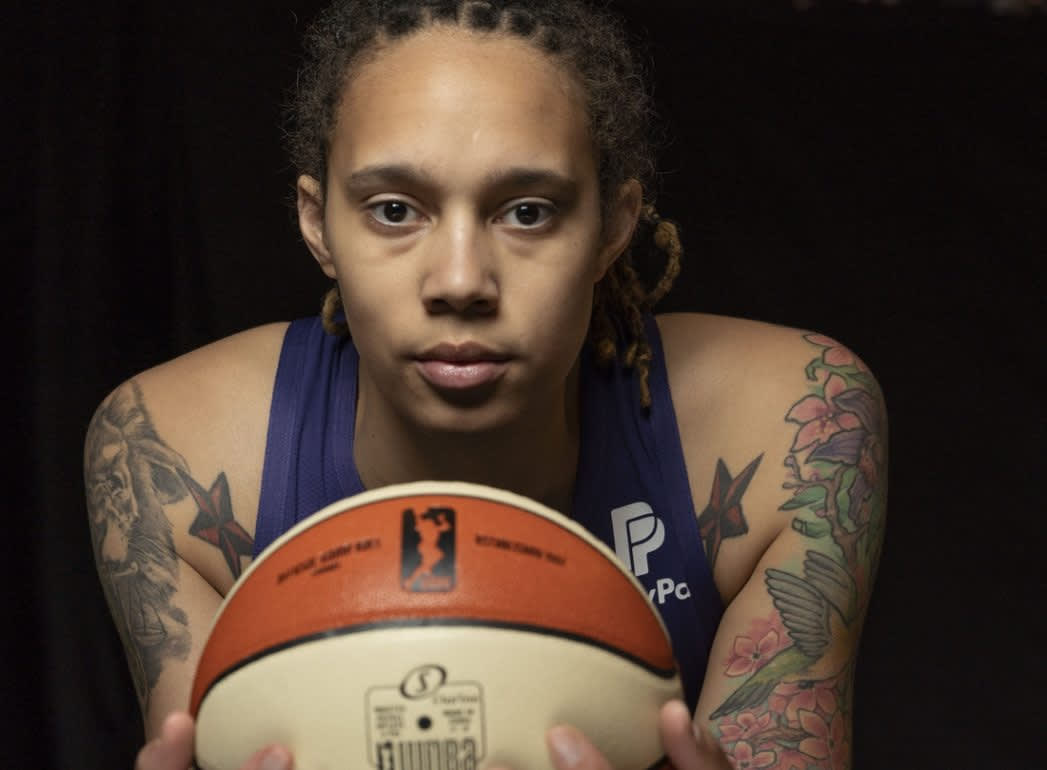 Brittney Griner Freed From Russian Custody in Prisoner Swap
Join us and spread the word to your community
Just to make it clear ....

"Trump administration was 'not prepared' for or 'not interested in' wrongful detentions: Paul Whelan's brother" ... https://thehill.com/homenews/3770273-trump-administration-was-not-prepared-for-or-not-interested-in-wrongful-detentions-paul-whelans-brother/

But the 💩 had plenty of other interests ...

The hypocrisy of the right knows no bounds.

They hate Brittney Griner because she dares to protest inequality by exercising her First Amendment rights.

And yet they rant how a private platform like Twitter supposedly censored them, even though private companies do not need to allow free speech.

They're such a joke.

Whereas I don't want to see any American snatched off the street in a foreign country and held hostage by evil spirits, I'm also not sympathetic to Griner's case.  She's a pampered and spoiled basketball player that few people knew existed prior to this event. Given the high opinion and value she places on her person she should have known better than to smuggle dope into Russia.  Unless she somehow believes she's part of a protected class and the rules do not apply to her.

An anti-American as demonstrated by her refusal to stand for the flag, the narrative advanced by her and other athletes and celebrities is growing tired and boring.  The good news is, like Colin Kapernick, she'll be out of the news soon. 

So line up the talk show tour morning, noon and late night. Shower her with gifts, book deals and organize the parade for the hero so we can move on to more important events.  Like the administrations mess at the southern border.

Thank you President Biden for making this difficult choice to at least get Brittney home. Nay sayers will say more should have done more to get Paul Whelan home but you at least did what you could with the cards that you were dealt. Thanks! Well done. 

US Negotiators, both official sand back channel, did their best to trade Bout for Griner & Whelan but the Russians only agreed to release Griner and only after midterm elections in an attempt to create divisions in the US. Despite the disappointment of the Whelan family even they admitted the US needed to take the deal offered by the Russians and it was better to get 1 person back then none.

"...in July...the U.S. had made a "substantial proposal" to Russia for Griner and Whelan. Though he did not specify the terms, people familiar with it said the U.S. had offered Bout."

"Such a public overture drew a chiding rebuke from the Russians, who said they preferred to resolve such cases in private, and carried the risk of weakening the U.S. government's negotiating hand for this and future deals by making the administration appear too desperate."

"Besides the efforts of U.S. officials, the release also followed months of back channel negotiations involving Bill Richardson, the former U.S. ambassador to the United Nations and a frequent emissary in hostage talks, and his top deputy, Mickey Bergman."

"Whelan was not included in the Reed prisoner swap, escalating pressure on the Biden administration to ensure that any deal that brought home Griner also included him."

"Russia has treated his [Whelan] case differently because of the "sham espionage" charges against him. Still, they said they believe communications channels with the Russians remain open for negotiations for his freedom to continue — though it was not yet clear what cost would need to be paid to secure it."

"Whelan's brother David said in a statement he was "so glad" for Griner's release but also disappointed for his family. He credited the White House with giving the Whelan family advance notice and said he did not fault officials for making the deal."

https://www.military.com/daily-news/2022/12/08/griner-freed-wnba-star-swapped-russian-arms-dealer.html/amp



Griner's release in the serves both Russia and the US (and Biden politically). 

But, for Russia it must have just been about the swap because the harsh treatment of Griner put a further chill on recruiting foreign athletes to Russian teams. I have no way of assessing how the imprisonment of Griner played with the Russian people. 

I hope that the Biden Administration can soon find a way to secure Paul Whelan's release. 

Of course Biden completely fails to take into consideration how this will affect my WNBA fantasy league.

This is amazing news. Britney Griner did not deserve to be incarcerated in Russia, especially after spending several years choosing to entertain the Russian people with her basketball skills. I'm so glad she was able to come home to her family.

Hopefully we can find a way to secure Paul Whelan's release soon, because he's been there far too long, but we can't let the perfect be the enemy of the good. This is a huge victory.

Paul Whelan needs to be released, even if he thought and back the Biden administration made the right decision. Russia not only trumps up charges on Americans but also on this own people!

On the surface this looks like a real crappy deal - A disparging basketball player for a mass murderer. 

I don't give a damn what color she is or who she sleeps with. A US marine should be 1st to come home! And I would say the same if it were a gay, black marine! Biden chose to leave a man that served his country for a basketball player BECAUSE she was black and gay. Traded her for a notorious arms dealer. It's a disgrace. I'm glad that she is home and doesn't deserve to he there either, but thisnis just wrong. He has been there for 4 years!