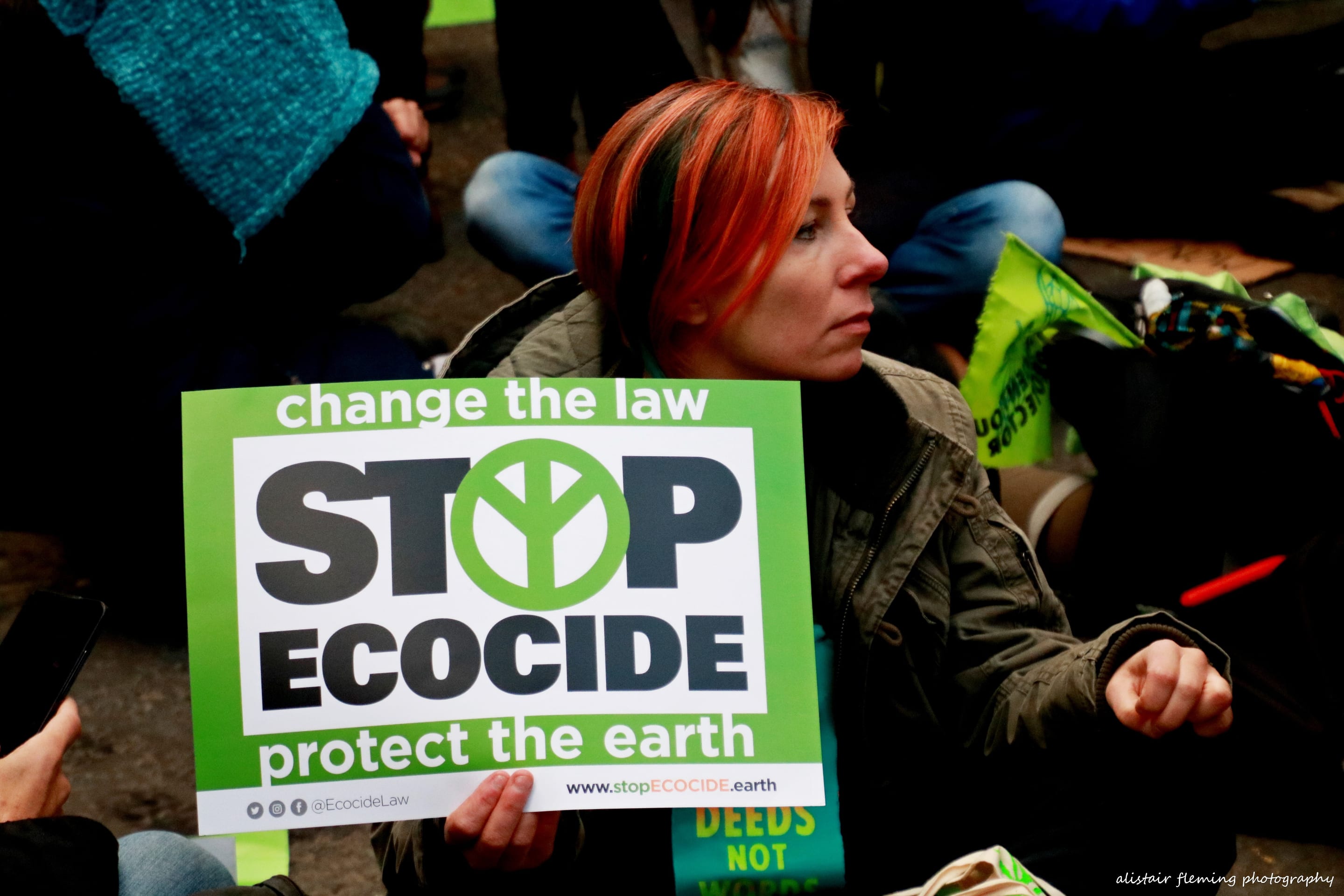 Should Ecocide Be an International Crime?
Do you think ecocide should become an international crime?
Crimes against the living planet are crimes against the future of mankind on this planet. We have to protect the future with the same zeal that we have to protect the moment. Decisions that destroy the planet's future for some near term gain should be illegal becuase the consequences of such gluttony and greed will have long term consequences to the cycle of life needed to support the future of humankind.

Making Ecocide a crime is basically window-dressing, and would be almost impossible to enforce, especially since the largest polluting nations and the largest polluters have demonstrated virtually no interest or poltical will to truly take the steps necessary to protect our environment. What it will take is a basic, fundamental paradigm shift where humanity as a whole is attuned to living in an ecologically and environmentally healthy way that is not only sustainable but leaves the environment healthier than when we found/inherited it. 

One approach to this would be to adopt Seven Generation Thinking. The Seven Generation Principle is based on an ancient Haudenosaunee (Iroquois) philospohy that the decisions we make today should result in a sustainable world seven generations into the future. This type of thinking would need to be applied to all decisions and relationships: ecological, cultural, communities, and even our own individual well being.

"Seven Generation Thinking" by Charlotte Akers, Ecoresolution

https://www.ecoresolution.earth/resources/seven-generation-thinking 

1. The definition is vague and ambiguous.

2. Lets fix number 1 first and then make it a national crime in a lot of countries before we make it an international crime. Then it will get more support and have a chance of being enforced.

While the ability to prosecute cases, and assess reparations may be a benefit, actually implementing this could take years since ICC needs to adopt the ecocide definition, amend the Rome Statute, and 2/3rds of members need to ratify. Also the largest nations (China, India, US) that are offenders are not members. 

History:
1970 - 1st mentioned by biologist and bioethicist Arthur Galston at the 1970 Conference on War and National Responsibility in Washington, D.C.

1972 - Initially proposed by -Swedish Prime Minister Olof Palme at the 1972 U.N. Conference on the Human Environment.

1973 - International Criminal Court's Rome Statute

1998 - Ecocide was considered and then dropped during the formal establishment of the ICC in 1998

2000-2019 Scottish barrister Polly Higgins campaigned for ecocide to be recognized as a crime against humanity until her death in 2019. 

2017-2021 The Stop Ecocide Foundation formed an Independent Expert Panel (IEP) and completed a legal definition June 2021.

(1) International Criminal Court's 123-member countries (which do not include the US, China or India) still need to submit a definition to the United Nations secretary-general

(2) proposal must then be voted on by a majority of members of the ICC at the annual assembly in December in order to be considered. 

(3) final amended text needs approval from 2/3rds of member countries

(4) enforced by member countries in the countries where it is ratified. Ratifying nations may arrest non-nationals on their own soil for ecocide crimes committed elsewhere. This means citizens of countries that are not members of the ICC could still be affected.

https://theglobalobservatory.org/2022/03/the-benefits-challenges-and-limitations-of-criminalizing-ecocide/

https://www.stopecocide.earth/expert-drafting-panel

https://www.npr.org/2021/06/27/1010402568/ecocide-environment-destruction-international-crime-criminal-court

 

And this certainly does nothing to further any push for more oil out of the Keystone pipeline. 



"The Keystone pipeline spill in a creek running through rural pastureland in Washington County, Kansas, about 150 miles (240 kilometers) northwest of Kansas City, also was the biggest in the system's history, according to U.S. Department of Transportation data. The operator, Canada-based TC Energy, said the pipeline that runs from Canada to Oklahoma lost about 14,000 barrels, or 588,000 gallons.

The spill raised questions for environmentalists and safety advocates about whether TC Energy should keep a federal government permit that has allowed the pressure inside parts of its Keystone system — including the stretch through Kansas — to exceed the typical maximum permitted levels. With Congress facing a potential debate on reauthorizing regulatory programs, the chair of a House subcommittee on pipeline safety took note of the spill Friday."

No, this should not not be an international law. Governments will break laws such as this if implemented because they are mining minerals they claim are environmentally friendly, but are no more environmentally friendly than they claim coal isn't. Democrats and other globalists are on a mission to destroy humanity and the world.

12/8/22

Re: Ecocide 

Support, but it's a slippery slope; add Sociopaths, Definition manipulation, Non-participants, Accidents, Overpopulation…

So accountability becomes subjective, inane to others, problematic, after the fact.

Proact is better but, already a mute point; Eliminate worst offenders and such, but still need to address a Universal Natural Law, Procreation. Hmmmmm? 

We are our own worst enemy. Can we Evolve to a more Venus Project type humanity, I'd like to think so, but we don't have a very good track record.

I'm pretty sure passing these paradigms along to our children isn't the answer. 

 

People who engage in ending the world for the fun of it, and not only that, but also believe it's pointless to save the world, better think twice before commiting ecocide. We need to put those who support wanting resources and demanding for financial gain or self gratification, for their crimes against nature itself!

There is no Planet B.  The earth is our only home and we must defend the ecosystem

This should be an international crime because it affects the entire planet. Companies making billions of dollars of profit off the destruction of this earth. This is the very definition CRIMINAL!!!?

The coral reef reflects the health of the eco system in the ocean. We must support the ocean. 

🤣🤣🤣🤣 Thank you for the laugh this morning, Causes.
(For the record, I support the future of coral reefs.)

IF ecocide were a crime, Pres Xi would be in prison.  This is not about the environment - it is ALL ABOUT CONTROL. 

We need to think of ourselves as part of the ecosystem and as Gaia a living, conscious being that we rely on for life. She sustains our life and damage done to Giai is damaging our lifeline.

The tragedy is that we never drew a line limiting the levels of negative externalities industries were allowed to burdened all of us with. Maybe Green Amendments at the state level would be a more practical route to go that the more ambitious sounding Ecocide-as-a-Global-Crime idea, though it has a lot of appeal.

Meaningless & unenforceable. Instead of persuading, zealots like this seek to use the power of the state and international bodies to force compliance.

I support holding corporations accountable for their actions in destroying the Earth, but I'm not fully sure how proof and prosecution would work. We'd also have to figure out which court would handle the cases and how enforcement would work.

I think you'd also have to distinguish between intentional and accidental actions (the same way we do between murder and manslaughter). And, of course, set some sort of limit on what "normal" pollution is and when a party's actions become egregious enough that it crosses the line into an actual crime.

But none of these issues should be taken to mean that it's not a worthwhile endeavor if it means, for example, that Big Oil cannot continue its proven history of greenwashing, as the House Oversight Committee has recently reported:
https://www.cnn.com/2022/12/09/politics/big-oil-disinformation-record-profits-climate/index.html 

People are wilfully & knowingly committing harm to something living; that sure sounds like a crime to me!