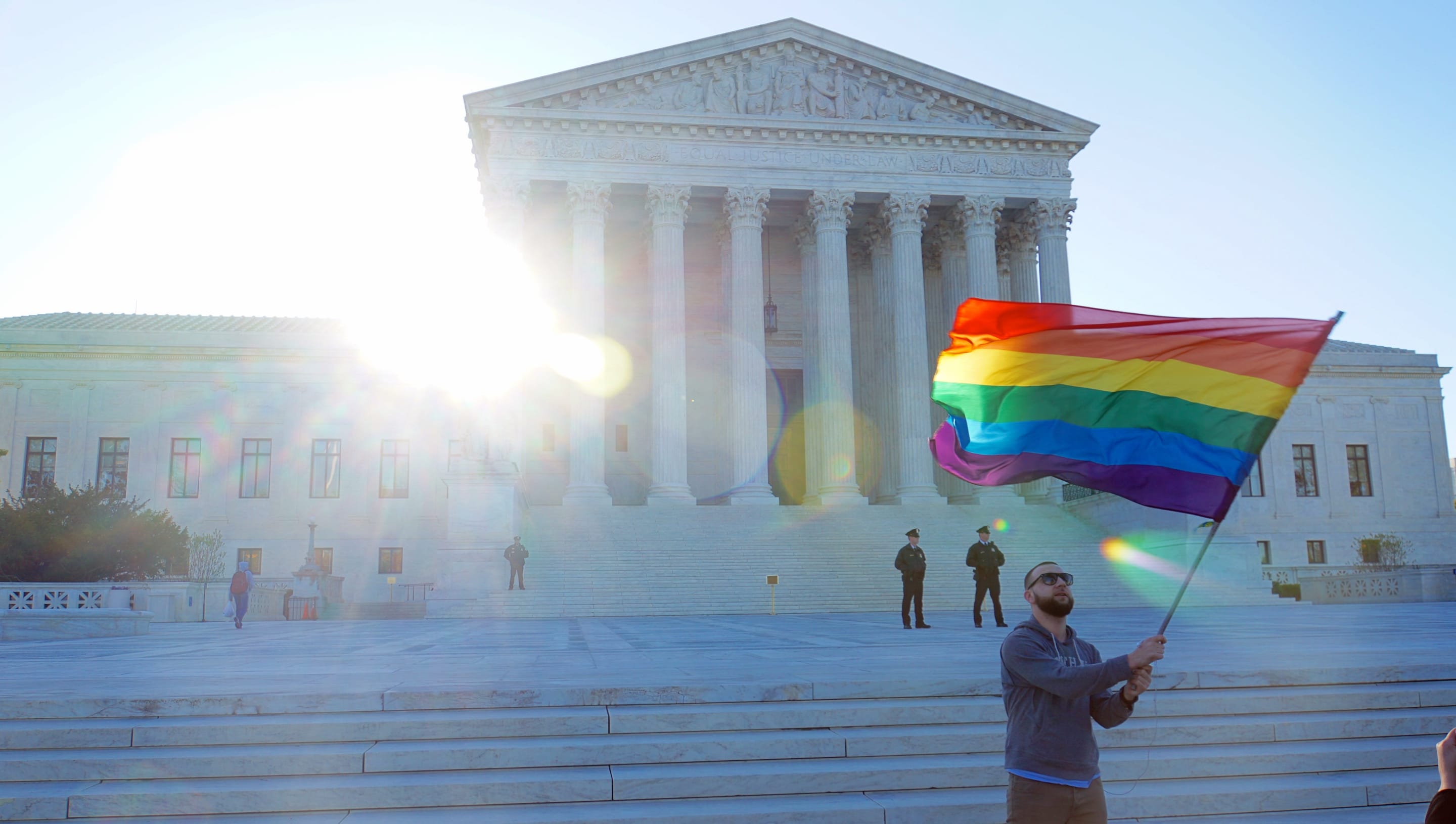 SCOTUS Hears Arguments in LGBTQ+ Discrimination vs. Free Speech Case
Should businesses be able to discriminate against LGBTQ+ people? 
If a public business offers services of any kind to the public it a process and a part of state-governed commerce. As commerce is regulated by the state, the state's intersets and a particular religions interest's are separate from a state's interests, and the government is wholly separate from any chosen set of religious belief's - no company should be allowed to disenfranchise other's becuase they have different religious belief's. The free-speech, "I am an artist' excuse could be used by a restaurant cook to deny service to anyone that does it fit their particular religious interpretations. It could be used by anyone to deny services to anyone that does not comply with their religious beliefs.

The free speech ''artist' argument is bullshit. This is plain old LGBTQ bigotry and a denial of rights of service - it is not unlike the discrimination of 'separate but equal' that disenfranchised black Americans for so many years. 

If this vendor wants to serve just a limited clientele that meets their views of what other's must be to in order to gain their services, I suggest that they operate within the religious institution that they accept and delist themselves from advertising services to anyone else. They cannot have it both ways.

I am not prejudice against anyone, but if some business doesn't want your money. Go else where. That company will be out of business just by lip service. If a company wants to be prejudice in the name of God, they won't last. Have them post a sign in their window they do not accept same sex marriage. There is no way to get rid of bigotry, prejudices. These people say it is because of their religion, we should all know God has no room for hate. He/She only wants good for all. So give them their room to wallow in their bogus religion. Maybe their church will support their business. This is a waste of taxpayers money for these ridiculous law suites. 

Contrived case gaming the court system not only in CO where the case was lost in both courts (District Court & Appeals Court), as well as, cases in 8 other states (AZ, Co, KY, MN, NY, OH, VA, WI) to generate disparate decisions, a recipe for getting the issue to the Supreme Court which was not needed since the Supremely Catholic Court has been signaling for some time that it's likely to overturn its own 30+ year-old precedent establishing that the law applies equally to everyone in order to side with religious objections to an anti-discrimination law to defy that law. Most recently Justice Clarence Thomas said he would favor revisiting the 2015 decision finding a federal constitutional right to same-sex marriage in his June 2022 opinion n abortion.

The case was brought by website designer Lorie Smith, an evangelical Christian who has never sold her services to anyone, argued by the anti-LGBTQ group Alliance Defending Freedom (ADF) council which has represented many businesses looking for the perfect case to re-litigate the 2018 Masterpiece Cakeshop v. Colorado Civil Rights Commission case which the Supreme Court declined to rule, for round 2, challenging the state of Colorado which is 1 of 20 states that enforces laws prohibiting businesses from discrimination based on sexual orientation, looking for exemptions and carve out exemptions on their First Amendment protections that would result in implications beyond the context of same-sex marriage (events & goods considered artistic speech & expression). ADF has represented many businesses challenging service to same sex couples but selected this one to focus on free speech involved in "expressive" services having failed with the cake business. Since there is no actual harm in the case, or damages suffered, the focus is on free speech.

20 Republican-leaning states signed on to a friend-of-the-court brief supporting Smith.

21 Democratic-leaning states and the District of Columbia filed to warned against siding with Smith which could lead members of protected groups to be exposed to discrimination in a "broad swath" of the marketplace.

https://www.politico.com/amp/news/2022/12/05/supreme-court-hears-case-that-could-undercut-gay-rights-00072162


https://www.washingtonblade.com/2022/12/05/supreme-court-hears-oral-arguments-in-303-creative-case/

https://www.cbsnews.com/amp/live-updates/supreme-court-same-sex-marriage-lgbtq-rights-303-creative-v-elenis/

https://slate.com/news-and-politics/2022/03/supreme-court-303-creative-coordinated-anti-lgbt-legal-strategy.html

https://www.vox.com/platform/amp/2022/2/22/22945657/supreme-court-religion-lgbtq-303-creative-elenis-colorado-discrimination


If I am understanding this case correctly the defendant has no first amendment right to refuse under the first amendment not to have to do a web page design. Are we to assume that in the entire world there isn't any LBQTII+ people that do web design. Who would do a better job for the customer?

The Colorado AG say when you start a business you MUST serve all customers regardless of your beliefs, so I am a pedifile and come into this lady's business and demand she build me a web page with all thing about having sex with kids 3 months and older up to age 18. I want pictures of these children being forced to have sex with up to three men at a time. 



The previous case with the baker that refused to bake a cake for same sex couple. Was there no baker in the area that was part of that community that could do that cake. Why didn't they take the request for the cake to a muslin shop? Then take it to court. 

This starts a slippery slope!   Can a Catholic now deny a Protestant service because they are heretics?

 

And if an LGTBQ+ person belongs to an MCC Church can they now deny service to an Evangelical?

 

And, for those of us whom are not Catholic, do we have to abide by an rule, law, or decision from a Catholic Supreme Court?

 

 

This question is very deceptive. Should a business discriminate against a person. NO

Should they be forced to promote a message against their religious beliefs, NO

This would be like forcing people to take off their head scarves to promote a message like Disney was sued for. Some people want to be religious and should also be accepted no matter what others think as well. 
Of course these arguments seem to only work with christian religions and not pressured on others

I can't believe that we are arguing about people's private lives. Who cares? When I talk to someone or befriend someone I DON'T CARE who they are sleeping with. How is this even a thing? If the Supreme Court rules in favor of discrimination then we should pack the court like FDR threatened to do. This garbage has got to stop. Our world is spiraling out of control and they're worried about who someone is in love with. 

we hold these truths to be self evident ALL MEN (and women} are CREATED EQUAL...

Discrimination can not be tolerated.

hey, conservatives, why do you feel its your right to discrimanate agaisnt people?

why so conserned with other peoples lives, that don't effect you?

where is the harm? 

I don't like churches, so I don't go to one...I don't stand outside one every sunday shouting at churchgoers...thats what we used to call ''being an asshole''. ...your all assholes.

mind your own business.

Discrimination of any one group opens up discrimination to any and every other group.

Everyone is EQUAL. All human! Not hurting you so why are you against it with your dirty mind and cherry picked versus from a fictional book.You probably eat bacon and have tattoos!! If you don't like it, don't have a business that is open to the public.

I'm curious how a LGBTQ+ service business; let's use a cake business, for this example, would respond to someone wanting a cake that depicted a religious centric image? How does discrimination get determined? Did the owners come out and say, "I'm not doing that cause your LGBTQ?" Or did someone play a discrimination card? When I get turned down from a job they usually just say, "we decided to go in a different direction." Didn't think they had to give a reason. Why would you want pay someone who doesn't want to work with you? Unless, you wanted to force a position? 

Business' refuse people all the time, how many people has twitter/Facebook/Instagram told that they could not use their platform? Are we going to force a Jewish baker to make swastika cookies? Would we force a black baker to make a cake with a racial slur?

Businesses shouldn't be allowed to discriminate against anybody. We have anti-discrimination laws in place for a reason. LGBTQIA+ people are just like everyone else. Who you are and how you love shouldn't affect whether or not you're allowed to give a store your business. As a queer person myself, it is so exhausting seeing my rights and personhood debated constantly. I'm not wrong or broken. I'm not a sin. I just want to exist like everyone else.

If republiKKKans have their way only speech they agree with would be allowed. This is their interpretation of free speech.

You can't force someone to do something that goes against their core religious beliefs. It seems people are intentionally seeking out Christian businesses just so they can try to punish them for their beliefs.  This is wrong and it has to stop.  No has ever sued a business (that I'm aware of) for putting a stupid "no guns allowed" sign on the door even though the 2nd Amendment protects the right to be armed. Gun owners laugh and move on to the next similar business and avoid giving money to someone with opposite beliefs. There are plenty of places to buy a cake, design a website, etc., just move on. 

This "case" should not even be before a court at any level.  There has been no pain, no damage, no loss, the enire case is based upon theoretical events that have not happened: it is all a fiction.  Since when does the SCOTUS hear cases based upon fiction? 

Someone's sexual preference is no one's business.  If you are displaying too much open affection for each other in a resturant and you get tossed out, it could just be because you are making a scene in front of people that are trying to enjoy a meal.  Who wants to watch that while you're eating; be they gay or straight?

Sex is private business right?  It used to be one of those things that no one talked about out loud.  Why can't people just be private about their sexual preference?  It doesn't need to be a show.  I am not saying to be ashamed of it.  God made you the way you are and it is nothing to be ashamed of, just be private about it.  Sometimes even two people of the opposite sex just about maul each other on a park bench and is uncomfortable to see.  signed Old Fashioned

People who need people, are the greatest people in the world.

No matter a person's sexual orientation, please recognize they are a human being with the same desire for love and acceptance as you.

Should the LGBTQ+ community continue to push their agenda against people who view their life style differently?  Are these businesses the only people who can create what the LGBTQ+ couple want? Is there a reason both sides can't get what they need? It's called compromise and move on....stop the hate and anger because people won't don't what you want. Time to grow up!