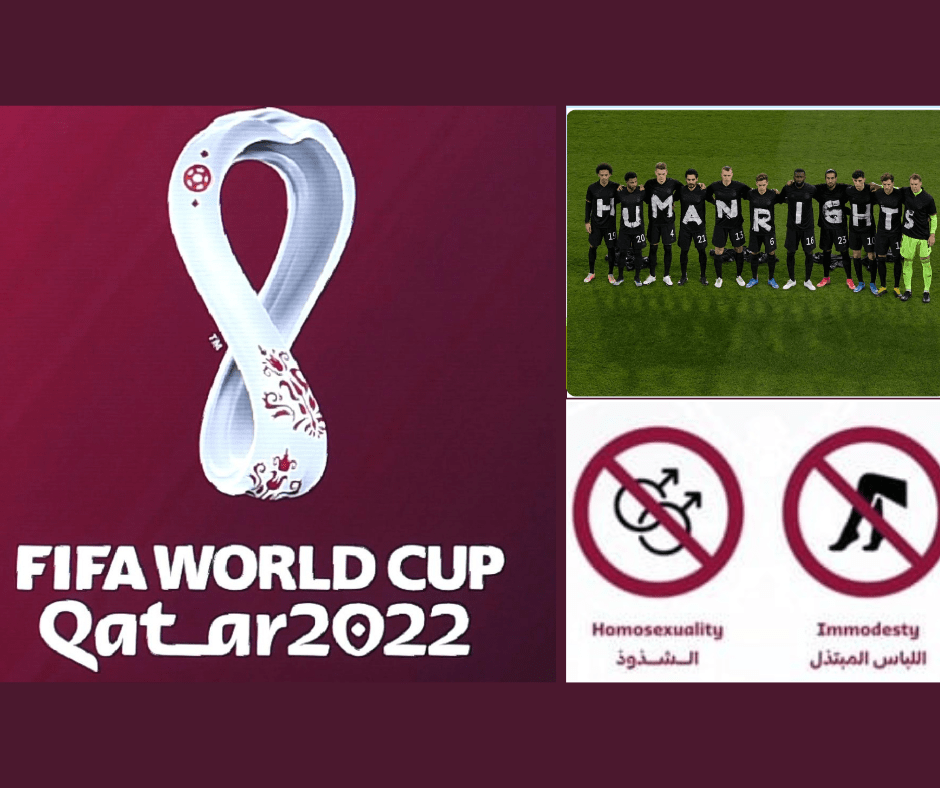 Argentina Won the World Cup, but Controversy Continues
Will you help keep the issues in Qatar stay relevant?
I am not interested in visiting repressive societies so NO, I would not have gone even if I were offered free travel and VP seating.

Faulting Qatar for imposing their laws, however disagreeable they may be, is not proper either. I fault the FIFA officeials for agreeing to hold the World Cup in Qatar, no matter how much they were bribed.The restiictions of gay rights were known by FIFA officials as was the limitations on serving alcohol.

The human rights abuses of the contract workers who built the facilities, often in 125 F daytime heat, and housed in deplorable unsanitary conditions is a human rights issue - as was their inability to change employers or, in some cases, get paid the amounts that they were promised. Many died while being forced to work.

As a side note, when one of the Saudi royals came to the Cleveland clinic for heart surgery some years back, they came in 3 or 4 747's and a lot of personnel who were there for at least several weeks. A friend's son in law managed a State liquor store around 30 miles from the Clinic and had a visit from a small Saudi delegation interested in buying out his entire stock of Jack Daniels whiskey. Apparently they bought out the stock of Jack Daniels in all of the liquor stores within a 40 mile radius for the royal family to gift prominent Saudis. I find the hypocracy to be quire enlightening of the evils of money and absolute power. At the same time a Saudi women who had the audacity to marry an American while attending college could not get Saudi approval to even visit her dying mother. 

This condemnation by the West, and many people on this site, of Qatar for their rules and laws, is as hypocritical as you can get. Qatar does not recognize LGBTQ rights, yet in the United States a mass shooting recently occurred at a gay nightclub in the state of Colorado that killed five people and wounded 18 others. This, in a country that fancies itself the global role model in terms of respect for freedom of expression, human rights, and all that good stuff – and yet where it is becoming increasingly difficult for people to exercise their right to not be massacred at nightclubs, elementary schools, places of worship, shopping malls, and so on.

In 2016, the US witnessed its worst mass shooting in history when 50 people were killed in an attack on a gay nightclub in Orlando, Florida.

This year, an independent UN human rights expert found that LGBTQ rights in the US are "under a concerted attack" and being "deliberately undermined" by state governments. Add to this landscape the institutionalised racism and discrimination that constitutes "freedom" in the US.

Before being critical it may be useful to look first in a mirror.

https://www.aljazeera.com/opinions/2022/11/28/the-massive-hypocrisy-of-the-wests-world-cup-concerns

 

MBS butchered kashoggi but Biden still went to Saudi and supped with him! 
These gulf countries have been abusing labor for decades. US employers have been abusing undocumented workers for decades 



lgbtq rules - their culture their rules

alcohol controls - their culture their rules

FIX YOUR OWN BACKYARD

right wing

trumpism

guns

Immigration 

voting restrictions & jan 6 

scotus

I haven't traveled to Qatar (or any other Gulf state countries) due to their restrictions on women in public places. I have traveled in more moderate Muslim countries (Indonesia, Malaysia, Morocco, Turkey) which has required observing restrictions on how I dress, drinking alcohol, having a male relative in public spaces, etc but it's less strictly enforced.

Not knowing much about how host countries are selected, I thought I'd check to see how Qatar was chosen given the travel limitations n Qatar for foreign spectators, sponsors, etc.

Host countries are chosen by FIFA's Congress through a ballot system 7 years in advance. Both the 2018 & 2022 World Cup were awarded in 2010.

Marketing rights worth $7.5B over 4 years up from $1B (2018 in Russia) from sponsors are retained by FIFA but the host country is paid for the cost of running the tournament ($1.7B), prize money ($450M) which includes $44M for the winner. New sponsors include Qatar Energy, Qatari bank QNB and telecomm, Ooredoo. FIFA also added 2nd tier sponsor deals including crypto.com and blockchain provider Algorand, its 1st new American sponsor in more than a decade.

Qatar, the smallest sovereign country at 2x the size of Deleware but with the highest GDP per capita, posed their bid as representing the Arab World and bridging East-West.

6 factors Qatar influencing the decision:

(1) Qatar is not a democracy which is easier for FIFA to deal with as due process & debate slow down the decision making process. Jerome Valcke, FIFA's secretary general, admitted his preference for dealing with countries like Qatar and Russia.

(2) Growing soccer as a sport in a vast region like the Arab World, Africa or Russia

(3) African Support via the Confederation of African Football (CAF) at its annual general meeting in Libya which Qatar funded. And in return, they were allowed to present their World Cup bid to the delegates with a vote on FIFA's Executive Committee and exclude other bidding countries.

(4) Act of friendship by Mohamed bin Hamman, a Qatari, pulled out of the race for President of FIFA, the most powerful lobbying position and supported Sepp Blatter who he claimed as a "very good friend," according to David Hills of the Guardian.

(5) Politics - England, Australia and the US have ethical limits on the grey area between "gift" and "bribe," Russia and Qatar had no such hang-ups.

(6) Money. The The Guardian estimates public money spent by Qatar at $200M in public funds with private money untraceable compared to Australia ($43M), US ($5M), England ($24M).

https://www.aljazeera.com/sports/2022/11/20/fifa-revenue-hits-7-5b-for-current-world-cup-period

https://syndication.bleacherreport.com/amp/1793593-how-qatar-won-the-right-to-host-the-2022-fifa-world-cup.amp.html


BTW - What we call soccer is football. The term "soccer" originated in England but fell out of use there where is continues to be used in the United States. Forms of football include gridiron football (American and Canadian), association football (soccer), rugby football (rugby), and Australian football. 

I might, but would it even matter?    In terms of Human Rights Violations, The World Cup should have never been in Qatar to begin with......just like the Olympics in Russia.    The Elite do NOT care what us little peasants think.  

The mid east needs to have an awakening on human rights but the women have to do it as the men won't./. We need to rethink our support.

Islam is a religion and the people of Quatar have every right to run their country as they want. If you don't like it, don't go there.

The human rights issues in Qatar should still be addressed even though the World Cup is over!

We need to QUIT "worrying" about soccer and START taking care of our OWN Country!!!  We are being invaded by MILLIONS of people from ALL OVER THE WORLD b/c of THIS GOVT. NOT TAKING CARE OF BUSINESS.  Tell this government to JUST UPHOLD OUR LAWS NOW from IMMIGRATION to CRIME in general!  What are they trying to do???  I'M SICK OF IT!!!!!!!!!

Qatar received too much coverage as it was for the world soccer championship. 

I have no wish to visit, let alone participate, to this regime.  Qatar should have been banned as a place due to their human rights violations. 

More importantly on the homefront Kevin McCarthy and Rick Scott should now be brought up on seditious conspiracy charges against the United States. It's quite clear to everyone that they participated in this and should be charged for it and brought to justice.

i am not a football fan. and if i was and could afford to attend, i wouldn't. i've heard about the fifa scandals for years and am appalled by them.

Yes, I would attend. They are a Islamic country who don't want alcohol or gays in their country. It's their religion and their right. If you want to complain, blame their religion.

Not withstanding the fact that I couldn't afford to take an extravagant trip overseas; my choice of location would not be one where my wife might be limited in her freedom to travel, explore, visit, or shop due to oppressive customs and religious values.

Qatar can suck it. It's a travesty that it was even held there. Not to say that Republicans aren't trying to turn us into a "Christian" version of a place like that though.

I'm not a big soccer/football fan, so I would only go to the World Cup with friends who were into it.

I think this whole Qatar hosting event is based on corruption and "pay to play", and it's clear that Qatar doesn't hold global human rights values, so was a bad choice to host.

I respect the teams and players who stand up for their values and speak their minds. Qatar cannot sportswash their record.