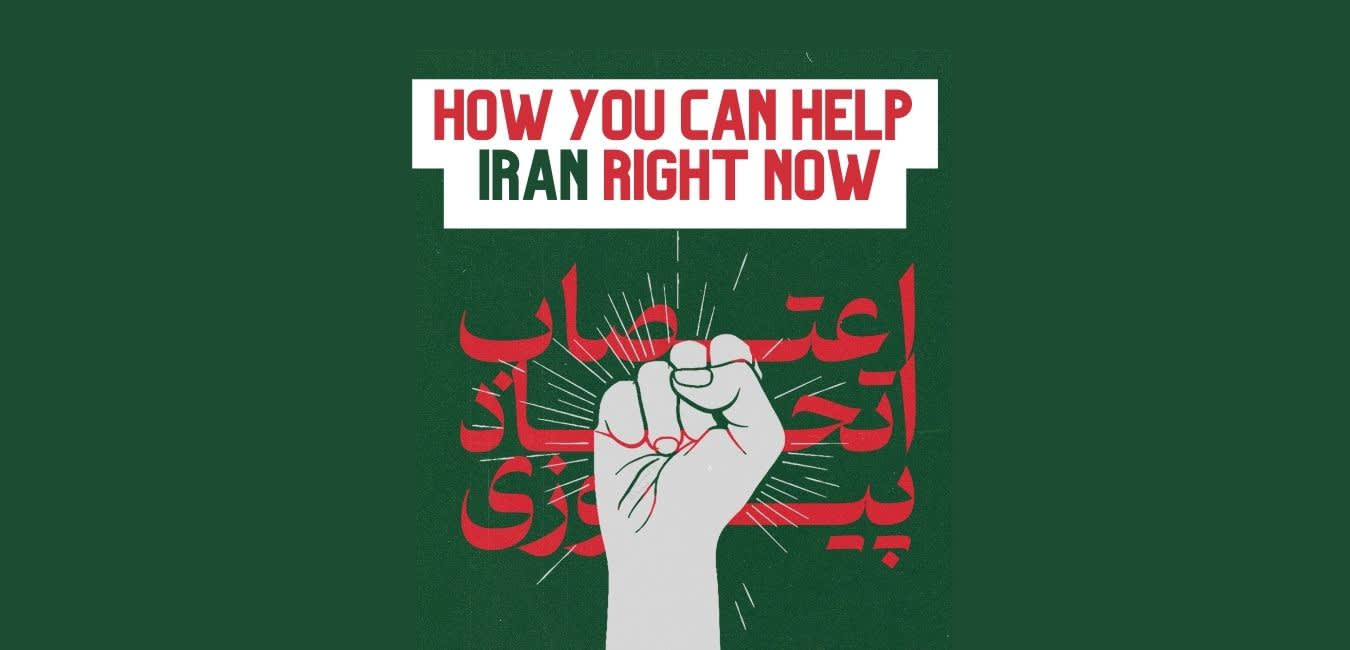 #WomanLifeFreedom - Here's How You Can Support Iran
Is the U.S. doing enough to assist Iran? Tell your reps
I think it is appropriate for all of us and our leaders to help people that are being subjugated by an authoritarian theocracy, that interprets their particular interpretation of their religious beliefs as a means to subjugate the people - in particular women. I know our country has not yet fully established a morality police force but it appears that our Supreme Court will support it.

This also applied to the people of Iran. I have known and worked with a few nationalized Iranians and have found them honorable, humerous and generally good people. I have to beleive that there are many more people like this living in Iran today. Our country has no ill will toward the Iranian people, but we do against their autocratic theocracy.

If we can lend a hand in support, to help them communicate, to show our support and to build some bridges to the people of Iran they, themselves will eventually rid themselves of their religious oppressors, the sponsors of 'religious' terrorism throughout the Middle East and desirous of developing nuclear weapons to expunge the earth of the 'non-beleivers'.

Letting the people know that others are supportive of their protests and desires can help them sustain their will to overcome their oppressors.

Now, when our electorate fully wakes up, we can rid our country of our theological oppressors. The Federalist Society executuve VP has stated thier goal of restoring the Supreme Court back to it's conservative glory days and golden era of the 1930's.

If we let the conservative donors that fund the Federlist Society continue their drive to make their version of Christian Nationalism the foundation of our legal system, I would invest in Burka clothing manufacturers - they will get quite busy. 

I became interested in Iran when watching a 2014 episode of Parts Unknown, by the late Anthony Bourdain. I liked his show because he got to the heart & soul of the regions he visited. I was surprised by how "western" Iran appeared by Middle Eastern standards. However, a shift was occurring. The theoretical undercurrent was ever present, causing those interviewed to be wary. His tour guides from the Washington Post,  reporter Jason Rezaian and his wife Yeganeh Salehi, became detainees of the Iranian government shortly after the program aired. 



The warning label reads, 'Keep religion & politics separate'. Some of our leaders & most who sit on our Suprreme Court are moving in that same direction. Make your voice heard during the midterms;  it could be the difference between a democracy or a theocracy!!!

We currently have imposed high sanctions on Iran and are trying to force them to come to the negotiation table to discuss their nuclear program.

While the human rights issues that these protests are about are a separate matter, I think our current engagement is enough. We need to keep trying to engage Iran as we are while setting an example of equality and freedom to the world.

In that vein, maybe we could do better in this country by granting women equal rights over their own bodies and ensuring the equal rights of LGBTQ people are guaranteed under the law. Those examples would help support the people of Iran more than sending money or interfering in their politics would.

43 years of oppression is more than enough. Close all Iranian representative offices out of USA 

United States has to stand with Iranian people. In 1953 and 1977 the intel giving that Iran will become a communist country made US to act and take the chance of democracy from Iranian people. Now they say nuclear deal. A Democratic Iran will help with stability of Middle East and helps with oil and gas crisis in Europe. Iranian people expect support from United States and do not want US to make deals with Iranian regime. Iranian regime knows that US is afraid of them getting nuclear power and they are bluffing to keep the United States in negotiations and away from supporting the regime change. Iranian Americans will never vote for democrats if this time they don't support iranian young people on their way to democracy. 

We should assist the Iranian people in their effort to give women basic rights like not to be killed.

And are we sure we want a government like theirs to have nuclear weapons? They don't give a flip to others who think differently than their evil ways. We should stop the Iran nuclear deal too. 

Please Tread Carefully! The US and Iran have a long and complicated history with each other. We don't want to do too little to help the Iranian people cast off the oppression of the religious conservatives, but in the past, the US has done too much as well and it helped lead us all to where we are now.

Comrade dear leader Beijing Biden is more interested in giving the Iranian government more money than worrying about the women of the country.

Nothing is better taken care of than that which we earned on our own.  It encourages self respect and a better appreciation for what we have accomplished.  Therein lies a strength that surpasses religion and government.  Rule #1, "Harm no one in the process".  The people of Iran and other such countries need to stand up for what they wish for themselves and their loved ones.  It gives birth for caution to be first and foremost in one's ideaology for future actions.  If you want something done your way, do it yourself.  Even who you choose for your governance.

This another case of the U.S.A. using it Roosevelt bulling to run the internal affairs of another independent nation.  Let the people voice there opinion on this.  We down traud Russia and China for interfering with internal affairs of other nations.  And we do the same thing.  Let Democracy rain in Iran.  

We shoujd do whatever we can to help the people of Iran. The question is, who are the. People m of Iran. and what exactly can we do ? 

Biden would rather have meaningless nuclear weapons treaty than support peopl.

We do not CARE about IRAN. You ARE wrecking this country here every moment. No one cares about what is happening in anyother country and you shouldn't either!

All this time, we've never cared about the people of Iran. We've thought of them as enemy and happily watched them suffer under our sanctions. Now, for some reason, we are making the claim that we are now so very concerned about the plight of their women. It'll pass soon enough back to non-caring, no worries. Remember the Afghani women we once cared enough to spend 20 yrs liberating? Turned out not to be near as important as was claimed. Sorry about their luck in the situation, but there were other countries and interests, and we had to go, you know. We left the place in a mess and even worse for their women, and see, we've barely even looked back or lost any sleep over that lost love. Those in Iran will be no different. The question we should be curious of, is why are they being presented to us in this way, at this time? Why do they now want us to have good feelings for these people? Is there a plan to invade or escalate, that they want us to support? Why do we believe anything our habitually lying government says about anything? Do we, possibly like being lied to, feeling safe in delusional state-created reality? Have we forgotten we are committed to caring about Ukraine's people right now and have plenty on our plate? Hhmmm.

Its totally sad and cruel to kill and supress innovent people, women, childern. Its complete violation of human rights. People go to government for their problems but what they can do if government is killing them and no news is properly broadcasted. 

The world needs to help them. Be their voice.

The health and safety of our planet is directly proportional to the love and respect we give to our women and children.. Women create, nurture, and feed us.. if we take away their rights to live and flourish, we only hurt ourselves in return.. be humble, if you don't have a uterus, act as if.. stop the massacre...now! 

I support my Iranian-American friends and their efforts, and I signed the Amnesty petition.

The US sanctions are probably the most that can be done considering it's an internal affair in a foreign country.