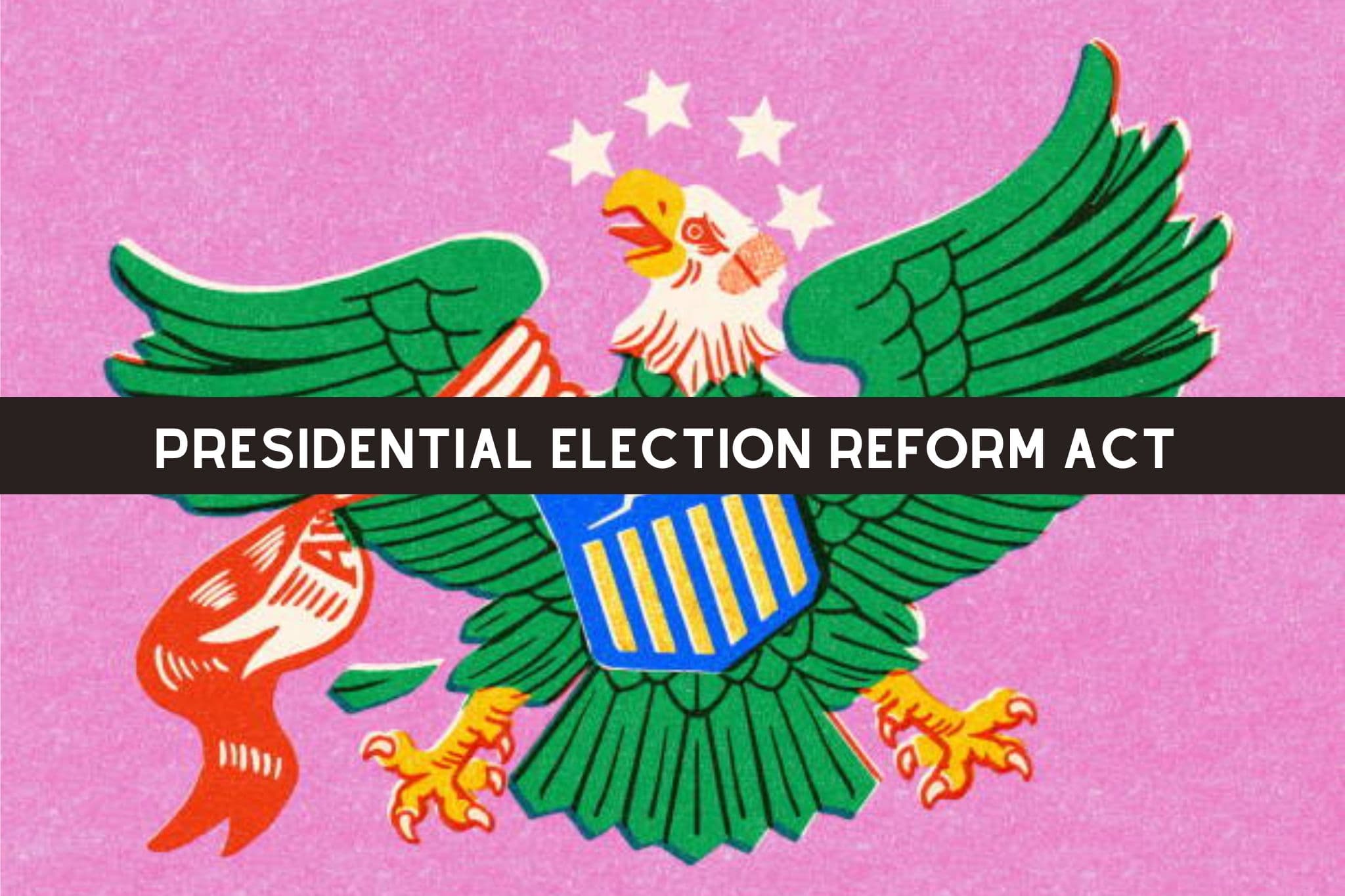 BILL: McConnell Signals Support for 'Common Sense' Election Reform
Demand your reps take action on election reform
This is a neccessary first step to correct the loopholes that have been exploited by the congress as they have begin to manipulate the norms and the trust that the many institutions of a democracy must maintain. These changes and others are needed to preserve our democracy becuase of the polarization of the congress due to the Republican declared 'war' with thier political enemies, the Demcrats. The 'war' started when Gingrich regimented the Republican House into a block voting politcal faction in order to defeat their politicl enemies and win the 'war'.

We have watched the continuing erosion of norms that used to be honored by congressional leaders and congresspeople who now see political opponents as enemies instead of colleagues with whom they disagree.

When you feel that you must win elections to defeat your enemy is becomes easier to justify exploiting the loopholes in our rules of governance by ignoring norms ad precendents because winning the war is more important than honoring established norms and precedents. In a 'war', winning is more important than playing fair.

It is truly sad that our country has finally crossed the threshold where such rules are now needed.

More will have to come as Leanard Leo has taken up the view that State Legislatures can do whatever they want with Presidential Elections, untethered by either their own state's laws or federal laws.

All six of the conservative Supreme Court Justices confirmations were orchestrated by Leo, and the five coservative Justices whose careers from 'law school to the Supreme Court' were facilitated and managed by Leo as the VP of the Fedralist Society's well funded decades long campaign to shape the federal judiciary to suit the desires of their extremely wealthy dark money donors, and the same five that were all nominated for their appointment by Leo, all of them have agreed to take up the issue of allowing State Legislatures to operate as they see fit with no legal strictures in their presidential electoral college appointments.

There is and has been a lot a dark money being invested in the courts, in the election processes and voting procedures to shape the Congress to be a tool for the very wealthy conservatives desires. They are funding the Republican Cartels 'war' on democracy to assure that their needs and desires are being met.

Control of both the Senate and the House in the next election may be the only means possible to take back our country from the Federalist Society and their dark money donors - and put our country's future back in the hands of all the people as a democracy requires and as the founder's intended.

Good 1st steps to improve the electoral college by preventing interference in the process though more is needed to better represent the majority as represented by the popular vote. Is it perfect, No! Is it better than what we currently have, Yes!

Strengthens the 1887 Legislation by clarifying & updating antiquated language. It does not change the electoral college process or state laws.

(1) state rules & laws neec to be changed before the election.

(2) Congressional objections req 20% to be heard. Currently only 1 member each from House & Senate.

(3) repeals 1845 Law on failed election which allows popular vote to be overridden

This bill passed by the House should not be passed into law. This will not be good for the American people and would only provide the means to keep Democrats in power. It would be the ultimate in voter suppression.

9/23/22

It addresses some flaws, but, what is to stop choosing a slate of Electors before Election Day to vote for the "preferred candidate"?

Also, a Governor can still control the Electors.

The best thing would be do do away with the Electoral College. It was originally created because the people weren't always trusted to be educated enough to vote knowledgeably. Even though that case still exists on the Right today elections need to be decided by popular vote, as long as the winner receives at least 50.1%. If not then a run-off.

OF COURSE they should do the same in the Senate.  No reason not to with the Democratic majority.

See what we have to do to protect ourselves from Republicans?

Democrats are trying to do away with the electoral college which will take away the voice of those in rural areas. Democrats are about stealing elections and stealing the votes of others. That is voter suppression and interference. Demand Photo ID and secure elections so cheating can't occur!!

9/22/22

This is hogwash!  All American Citizens should be required to vote 'in-person' as their civil duty UNLESS they physically are unable to do so.  This isn't much different than being required to go to jury duty.  STOP THE MADNESS!  VOTE REPUBLICAN 🇺🇸🇺🇸🇺🇸

Here's another reason why we need it, Marco Rubio and Ron DeSantis are trying to now sweep their inexcusable asshole behavior of denying New Jersey victims of hurricane Sandy any relief while they expect to get all the help in the world. This is what's wrong with the Republican party it's selfish it's unjust and it's just plain asshole.

The big giant step that needs to be taken that no one is talking about is to abolish the electoral college. This is a democracy the voice of the people and the majority of the people not the tail wagging the dog which is what is happening now. Look at the Supreme Court it is out of touch with 75% of America. 75%! Another thing that needs to be discussed here is Ron DeSantis at least and I say at least 57 people killed in Florida due to this Hurricane! 57 people dead in 2022 from a hurricane!

Governor DeSantis dropped the ball big time and it cost at least 57 lives, why because he doesn't give a shit look at his background when he was a congressman he tried to deny New Jersey funding after its major hurricane. DeSantis is a waste of human organs.

Our election can currently be subverted by just a few elite members in our government. Increasing the threshold for dissent sets up a better system to protect the will of the people. 

I absolutely support election reform and it's nice that it had bipartisan support.

I do think that the Electoral College should be removed.  It served the purpose for which it was adopted and no longer is necessary.  I want the POTUS elected by popular vote.

Congresspersons:

Take action on election reform

Vote Yea Presidential Election Reform Act

The ONLY way to restore the credibility of the government that orange Hitler destroyed is to plug the holes (all of them!) that he exposed. Every "norm" or gentleman's agreement must now be examined, fortified and clarified as to its purpose and intent. It's the only way. 

It is a good first step.  There is so much more that needs to be done to ensure each person's vote actually counts.

We desperately need fair elections which means all adult citizens have access to the ballot box and corporate money out of elections. Reinstating the fairness doctrine would go a long way in bringing truth back to the public!

Received an e-mail from my lone representative today announcing he voted against this bill because of all the "pork" attached. At least it passed. Small steps is the way to go in this instance.  Personally, I would like to see the electoral college abolished once and for all.  While they are at it, we should demand that no "pork" be allowed in any bill but one which would be compiled once a month for consideration.  Serious bills would pass more quickly.  I don't trust McConnell and a few others, no farther than I can throw them.

Yes I do agree that we need to fix the Republicans desire to cheat in elections which has been proven beyond a shadow of a doubt. I also trust Mitch McConnell about as far as I could throw him.

Use paper ballots, same day voting, have all ballots counted on the same day just like France does & show your id in order to vote.  Its not that difficult.

"After McConnell declared his support, every member of the Senate Rules Committee, except Sen. Ted Cruz (R-TX), voted to send the bill to the floor for consideration."

When Ted Cruz chooses not to do something, that's usually an indication it's actually the right thing to do.

we need ranked choice voting, as well as fair voting maps.

we also need to get corporate money out of our political system.

 

hopefully it will stop the  attempts to over throw our government and stop the lies spread by trump and the republicans as well as amake it clear that the vice president has no authority to decide on who will be the president of the united stattes

To my lawmakers, I gag when I type that; please demonstrate that you represent the people and not a morally bankrupt party. Thanks.