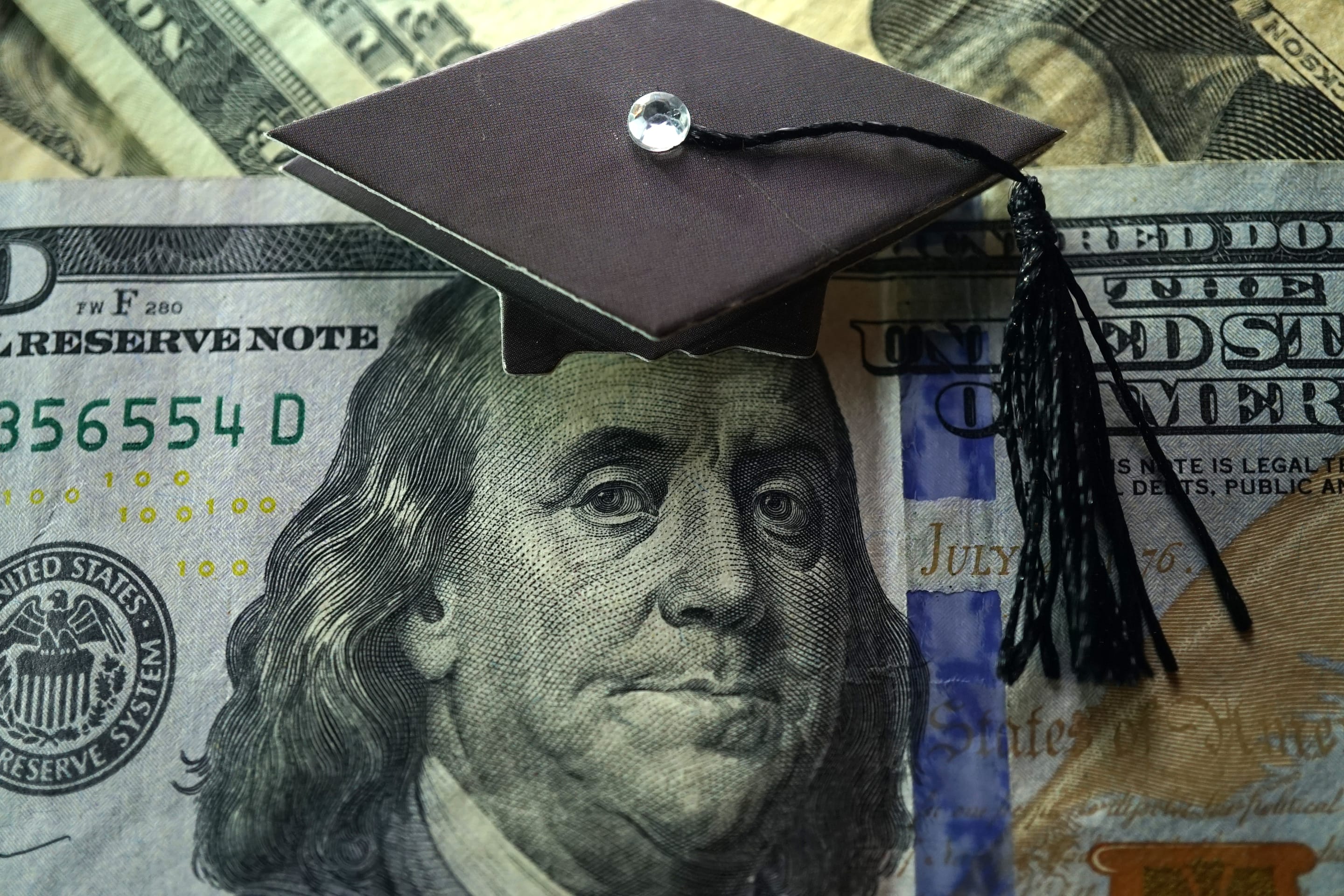 Supreme Court to Review Biden's Student Debt Relief Plan
How do you feel about Biden's new plan?
The student loan program is a great example of how a good program can have grossly unintended consequences when the greedy find ways to exploit it.

I fault congress for not following this program as it evolved and not taking any corrective actions along the way. They were all probably too busy pandering for campaign donations and their assigned fund raising duties for their party's.

My first inclination is to say that I worked my way through College and paid for most of it myself (one quarter was funded by wedding present gifts). I married over the summer after my second year and our first child was born a year later. In order to complete a five year program in four years, there was the quarter from hell, where I took seven 3 quarter hour credit classes in my major, worked three part time jobs and had a newborn and wife to attend to all at the same time. I learned how to go without sleep that quarter. Looking at today's tuitions, I realize that even with that sustained level of effort, I would not have been able to pay today's tuitions nor living expenses.

So what went wrong?

The first thing that went wrong, was that many of the loans had a guaranteed principal that was shielded from bankruptcy protection, and that  gave lenders little to no incentive to counsel borrowers about whether or not their course of study would allow them to find employment able to repay these loans. There was no counseling regarding the interest burden which would accrue, particularly with variable interest rates and late payment penalties. 

Secondly, these loans were offered directly to high school students heading off to college with no required parental involvement. Most had little understanding of what impact taking on large debts would have on their lives, because of the false promise that any college degree would automatically ensure financial success.

Finally, the Universities saw then influx of money from these loans as an opportunity to raise tuitions and to raise them dramatically year by year. In order to complete multi-year programs, the students had to borrow much more than expected annually in order to complete their degree programs. To bail out the program would be to lose the 'investments' that they had already made, with a lingering debt that still had to be repaid. Some private organizations were outright profiteering be these means.

The student loan program gave the opportunity for banks to lend lots of guaranteed principal loans to naive students. The Universities found a source of funds to upgrade their facilities and incentivize their staff. The students paid for all of this by taking on huge debts, because once the cycle started they were entrapped to continue or lose all that they had already committed to.

The Congress failed these borrowers because, if they had monitored this program, corrective actions could have been taken such as mandatory debt counseling before giving loans and limiting the ability of Universities to raise tuition more than COLA rate for student committed to two or four year degree program.

The failure of our government to monitor this program and take corrective action for the student borrowers abuse by lenders and providers,mandates corrective actions. I think that the Biden plan is thoughtful, far reaching and strikes a realistic balance between those that say 'hell, no' and those that say 'not enough'.

The other corrective actions in this legislation will do a lot to prevent much of the financial abuse fostered on naive student borrowers in the future.

I do think that more relief will be required for those of limited income and that this and future reliefs will be a sound economic investment in economic future of this country - just as the part of the PPP funding that was not directed to Congresspeople's benefactors, was a solid economic investment in our country's future.

We're not going to listen to the people complain about how this increases the national debt or falls on the taxpayers.

If you don't support raising taxes on the wealthy and corporations and fully staffing the IRS to collect those taxes, then you're the reason we have such a high national debt. We can afford this if we collect what we are owed.

When you put aside all the bullshit, look at actual facts, follow the money and who profits from the current structure of the student loan program, a fundamental issue is being ignored by both sides. The majority of the current problems with the student loan programs can be traced back to changes made under Ronald Reagan and Newt Gingrich. 

Education, healthcare, and housing for all if you want an ecucated, healthy populos. If you want a great prosperous society.

the GOP wants uneducated masses because they are easier to lie to, and manipulate. 

Yes, the government does have the authority to forgive debts owed to it, just like it forgave $700 billion in PPP loans from US businesses during the pandemic. At least 20 million Americans are going to directly benefit from this single action, and all are lower-class and middle-class Americans! We should all be celebrating for our fellow Americans, y'all! It is unfortunate that a "Me Not We" culture is still so pervasive across Americans' mindsets. Please understand this fact: 20 million Americans now have an extra $10k-20k in each of their pockets to spend on food and bills, which puts more money into our country's economy, boosting GDP! This benefits all of us in the long-run when so many of our fellow Americans can start their own lives and families with a smaller burden of debt. And to everyone still screaming bloody outrage over student loan forgiveness: Where was all this outrage when the government canceled over $700 billion in PPP loans to businesses across America that benefitted even the rich? Would you also say it was that people should not get the COVID vaccine because it be unfair to the people who died before it was released? Whataboutism will kill us all in the end if we continue to use it!

I feel education is way too expensive in America!  That is what we need to fix.  This is a band aid on a gaping wound.  However, it is nice to see the poor get a break for a change instead of the gazillionaires.

I worked to put my kids through school with no debt. Even after my husband died I figured out how to pay for school for my kids. Someone please tell me why my hard work is being punished?  The other thing they do not tell you is that the vast majority of that debt is held by people who got graduate degrees. So, this will help lawyers and MBAs. And I don't know why they say a family making a quarter million dollars is in need - I sure wish I made that much money. The average cost per tax payer will be $2000 and this program does absolutely nothing to address the problem of the high cost of higher education. I hope someone challenges this in court and it is stopped. 

Most naysayers here got pandemic assistance checks & substantial ppp loans forgiven 

You have no right to opine in the negative And if you insist then first return all those funds!

Forgive some student loan debt you need to forgive mortgage and car loans as well! 
They should be lowering the interest rates instead! Put a cap on how high it can go.

In addition to helping students with loans,

HE MUST GO AFTER FOR ALL THOSE REPUBLICAN CONGRESS MEMBERS THAT HAVE NOT PAID THEIR PPP LOANS.AS WELL!!!!

I don't understand why some people are so upset about forgiving a portion of student loan debt for poor people, they don't seem upset about wealthier people getting much larger Pandemic Paycheck Protection loans forgiven.

I am eligible for $10,000.00 of relief which would reduce my remaining grad loan to $19,000.00. I've already paid over $12,000.00 in principal and nearly $12,000.00 in interest on initial loans of $41,000.00 total.  As a low income senior citizen who saw my entire earned income disappear with the shutdown (and very little of my original work came back), I have to make due with my Social Security payments and a part time job (while I'm not disabled the arthritis in my hip and spine make it impossible to work full time).

If I didn't have to pay that $10,000.00 to the loan servicer I would still have to pay off the HVAC loan I needed to replace my broken system ($9,000.00 left), pay my lot rent (at least I own my mobile home outright), buy gas and groceries, and continue looking for a newer used car when my aging car that has over 194,000 miles on it eventually dies...

It is silly that this Debt Relief Fiasco is at the SC level. It is an absolutely Stupid Idea. The Entire USA needs Debt Relief due the Insane, Incompetent and Irresponsible Spending Joe has done. We need to get CHINA to pay us and our Harmed Citizens for the CHINA VIRUS they released on the USA and the World. They need pay us back for all that Stimulus we doled out and to set up a 9-11 Type of Fund to Support all Families and Individuals who suffered Deaths in their Families, had the Virus, Lost jobs, Lost Properly and Belongings, are Paying Inflated Prices due to effect of all that Stimulus Spending. In other words China Owes the USA and the USA Citizens Trillions upon Trillions of Dollars. Every Citizen has been harmed in some way or another and China must Compensate every one of us for that. And must pay back all Taxpayers money their Virus cost us. Speaking of Joe's Decisions, I hear Politicians say We need to end the Border Crisis. But, that is not even close to enough. We must Deport EVERY ILLEGAL ALIEN including DACA and All VISA Overstays and Foreign Student Loopholes, ALL ILLEGAL ALIENS. Our Law is exactly that. So, NO Amnesties!!! We have had at least 12 Amnesties since President Reagan said "Never Again"!! Politicians must begin to Represent the USA Citizens and Taxpayers, Not your Egos and Colleagues wishes. That IS what a Constitutional Republic IS all about. Elected Politicians Represent the Wishes and Needs of the People, The Citizens. And there are so many ways to find out and KNOW what the People want these days but I don't believe you use any technology in doing this and you think you can do it the old way, talking to people in Districts when you're not in DC. You can't possibly talk to enough people that way to know Truly and Exactly what the Vast Majority of Citizens want. If there are 10 Million Voters in your State you can't possibly know what they want because you probably can't talk to 100K of them, Personally. So, when you say "My Constituents Want" XYZ, you don't know that Factually. Therefore, you are not Governing in Accordance with the U.S Constitution. You MUST change that. You need to get more creative. You can organize Citizens Committees, use Internet Groups of Your Citizens to educate on the Pros and Cons of Legislation and Poll them on how they want things done. I mean, this is just a few opening ideas. You have Staffs and other Professionals you work with that may have many ideas on how to truly know what your Constituents want done.

But just stopping Joe's Idiocy is not enough. We have to Unravel his Disasters and take actions to Ensure these Treasonous activities Never happen again. Knowingly and Deliberately doing things that you KNOW will Harm your Country and Citizens and doing it anyway is the Definition of Treason. Taking an Oath to Enforce OUR LAWS, Protect Our Country from all enemies Foreign and Domestic the Flat Out REFUSE to do so IS Treason. Running a WOKE Military that is so Disrespected by Our Citizens that they are Ashamed to Enlist and Serve IS Treason. We know Joe is Controlled by People who don't have the Best Interests of the USA in mind and that these people HATE the USA. We know Joe and a whole lot of Politicians and Officials are Complicit in this movement to Destroy the U.S Constitution and thus the USA. And THAT IS being Complicit in Treason. I could go on. But, just Stopping Joe is NOT nearly enough. We need to Restore The USA to the Constitutional Republic We Are Founded To BE. And that means Big Changes to Rid ourselves of all these False Narratives and many of if the things we have done over the years that made Our USA Ripe for the things that have happened over the past 3 Years but were the Culmination of all the Mismanagement of The People's Business for many years. Including Laws Enacted that were knowingly favorable to SOME people over the Interests of OTHERS. Now we have this word Equity. Equity is not the USA. Equal Opportunity IS the USA. And the idea that you can Right one Wrong by creating another Wrong has no place is USA Law and Civics. Enough for Now.

God Bless The USA

As someone who values education and was lucky enough not to have to take out student loans, I strongly support President Biden's student debt relief program. Besides being legal, it is a step in the right direction. It won't solve the rising costs of higher education, of course, but it will help level out the inequalities in higher education costs.

Biden has no business canceling out these loans.  This was just a tactic to get you voters to the polls.  Boy I bet they're disappointed they voted Democratic KNOWING they are destroying our country.  



If he wants to gain votes, why doesn't he address the cost of gas and utilities? Why doesn't he give ALL AMERICANS a piece of the pie?  Why?  BECAUSE SOME OF US ARE SMARTER than any college educated, whiny, lazy idiot.

This is an illegetimate Supreme Court and it needs to be replaced.  I wouldn't allow them any hearings or to make any sort of decisions until those doing and accepting favors/bribs are thrown out.

Know wonder our country is crumbling.  The rule of law is in shambles!

I absolutely don't want to take on paying for someone else's student loans!!

12/3/22

I worked all the time I went to school and paid off all of my own college loans, both undergrad and grad school.  If the rotten to the core greedy republican bankers have raised the interest sky high again.........force them to shut it down, tell those kids to get a job and they will pay their own debts.  

At that same time I had to help bail out Social Security at one point so let me say that I am tried of paying everyone eles' debts.  Don't ask me for any money!  And if you cut my Social Security, I'm coming to replace all of you!

I do not support using taxpayer-provided funds to reduce or eliminate student debt.  I do support allowing the terms of existing loans to be greatly lengthened to reduce monthly payment amounts along with elimination or significant reduction of interest rates. 

Why is the American taxpayer responsible for loans taken out by others?? Why

Why doesn't the federal government renegotiate the loans and make the interest rates more reasonable. Forgiving this not is irresponsible and sends the wrong message 

I think Biden's debt relief is a good move.  It provides some relief to student borrowers which would allow them to expende money on other things like buying a house, etc.  For the life of me I don't see why some states were so up in arms about this plan.  This was fed. $ that was going to be impaceted, not state.  We can only hope that the Supreme Court will uphold Biden's program, but given how corrupt the court is it's hard to tell what they'll do.

This administration had one purpose with this. BUY YOUNG VOTES! Look at the timing of the announcement. They knew this was the only way they could get young people to vote for them, even though they knew it's completely unconstitutional. The House of Representatives has control of spending. Pelosi never lets us forget she has control of the gavel and purse strings. But the liberals will stop at nothing to maintain control and power. It's absolutely pathetic. Just another of a long list of impeachment issues.

Economist say that we can pay off all student debt and have money left over if give just the same amoung to money Trump gave to the RICH in TAX CUTS. 

Excellent. Until the evil schmucks who are desperate to make the administration fail, take out their knives and shred it. Self absorbed tools who care nothing about the people they swore to represent. 

I hope it gets frozen permanently. You borrowed the money pay it back. We worked part time and went to school. I guess the word work is not in their vocabulary. Biden should be more concerned about the racism in his white house. It seems that anytime a position opens up. For example Nancy Pelosi's job. Never a Asian or Spanish or Native American is even considerd. What gives? 

Biden threw this plan out there knowing it wouldn't hold up legally in court.  He did it for one reason, to get votes for the Democrats.  Besides being illegal it's also not fair to those who have paid their loans off and those who didn't have the money to attend College.  My daughter has a student loan and I expect her to pay it off like everyone else.  Biden is the biggest mistake this country ever elected.  

I am in favor of some form of debt relief, particularly for students who are carrying a crushing debt load. I do not advocate a complete expungement of all debt. Attending to one's personal debt is an invaluable life lesson for building personal financial skills.

I attended a State University in the '70's. At that time a large proportion of our tuition was subsidized by whatever means. I usually qualified for the tuition loan program and managed to convert the tuition loans into the Work-Study Program, where I was able to work in related areas of my core major and receive relief from my loan debt. Because of this, I was able to eventually complete my degree with a relatively small debt burden. I was able to pay it off in a relatively short time, much like any simple interest loan.

In general, the educational loan program as devolved over time. People, for the most part, still complete their 2-year, 4-year and for some post-grad educational programs, but at a hugely disproportionate personal cost that leaves very little room to survive and thrive in the "real world". I do not see anything unconstitutional in providing debt relief for those in need. The Federal system has been providing mass financial relief to corporations and the ultra-wealthy for a very long time. A correction to this imbalance needs to be made.