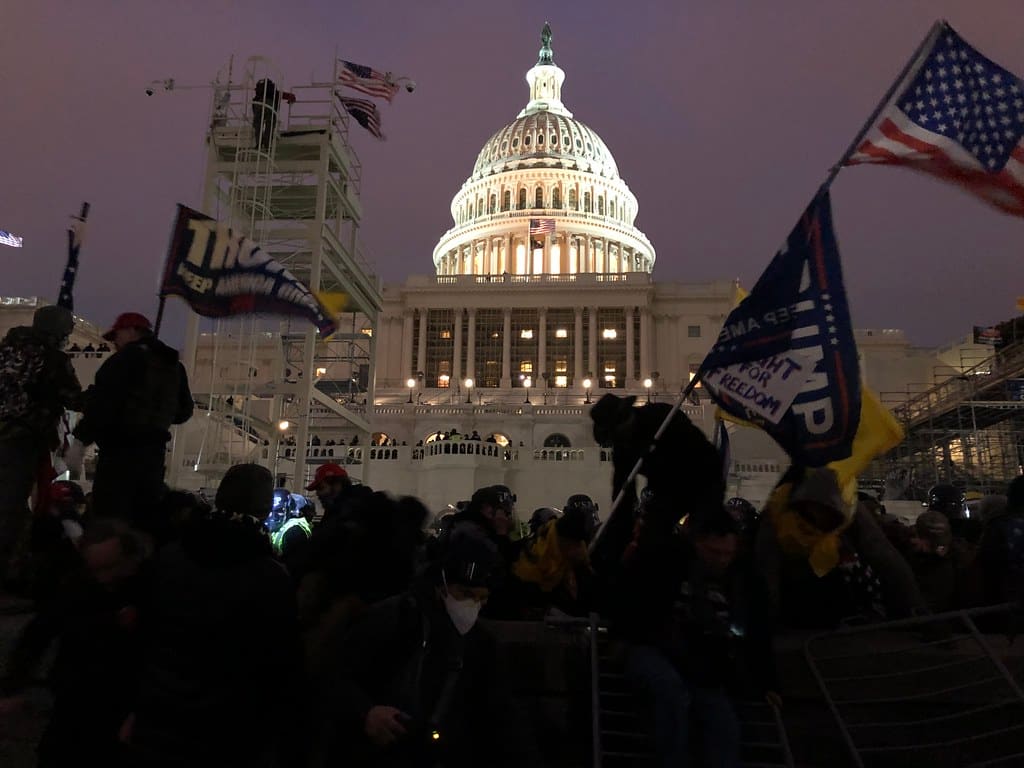 Watch & Comment: January 6th Committee Holds Public Hearing in Primetime
How do you feel about the January 6th committee hearing?
Wow!

Superb opening statements.

Superb video time timeline mix.

Great plan to package information into ckear and compelling 'chunks'. 

These thugs and seditionists who broke into our Capitol and assaulted police deserve whatever punishment they get. None of them are victims.

 

Prosecute and punish.

As a side note, not a single police officer was killed by rioters that day. ZERO! Only one person was shot to death and that was Ashley Babbitt, by a capital police officer that had no reason to kill her. 

Was January 6th wrong - Yes; was it violent - yes, but to be honest, I am still awaiting the big revelations they said were coming. Outside a little more video on the activity, there really wasn't anything I haven't seen or heard before.

I was dissappointed that the lack of security was not addressed especially since the intel was there regarding the Proud Boys and alike were going to be there. Would also like to know the details about the woman who was shot. Perhaps it will be in the following hearings, although I doubt it.  

Waste is the one thing that they actually accomplish in Washington and do well. This committee exemplifies their talent, taking waste to another level. Two years later, the drama continues and they still haven't bothered to look up the definition of "coup". If they had, they would know that is NOT what occurred Jan 6th. One of the requirements for a successful coup is military support and that was not part of this picture. Tossing that word around does make for real good drama to be played out, though. I don't know how they are able to pull this off with a straight face, given the complete joke that it is. Just when you think they couldn't get any more stupid than they already were, they surprise you with something like this committee.

Why are the Republicans already trying to condemn these hearings before they started? If it's not important, what are they afraid of?

 

Why isn't Fox Entertainment showing it on their main channel? If it's not relevant, why did they cancel it?

 

There's lots to see and it's too bad they're all too afraid to hear and see the truth. But the rest of us will be sure to tell them.

Extremely thorough! I appreciate that the insurrectionists themselves spoke to finger that cowardly traitor the orange mussolini! Fiddling while Rome burned and people died! 

All BS and you democrats know it.Thanks for wasting my hard earned tax money. You people are so corrupt and useless you couldn't run a dam popcorn wagan let along run a country.What are you dreaming up to keep power come November because we the people are sick of your bs and we will send you looking for a new job. 

All that have paid attention and stick to facts know there need be no new revelations to understand and prove that Trump knowingly pushed lies about election fraud, knowing he lost the election, secretly set up un-constitutional fake sets of electors to overturn the results, that his supporters stormed the Capitol (in a coordinated way) to stop the certification and force Pence to accept these false electors so Trump would remain in power. And when Pence would not do so, to go hang him. They know that setting up fake electors in secret means those who did this knew it was illegal. They know that when Trump's supporters asked for pardons prior, his supporters knew what they were doing was illegal. Simply, Trump and his supporters  tried to over throw the US government and Constitution. Anything new from these hearings will be to make connections and tie up loose ends to show justification for legal action. That said, it is crucial that these hearings shine light on the dis-information that all too many still believe, that this was political discourse, nothing big and unfortunately, I don't see anything that will change the minds of the all too many Jan 6th deniers .

Inflation out of Control, the White House has said it is out of possible fixes ( not my problem "Joe" reports). Senator Stabenau of Michigan bought a $60,000 dollar electric vehicle to beat the pump prices.

These prices are directly related to policies and actions taken by this Administration to hinder transportation( pipelines), delay permitting, limit oil exploration, leases, the Congress planned attack on Fossil Fuel financing.

But this Democrat lead House has time to to investigate Jan.6th but not call Speaker Pelosi, or her Master at Arms who was requested for Law Enforcement to have additional troops and staff ready and she denied it(?)! Bethcha that is not part of the primetime Star Chamber.

If the numerous crimes committed by dumbkopf supported by overwhelming evidence do not meet a high bar for prosecution then 80% of incarcerated should be absolved and set free! 
what a waste of billions in direct and indirect cost due to damage done by one idiot but supported and empowered by many

history will remember us as the dumbest ever! 
shame on congress

shame on scotus

shame on the doj

Follow The Money: 

The Big Lie? The Bigger Grift

https://news.yahoo.com/jan-6-panel-trump-campaign-used-election-lie-to-raise-millions-from-supporters-163747101.htm

The committee investigating the Jan. 6 Capitol riot said that former President Donald Trump's campaign fundraised off of baseless allegations of election fraud but spent very little of the money on legal action.

• The committee investigating the Jan. 6 Capitol riot said that former President Donald Trump's campaign fundraised off of baseless allegations of election fraud but spent very little of the money on legal action.

• During the hearing, a senior investigative counsel for the committee said that Trump supporters received upward of 25 emails a day urging them to donate to an election defense fund that did not exist

 

The Election Fraud Grift

$60,000 To Kimberly Guilfoyle: Jan. 6 Lawmaker Claims Trump's Family Benefitted From Voter Fraud Fundraising.
Former President Donald Trump's advisor—and his eldest son's fiancée—received a five-figure payment to speak at a raucous rally near the White House on January 6, a member of the House January 6 committee said.Read in Forbes: https://apple.news/AUj29HjSySIyUZzbR_ZGjMQ

 

 

Second day of mini series.  Watched the whole thing on Fox News.  The focus seemed to be mostly on Bill Barr, lawyers and election specialists close to Trump.  Can't remember titles.  But seems Bill Barr was the star today.  I've always thought he was an honest logical man.  I know many don't, but I do.  Adam Schift on the other hand is the one that bothers me.  Always has.  Everyone on this panel feels so fair and confident of all of there evidence.  I assume they must all be in agreement ahead of time of what evidence they would show to the American people.  It is a production after all.  It's disgusting to me how a man like Adam Schift is on this panel in the first place.  It's also confusing to me how Adam Schift could believe what Bill Barr says.  Especially when just a couple years ago he said he was the second most dangerous man in America.  That was after Bill Barr said he saw nothing that suggested Trump's election in 2016 was illegitimate.  After that allegation how can he believe him now.  It must be for the greater good.  Right?  Then again, that's just the kind of person they want on the panel. 

The 'republicans', self described 'conservatives', right wing etc etc have lost all standing or credibility simply for one thing - empowering ONE complete jerk self serving con & criminal scumbag. 
dont we have more critical issues to address, problems to solve than stroke the ego of one dumbkopf. you have to be truly brain dead to participate. he did NOTHING for this country or the world except spread hate and divide. he needs to be prosecuted for treason and dealt with as per law. 

😆

"Barr even went out of his way to criticize "2,000 Mules," the film created by right-wing activist Dinesh D'Souza, a convicted felon who claims that the 2020 election was stolen. (In a deposition clip played Monday, Barr laughed off the film and said it was "completely lacking" in evidence.)"

#GoExtinct
#RepublicanFascism

I replied to "I find it obnoxious and likely not coincidental that Causes has decided to bury the January...

https://www.causes.com/comments/15238

I think seemingly "buried" topics are just one aspect of failed design.


Kristen, you do know you can follow others, right?

The January 6th Committee Hearings are nothing but a Democrat witch hunt to satisfy their woke agenda.  The Federal Government should send the DNC a bill for all of the taxpayer cost for this sham along with the Mueller probe as the purpose of both is DNC politcal advertising via the Main Stream Media.

I hope that the Justice Department takes serious action and indictments result against Trumpelforeskin, and his cronies!!💙

About time!  A Mountain of clear evidence points to Trump being guilty.  The remaining hearings will likely anchor the guilty weight. 

I believe the DOJ team will be watching all the hearings.   These hearings likely will prompt the DOJ team to act on the guilty person: Trump. He deserves to go to prison.   

At the very least, just one hearing likely will prevent Trump from running for any government offices. Remaining hearings...hmm 'nuff said.  

steve bannon dares garland to indict dumbkopf and threatens to impeach him as republicans expect to win 2022

i say bring it on - let the country be defined once and for all 

 

 

"...you have a party which now claims to be on the side of law enforcement and the police and yet are turning a total blind eye to the most vicious, massive assault on police officers any of us has ever seen in our lifetime."

"It's pretty clear," Raskin continued. "Donald Trump was hellbent on staying in office regardless of what the American people had to say about it. He promoted the Big Lie. They propagandized people with the Big Lie and then he engaged in this multi-step conspiracy to try to destroy [President] Joe Biden's lawful majority in the Electoral College, culminating on January 6th, where they unleashed terrible mob violence against our police officers."

https://www.rawstory.com/jamie-raskin-jan-6/?traffic_source=Connatix

 

I know we all are worried about inflation, gas prices, food prices, etc. and those are understandable concerns but we must not forget on how fragile our democracy was that day when it was almost overturned along with the 2020 election. The Retrumplicans want to forget about it as best as they can but we can't forget on what happened that day.

It's all smoke and mirrors.  I have NO doubt this was all orchestrated by the Left.  They knew there would be millions of protesters, yet provided minimal security. Pelosi knew!!  

WE THE PEOPLE ARE ANGRY!  We need to drain the swamp of these corrupt politicians.  Look at Hilary and the Russian collusion.  She should be in jail!  

Our country was betrayed by Pres Trump, and his followers, and his supporters in government. Their crimes must be brought to light, and they must be proseciuted, and punished accordungly.