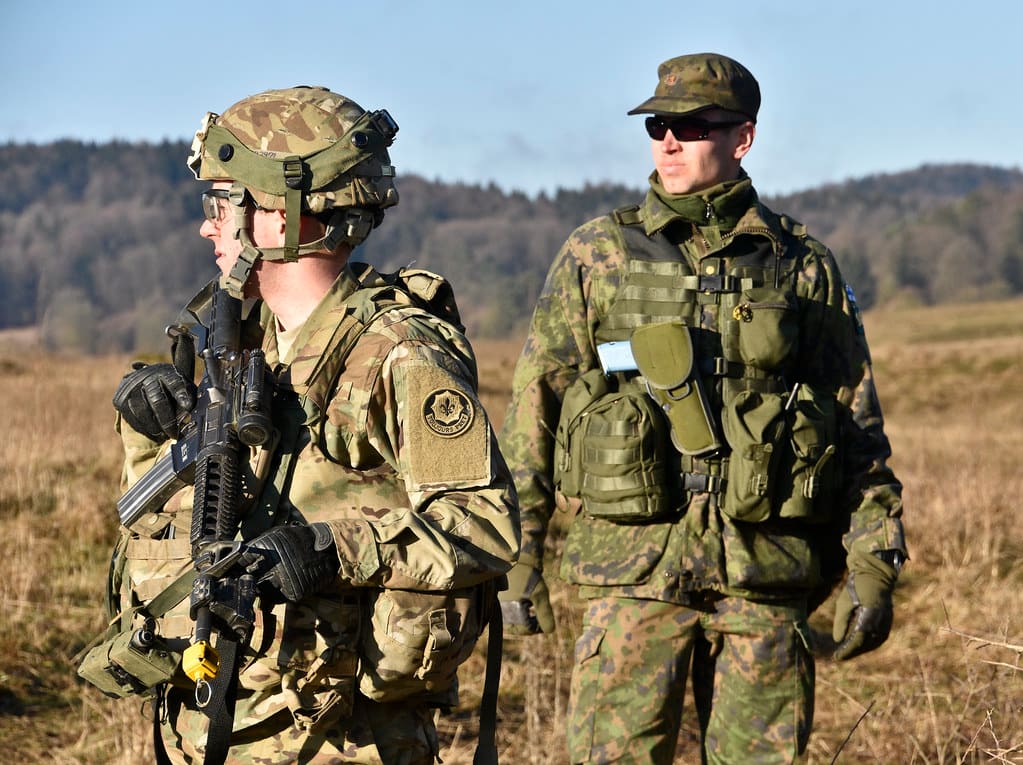 Finland's Leaders Announce Support for Joining NATO Alliance
Are you in favor of Finland joining NATO?
What's the story?
Finland's government announced Thursday that the country is going to undertake the steps necessary to join the North Atlantic Treaty Organization (NATO) in the coming days, with an announcement of its plan to join expected to follow on Sunday. That will start a formal process that will likely conclude this summer with its membership in the NATO alliance. 

Finnish President Sauli Niinist

ö

and Prime Minister Sanna Marin announced the move in a

joint statement

on Thursday:
"Now that the moment of decision-making is near, we state our equal views, also for information to the parliamentary groups and parties. NATO membership would strengthen Finland's security. As a member of NATO, Finland would strengthen the entire defence alliance. Finland must apply for NATO membership without delay. We hope that the national steps still needed to make this decision will be taken rapidly within the next few days."
Finland's decision to end its longstanding policy of non-alignment between NATO and Russia (or the Warsaw Pact during the Soviet era) comes amid Vladimir Putin's ongoing war of aggression against Ukraine. The non-alignment policy arose during the Cold War due to Finland's 810-mile border with Russia and to prevent a reprise of the Soviet Union's invasion of Finland during World War II in the Winter War and the Continuation War. In those conflicts, Finnish forces inflicted heavy losses on the Red Army before an armistice that involved Finland ceding land in the Petsamo region near the Barents Sea and the Karelia region between Helsinki and St. Petersburg (then known as Leningrad) to the Soviet Union.

The Finnish government has joined many NATO members in providing military aid to Ukraine, and public support for NATO membership has soared following Russia's invasion.

Public support for NATO membership in Finland began to rise after Russia seized Crimea from Ukraine and invaded the Donbas in 2014, but remained less than a majority at the time according to polls. Since Russia's renewed invasion of Ukraine began in February 2022, support for NATO membership has grown to outright majorities in Finland that trend to supermajorities if it joins the alliance simultaneously with Sweden.

Russia has made repeated threats against Finland and Sweden as those countries have moved toward NATO membership, with officials saying the Nordic duo may become military targets for Russia. On Friday,

Russia announced it will cut off its electricity supplies to Finland

, which receives about 10% of its electricity from Russia. Finnish transmission system operator Fingrid said that

electricity shortages aren't expected

, as Finland will compensate by importing more electricity from Sweden. The country is also expected to open a new nuclear power station this summer and warmer temperatures in the spring and summer will bring more wind power generation online.

Finland has been in extensive consultations with its neighbor Sweden throughout this process, and Sweden is expected to announce its own decision to pursue NATO membership in the coming days or weeks. The U.S. and Britain have reportedly provided security assurances to Finland and Sweden while the NATO admittance process plays out. Once they formally join NATO, they will be covered by the alliance's mutual defense guarantee under Article V.
What would Finland bring to the NATO alliance?
Finland already spends over 2% of its gross domestic product (GDP) on its defense budget, which meets the NATO benchmark, and announced a $2.2 billion boost in defense spending above its base budget of over $6 billion following Russia's invasion of Ukraine.

Despite its formal non-alignment, the Finnish armed forces have a long history of holding joint exercises and training with NATO militaries that have enhanced their interoperability. 

Finland utilizes a significant amount of equipment from the defense industrial base of NATO members which has further deepened that interoperability. For example, Finland flies American-made F/A-18 Super Hornets and will eventually replace those with F-35 Lightning II fighters that many NATO militaries field. It has also acquired missiles from the U.S., plus

tanks

and

artillery

from the Netherlands.

The Finnish military is highly competent and unlike most European countries, continues to implement a conscription policy in which military-age males serve terms of 165, 255, or 347 days before their 29th birthday. That allows Finland to rapidly expand its active personnel from about 21,500 to 280,000 in wartime with a reserve of more than 900,000 troops.

Finland also has the most extensive artillery capability in all of western Europe, with 700 howitzers, 700 heavy mortars, and 100 multiple rocket launchers, and has a capable navy that cooperates with Sweden in securing sea lanes in the Baltic.

The proximity of Finland and Sweden to the three Baltic states ― Estonia, Latvia, and Lithuania ― means that their geography would make them an integral part of NATO's defensive plans in the Baltic Sea region. The Swedish island of Gotland, strategically located halfway between the Russian enclave of Kaliningrad and the city of St. Petersburg, is

considered a possible Russian invasion target if Putin attempts military action in the Baltic

.

The strategic impact of Finland and Sweden joining NATO would also be seen further north as they are

two of the eight Arctic countries

and five of the others are members of NATO (the only non-NATO Arctic country is Russia).
How do countries join NATO?
NATO has gone through eight rounds of enlargement since its formation from 12 founding member states in 1949 to its current 30 members. Applicant countries must adhere to the principles of "democracy, individual liberty, and the rule of law", in addition to being able to contribute to the security of the alliance. At this time, only European countries may apply to join.

NATO members must unanimously agree to invite any new country into the alliance. Once invited, applicant countries receive a membership action plan with steps to take to join the alliance. Then an accession protocol to the North Atlantic Treaty must be signed unanimously by NATO members to allow the country to join the alliance. 

The accession process may require ratification by a member country's legislative body, as is the case in the U.S. where a two-thirds majority vote is required in the Senate to ratify the change to the treaty. Once all NATO countries have completed their ratification processes, the applicant country can formally join.
RELATED READING
— Eric Revell
(Photo Credit: U.S. Army photo by Sgt. William A. Tanner, 7th Army Training Command via Flickr / Creative Commons)