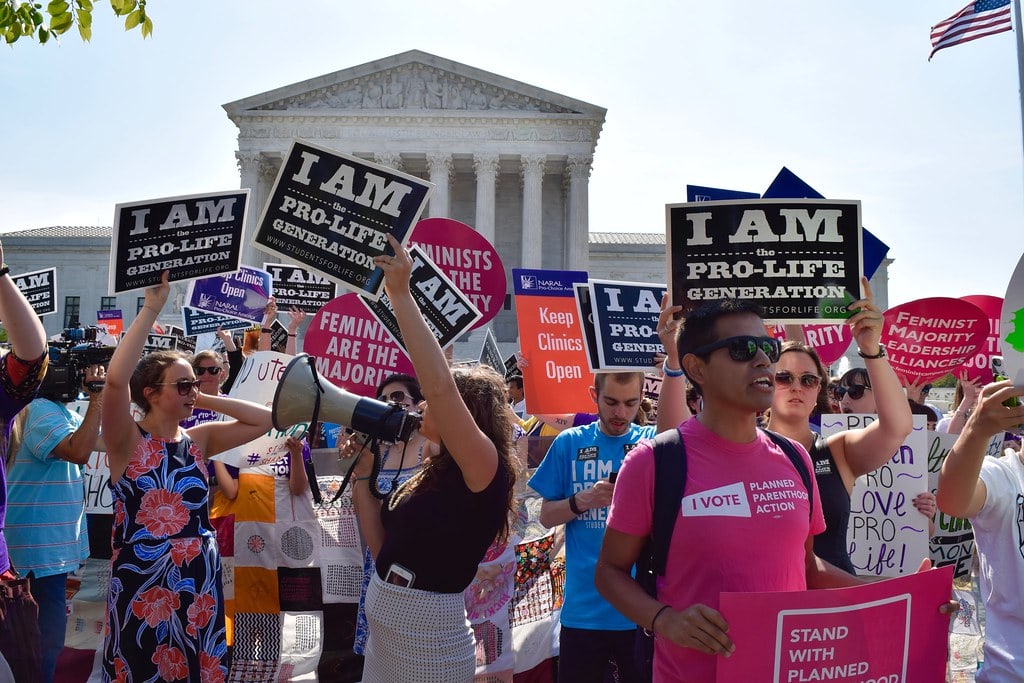 What Did the Supreme Court Say About Abortion Rights in Cases Like Roe, Casey, & Others?
How do you feel about the Supreme Court's past rulings on abortion rights?
What's the story?
Roe v. Wade (1973)
At the time

Roe v. Wade

came before the Supreme Court in 1973, abortion was illegal in 30 states and legal in 20 states only under certain circumstances, such as in cases of rape or when the women's health was jeopardized.

In

Roe v. Wade

, the Court held in a 7-2 decision that a woman's right to terminate her pregnancy was constitutionally protected under the 14th Amendment personal privacy rights, and that only compelling state interests can justify limitations on that decision. 

The Court held the state's interest in protecting the mother's health begins at the end of the first trimester of pregnancy, and its interest in protecting the fetus begins at the point of viability.

While the Court didn't address the point at which life begins, it defined viability as the point at which the fetus is potentially able to survive outside of the womb and held that the unborn aren't afforded the 14th Amendment's protections that extend to a "person". (The timeframe of viability has advanced earlier in pregnancy over the years due to medical advances and is typically around 23 to 24 weeks but is as early as the

current record of 21 weeks

.)
Doe v. Bolton (1973)
The Supreme Court issued a second landmark abortion rights ruling in 1973 on a 7-2 margin with

Doe v. Bolton

, which broadened protections for abortion rights under

Roe v. Wade

. 

While

Roe

held that states couldn't make providing abortions illegal,

Doe

expanded on that by finding that states also can't use procedural barriers to make abortion access unreasonably difficult. However,

Doe

also noted that those requirements don't apply to laws protecting the religious and moral beliefs of religious or denominational hospitals and their employees. 

Additionally,

Doe v. Bolton

also provided a definition for "health" in terms of women's abortion rights which found, "physical, emotional, psychological, familial, and the woman's age… All these factors may relate to health."
Harris v. McRae (1980)
Following the adoption of the Hyde Amendment in 1977, which prohibited the federal government from funding abortion services through Medicaid, and similar state-level laws restricting government funding for abortion, legal challenges to those laws reached the Supreme Court.

The Court held in

Harris v. McRae

that states participating in Medicaid weren't obligated to fund abortions and that a woman's freedom of choice with respect to abortion didn't carry "a constitutional entitlement to the financial resources to avail herself of the full range of protected choices."

Additionally, the Court held that the coincidence of funding restrictions on abortion that align with the doctrine of the Catholic Church didn't consitute an establishment of religion.
Planned Parenthood v. Casey (1992)
In

Planned Parenthood v. Casey

, the Supreme Court overturned the trimester standard outlined under

Roe

and opted in favor of a viability standard that allowed states to adopt restrictions on first trimester abortions as long as they don't unduly burden a woman's efforts to obtain an abortion before the fetus reaches viability.

It also reaffirmed

Roe

in three other ways by holding that a woman has a right to an abortion prior to viability; the state can restrict post-viability abortions as long as there are exceptions for the woman's health; and that the state has legitimate interests in protecting the woman's health and the life of the fetus.

The case concerned abortion regulations in the state of Pennsylvania, and the Court's holdings resulted in Pennsylvania's 24-hour waiting period, informed consent, parental notification, and record-keeping requirements being upheld; while the state's spousal notification requirement was struck down.
Stenberg v. Carhart (2000)
In

Stenberg v. Carhart

, the Supreme Court considered a Nebraska law that banned partial-birth abortions and excluded an exception for the mother's health. The state argued a particular method of partial-birth abortion was never medically necessary, so therefore a maternal health exception was unnecessary.

Partial-birth abortions are known in technical terms as dilation and evacuation (D&E) abortions and "intact D&E" or dilation and extraction (D&X) abortions. D&E procedures involve the partial vaginal delivery of a living fetus after 12 to 24 weeks of pregnancy, at which point fetal tissue is removed and the fetus is potentially crushed or dismembered to allow for removal. In D&X abortions, which may occur if the fetus presents feet first during a intact D&E abortion and typically happen after 16 weeks, the fetus is removed intact in one pass rather than through after several steps. The Nebraska law sought to ban D&X abortions.

The Court held in a complex and contentious 5-4 decision delivered by Justice Stephen Breyer that Nebraska's law violated

Roe

and

Casey

because it placed an undue burden on a woman's right to have an abortion because providers who use it fear prosecution, and because it didn't include an exception for maternal health.
Gonzales v. Carhart (2007)
Following the Court's decision in

Stenberg v. Carhart

, the

Partial-Birth Abortion Ban Act was enacted on a bipartisan basis by Congress and President George W. Bush in 2003

. It banned intact D&E or D&X abortions and found them to not be medically necessary. The law was supported by most Republicans and about a third of Democrats, including then-Sen. Joe Biden (D-DE), but opposed by notable Sens. Hillary Clinton (D-NY), Chuck Schumer (D-NY), and Bernie Sanders (I-VT).

The federal law was immediately challenged and declared unconstitutional by lower courts, which appellate courts affirmed, so the case ultimately reached the Supreme Court in 2007.

This time, the Court issued a 5-4 ruling in

Gonzales v. Carhart

that upheld the law as constitutional despite it not including a maternal health exception. The Court found that because the law in question referred to a specific type of abortion (intact D&E or D&X), it wasn't unconstitutionally vague, and that the availability of other abortion methods that hadn't been deemed medically unnecessary meant it wasn't an undue burden on abortion access. 

The primary difference in the outcome compared to

Stenberg v. Carhart

was the composition of the Court. Justice Sandra Day O'Connor, who co-authored the majority opinion in

Stenberg

, had retired and was replaced by Justice Samuel Alito.
Whole Woman's Health v. Hellerstedt (2016)
In

Whole Woman's Health v. Hellerstedt

, the Supreme Court invalidated a Texas law that required abortion-providing physicians to have admitting privileges at nearby hospitals. That law also required abortion facilities meet the same standards as an ambulatory surgical center.

The Court found that those requirements created an undue burden for abortion access that violated the standards outlined in

Casey

.
June Medical Services, LLC v. Russo (2020)
In

June Medical Services v. Russo

, the

Supreme Court struck down a Louisiana law

that was nearly identical to the Texas abortion law that was found unconstitutional in

Whole Women's Health v. Hellerstedt

.

The Court issued a 5-4 ruling in the case, with Justice Stephen Breyer writing a majority opinion that was joined by Justice Ruth Bader Ginsburg, Justice Sonia Sotomayor, and Justice Elena Kagan. Chief Justice John Roberts wrote an opinion concurring with the judgment.
— Eric Revell
(Photo Credit: jordanuhl7 via Flickr / Creative Commons)