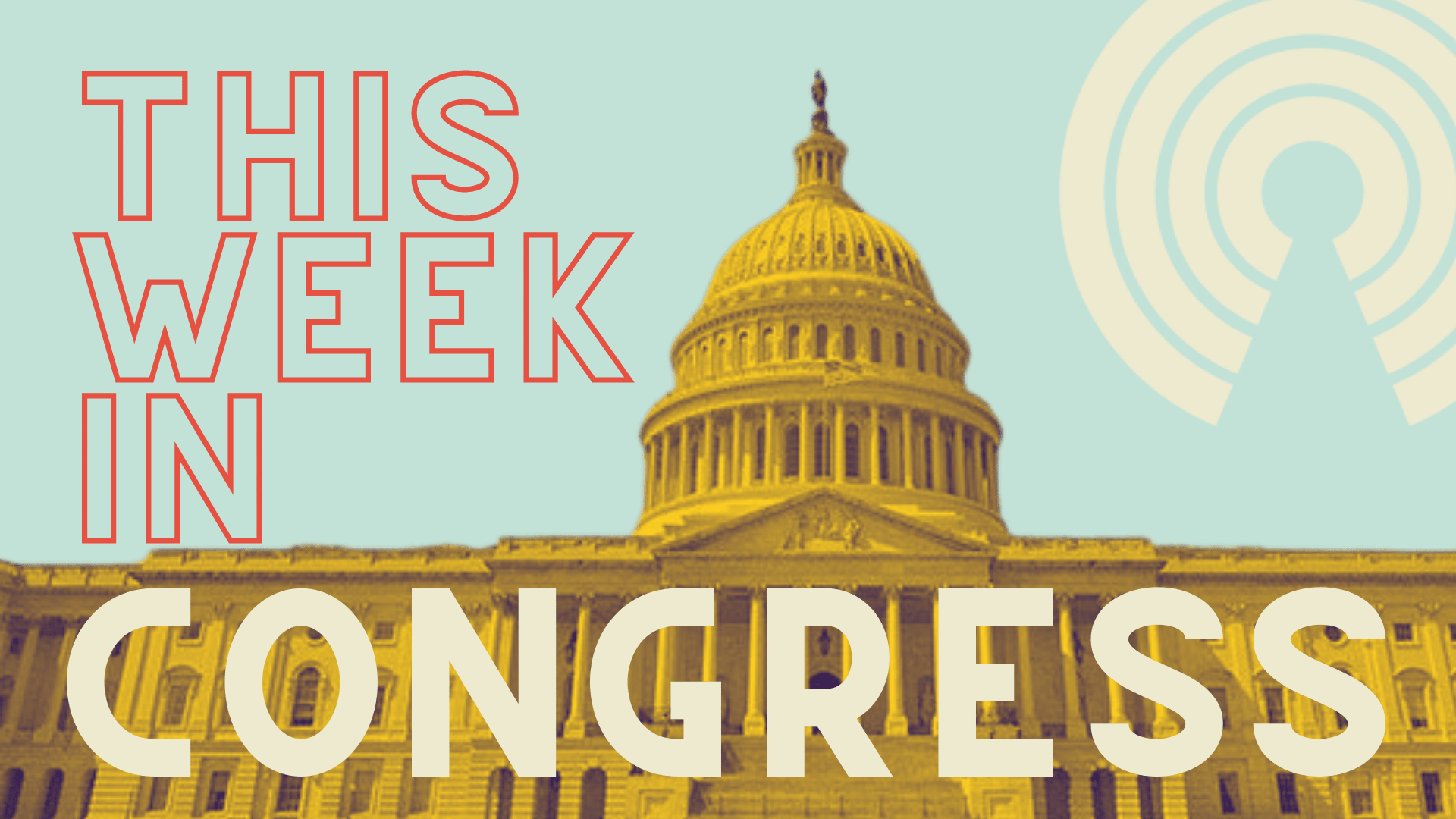 Senate to Consider Nominations & Potential Ukraine Aid Package as House Goes On Recess
How do you feel about this week's congressional schedule?
Once again the House is in recess just one week after returning from a 2-week recess. It seems like I spend more time tracking recesses than legislation. 


Now more than ever with the Russian invasion of Ukraine and Putin's veiled threats of nuclear bombs it seems the US Congress should be actively engaged and not on recess working on elections.

Even if the war were to end and Ukraine is left somewhat intact it will still leave NATO and the US in a state of confrontation with Russia as it fixes its initial failures from the Ukraine invasion, and modernizes its nuclear forces & remains a nuclear threat. And China may be an even bigger threat. 

The US needs to be prepared to deal with this:

1) strategic planning, programming, and budgeting instead of a series of interim funding actions every couple of months


2) strategic NATO planning instead of the hodge podge going on now 

3) China competitiveness so the US is nit falling behind in technology and is self-sufficient without reliance on China or India for its supply chain

https://www.csis.org/analysis/us-national-security-looking-beyond-war-ukraine

 

 

This country is not an Autocracy, Thank Heavens! 

So this is an active legislative week for the Senate and a district work week for the House. I'm OK with this. 

The more Causes presents Congress' schedule, the more I wonder about not just how our elected representatives manage their working hours but about how our Constitutional government—Executive, Legislative, and Judiciary–should function. 

I think about the 100 Senators and 435 Representatives. I think about how these 535 relative peers coming from different geographical areas and and sometime mutually exclusive political situations have to get on pretty much the same page time and time and time again.

Do you know how we like to watch embedded journalists in TV Shows and Movies about wars? I'd love to see journalists embedded to capture the lives of both high and not-so-high-profile representatives.

Meanwhile, Think On This:

Do you sincerely want legislation pushed through or do you want due consideration? (What about Obstruction, not to meantion Filibuster?)

"Geddit Done Now!" Do you want the Senate and the House doing the job of the Executive Branch?

When we read in the media that many American people seem to want an Autocracy as capricious as it is dictatorial, and when we tell Congress to Rush things through and put this law and that into law NOW, aren't we in effect demanding that Congress neglect their job and put in Autocratic Rule?

Just sayin' 'n' askin'. 

 

Once again house goes on recess. Most of them aren't even in Washington. What about our own border, I agree that we need to help Ukraine, but we need to secure our own border. The DHS secularly said yesterday that they know where those that are on the terrorist watch list are and they can be arrested and deported. Why were they even allowed to enter the country? They are here illegally, and have been released. 

If you go to Dictionary and look up the word disinformation, there will be a picture of the BIDEN ADM, and thank you JOE for the Recession we are now in.....

senate, keep working on getting those votes done.  They seem to be voting on executive offices more slowly than during a similar period of Trump's term.  We know the Repos don't believe government functions effectively and they work their hardest to prove that true when their candidates are in office.  We may have to make that disfunction true when they return to the executive so their destructive philosophy will not come to fruition.

 

The House had a productive weekend; thank you, Nancy and group for demonstrating support for Ukraine.  We know the January 6 committee is working.  Republicans are working overtime to state they're not connected to January 6's catastrophe and they are connected to the bipartisan infrastructure bill, even if they voted against it.  House Democrats need to tout the accomplishments that have happened during this term and the next steps that need  to be done over the next term.

Representatives –

Important

Do not neglect Americans suffering from additional Economic Hardship coming from current and forthcoming price hikes caused in part or in full by Putin's Criminal Invasion of Ukraine. 

Let's send cruise missiles to Ukraine that they can use against Moscow. Russia should feel the pain that Ukraine is they should see their buildings leveled to the ground and the death and destruction that they have rot on the innocent group of people in Ukraine. Screw Putin screw the Russian people for letting this happen. They could stop it but they're not.

First of all, think that the interest of USA. Need more of discussion at the Senate and House of Representatives.

I am anxious about moral values & delivery of the assistance.

Have we reached the number of Ukrainian deaths that it will take before we will provide our aid and support with our own military action???? Do you really believe that Russia will launch a nuclear attack on us or our NATO partners? The Russian military leadership (not Putin) understands that they would be destroyed in a matter of hours or days. Are we waiting for 100,000 Ukrainian deaths???? What's the number we are looking for??? We need to do the right thing and put an end to the needless suffering and killing of millions of people! I am frustrated with my Democratic Party for being the party with "no balls", and I am frustrated with how we have decided not to provide more military aid because Putin might try to attack us!

DHS watchdog says Trump's agency appears to have altered report on Russian interference in 2020 election in part because of politics

who needs enemies when your top elected dumkopf and his goons are certified proven traitors?

shame on gop

shame on scotus 

This is THE MOST disgusting leadership we've ever had.  They are on break more than they are doing any work.  Any other American works roughly 50 weeks a year.  The entire Congress needs to be voted out.  

We shouldn't be sending any money to other countries, period. Our gov waste enough money as it is without sending billions to Ukraine or millions to the Middle East. Every taxpayer dollar should be spent on the taxpayers and the gov should be getting a lot less of taxpayer money than they are currently.

Roe v Wade overturn efforts by politically bent scotus shows a) scotus is defunct b) women need to decide if they want their hard fought rights usurped! so pick your poison carefully ... mid terms will determine your freedoms! 
remember this is just the beginning

Let's all hope that the ex New York City police officer Thomas Webster that tried to blame the capital police officer for attacking him gets 20 years in prison.

and if there's any true justice in this country Thomas Webster will get to share a prison cell with Mark Meadows, Donald Trump, Kevin McCarthy and Mitch McConnell. All of these bastards are guilty of trying to overthrow the government of this nation. They are not the only ones in the other should be in prison with them.

Exclusive — True the Vote's Catherine Engelbrecht: 'Mules' Went on Routes Trafficking Ballots 'Repeatedly, Day After Day' Ahead of the 2020 Election

https://gettr.com/post/p1804tm495b

If You cared about ukraine, You would fight Russia on Russian Soil, not Ruin Unkraine with qnother proxy war between Us and Them distroying another Naztion in the process. This is about Biden paying off his debts for hunter's Graft, and Enriching the Military Industrial complex as payoffs for Bicden'w, and (All of congress)' donors. 

@carol

Carol, I don't believe you have ever been Republican or conservative. And what misinformation have we been fed about ANTIFA? I really want to hear this.

*Im still waiting for an answer.

I think this bears discussion I should be totally shocked to find out people like Marc that I was in the top echelons of the Republican government were in the business of trying to overthrow the government of this nation, but I'm not. The Republican Party has become the party of the lies, Dishonesty Distrust I un American And disloyal to this nation's beliefs. All of them should either be thrown out of office or jailed for trying to overthrow this nations government. It's unforgivable, it's never happened before in the history of this nation and the Republican party at the top levels did it.